Today is Friday, so it's time for another article in our weekly series about outfits inspired by costumes in Code films, Film Fashion Fridays. Because of my time constraints during July and August, I didn't publish any articles in this series during that month. However, I decided to restart the series with a bang in September. I planned so much of a bang that I accidentally signed up to write fashion articles for two blogathons last week!
I had planned to write about a Victorian ensemble for the Costume Drama Blogathon, so I fulfilled that obligation last Friday by writing about Jeanette MacDonald's shirtwaist and walking skirt ensemble from San Francisco (1936). However, it was not until last Thursday that I realized I had also agreed to write about some outfit worn by Alan Ladd for The Man Who Would Be Shane: The Alan Ladd Blogathon, which was hosted by Gabriela of Pale Writer. I knew I had signed up to breen The Proud Rebel from 1958 for that blogathon. Thus, I decided to make an Alan Ladd costume my topic for this week's Film Fashion Friday article as a late entry to the Alan Ladd Blogathon.
In 1942, Alan Ladd made his credited film debut in This Gun for Hire, a film noir crime drama which starred Veronica Lake and Robert Preston. Although he only got fourth billing, Mr. Ladd dominated this film as the official leading man. He received positive reviews and achieved great fame in this role, which launched him into stardom.
His character in this film is Philip Raven, a young hired assassin with a deceivingly kind face. It turns out that his murderous ways stem from a troubled past and an abused childhood. Veronica Lake's character is a beautiful young singer who is able to pierce the hardness of his heart enough to make him eventually aid the police, but even her love can't redeem the troubled young man. Nevertheless, he was a powerful and memorable character who was compared to James Cagney's Tom Powers in The Public Enemy (1931).
In this film, Alan Ladd epitomized the iconic film noir look. He wore a trench coat with the collar turned up with a brown fedora with a large black band. He wears this over an inconspicuous dark suit with a white shirt and a crooked black tie. Naturally, the final accessory in this threatening ensemble is a black gun, which is often smoking from a recent crime.
The above picture is one of the only photographs in which you see Raven without his trench coat. I didn't notice this until I looked at the picture multiple times, but Veronica Lake is wearing the trench coat in the above picture. I have never seen this film before, but it looks to me like he is gallantly letting the lady wear his coat, probably because she is cold. She is also holding his hat. This is a rare opportunity to see his suit. It is unremarkable. He seems to be wearing black trousers with an unmatched dark gray coat. His white shirt has button-down collars, and it is neither pressed nor starched. His tie is a plain black one which is tied in a loose knot. His whole outfit speaks of disrepair and untidiness. He obviously is on the run and more concerned about keeping his gun clean than his suit pressed. The suit is really not the important part of this outfit. The trench coat is the important garment. Any suit could be worn under it. I refer you to my articles earlier articles in the series about double-breasted suits, three-piece suits, a sincere suit, and suit separates.
First, let's analyze the most important part of this outfit, the trench coat. It is a lighter color, so it is probably khaki. The material is sleek, so it is doubtless intended to repel the rain as well as the wind. It is very long, reaching below his knees. It is unbelted. It has two sets of three buttons, since it is double-breasted. In all the pictures I have seen, every button except the bottom right one is buttoned. It has a notch lapel which can be buttoned down, but it is not buttoned. The collar is turned up in the back. The sleeves have belts. In several pictures, the coat is muddy to varying degrees. Obviously, this is because of the rugged conditions which Raven endures. Dirtiness is optional but not required for those aiming to recreate this style!
This is an undeniably suave style. With or without the accompanying hat, it epitomizes film noir unlike anything else. This look is dashingly defined by Alan Ladd in This Gun for Hire, but this is far from the only film in which such a style is seen. If you are a gentleman who loves film noir, you need to add a trench coat to your wardrobe. Whether you emulate Humphrey Bogart, Robert Mitchum, Dana Andrews, or Alan Ladd himself, you will find yourself able to embody their suavity and mystique better than ever clad in a dashing trench coat. It is the defining element in film noir fashion. Let's see what options we can find on Amazon.
The above trench coat from Amazon
 is a great option for that film noir look. It is khaki colored, as Raven's certainly appears to be. It also comes in black, which is a good option for another style. It is double-breasted with four sets of black buttons, a button-down lapel, and sleeve belts. It is long, reaching about to the knees. This trench coat comes with a matching belt, which is a nice, sleek style that was popular on many gentlemen's trench coat's. However, Raven doesn't wear a belt, so you may want to remove it for this look. Since there are no belt loops, it will come off seamlessly! It is mainly designed to protect against wind, but it is semi-waterproof as well. Its material is high-quality polyester. It costs $37.96-$59.96, depending on which size you order. This looks a little neater than Raven's style, but just take off the belt and cuff up the collar and you will have a style worthy of this hired gunman.
If you want to spend more money on a high quality trench coat, I recommend the above coat from Amazon. It is 100% polyester, and it is waterproof, so it is a functional raincoat, which is helpful on those drizzly noir nights. It is double-breasted with three sets of buttons, just like Raven's coat. It also has sleeve belts and a button-down lapel. It has a flap on the back, which is nice styling but not a feature of Raven's coat. It also has a nice matching belt, which you can remove if you want to. It is about knee-length, and the collar looks like it could be turned up very easily for added warmth and stealth. In addition to dark khaki, the pictured color which I recommend for this outfit, it comes in black, navy, and covert green. It comes in sizing based on inches rather than just S/M/L, which will ensure a better fit. It costs $87.95-$150.00, depending on which size and color you choose.
The other element of his outfit which I am highlighting in this article is his hat. It is a fedora with a pinched crown. It is darker than his trench coat, but it is not black. I think that it is brown. The brim is turned down in the front. The hat has a wide black band. Like the rest of Raven's outfit, the hat looks a little crumpled. The great thing about a hat like this is that it can be pushed back for a more alert appearance or pulled down farther for varying degrees of sneakiness. If pulled down far enough, the brim of a hat like this could conceal the entire upper-half of the wearer's face, effectively hiding his identity. This is a technique which is used with great success in many films noir. Let's see what Amazon has to offer in this department.
The above hat from Amazon is described as a "classic gangster" hat. More accurately, it is a classic fedora. It has a two-inch brim and a six-inch crown. It has a wide black band. It is made of felt, and it looks quite malleable. It comes in black and gray as well as brown, which is pictured. I recommend the last color, since it looks like the color of the hat Raven is wearing and will match the khaki coat nicely. You can choose size medium or large, depending on the circumference of your head, for a perfect fit. It costs $25.98, which is an excellent price for a hat like this.

The above hat from Amazon is sleeker than the previous one. Instead of felt, it is 100% wool. The brim is more styled and tilted, and it is about 1 1/2 inches. I couldn't find the height of the crown. It has a wide black band. This hat looks like it can also be positioned many different ways. In addition to chocolate, the color which I recommend, it comes in black. The hat comes in medium or large. It costs $23.99 to $24.99, depending on which size and color you order, meaning it is actually less expensive than the other hat. However, something looks more polished about this item to me.
I think that there are two obvious outfits to be derived from these Amazon products. If you want a rougher, darker look straight from the streets of This Gun for Hire, choose the first trench coat and the first hat. They both seem a little cheaper, reflecting the quality of the clothing which Raven would have. To be really realistic, you might want to scrunch up the hat a bit and get some mud on the bottom of your coat! If you want a sleeker, more polished look, choose the second trench coat and the second hat. The second coat is significantly more expensive than its predecessor, and it looks like it is of a higher quality. Although the second hat is actually less expensive than the first one, it seems like a better value because it is wool rather than felt. This ensemble would be more put-together, but I still recommend that you remove the belt to achieve the Philip Raven look.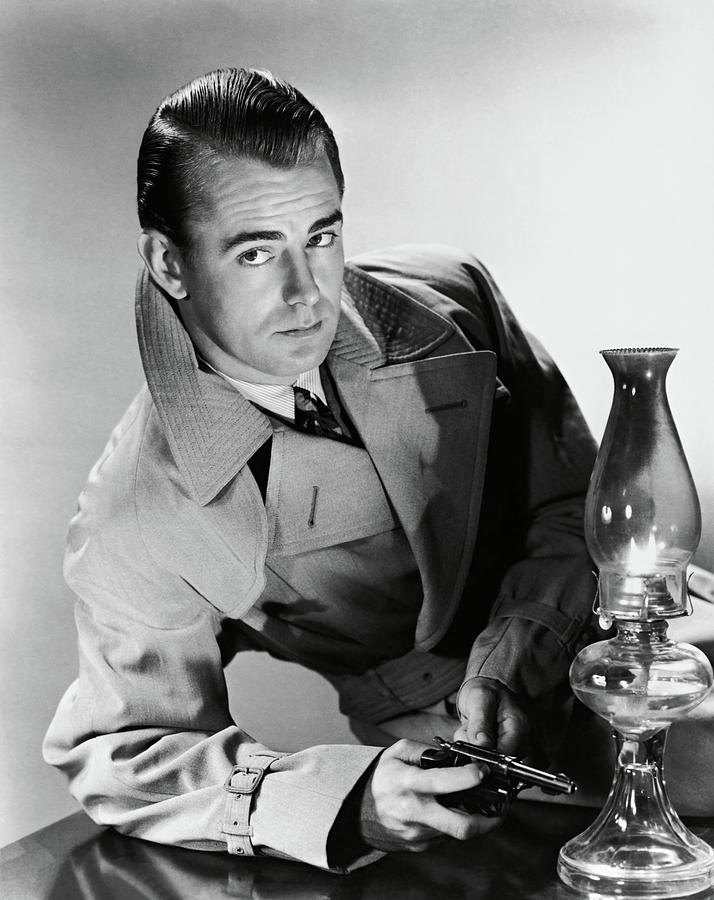 Both the coats I recommended come with belts, but I suggested that they be removed for this particular look. In all the iconic publicity shots and screen shots, Alan Ladd as Philip Raven wears a buttoned but unbelted trench coat. However, in the above publicity picture, Alan Ladd is wearing a belted trench coat. That is not the only odd thing about his attire in this picture, however. The coat is a lighter shade of tan, and it is much stiffer than the coat he wears in the movie. In addition, he is wearing a striped shirt and a patterned tie under his coat. Perhaps he wears this outfit for a brief time in the film, or maybe it was just used in this one publicity picture. Either way, it is a good example of a neater trench coat look. This is a style which you see worn by many actors in many films noir. When not trying to recreate the Raven look I described above, you may enjoy wearing the above coats with their belts for a very dashing and more refined vintage look.
That concludes my description of this outfit! If you like film noir fashion and want to become a daring man of the dark streets, this is a perfect ensemble with which to start. Whether you are attending a costume party, adding vintage style to your wardrobe, or preparing to go on the lam, you won't want to start without this trench coat and hat. You may feel like an average Joe now, but I guarantee that you will rival the daring charm of Alan Ladd in this outfit!
If you want to observe Mr. Ladd's style for yourself, I suggest that you purchase the movie and study her outfit firsthand! Click the above image to purchase This Gun for Hire on DVD at Amazon.
Calling all Phans to PEPS! This year, on September 23-25, I, Rebekah Brannan, will be hosting The Phantom of the Opera Blogathon. The title tells you exactly what it is. This blogathon will be dedicated to all adaptations, spin-offs, prequels, and sequels of the immortal tale The Phantom of the Opera! As devoted Phans, my sister and I could not let the 110th anniversary of the beginning of the original novel's serialization in the newspaper Le Gaulois pass without some form of commemoration. I invite all of you to celebrate this wonderful event by joining The Phantom of the Opera Blogathon! Now, stay away from trapdoors, beware of shadows, and always keep your hand at the level of your eyes, because we're off to the Paris Opera!
Remember, take pictures of yourself in vintage style and send them to me to be featured in a future Film Fashion Fridays article! I will gladly republish your pictures, advice, and experiences in vintage clothing for others to see and read. Let's make Friday a day for film fashion!
To every Glamour Girl and Dapper Dan, "Here's looking at you, kid!"
Follow us to bring back the Code and save the arts in America!
We are lifting our voices in classical song to help the sun rise on a new day of pure entertainment!
Only the Code can make the sun rise on a new day of pure entertainment!