Today is Friday, so it is time for another Film Fashion Fridays article. This week, I am at last going to publish the second article about gentlemen's vintage fashion, which I delayed since last week because I wrote an entry in The Jeanne Crain Blogathon. So far, I have written four articles in this series about ladies' fashion but only one article about gentlemen's fashion. That is largely because gentlemen's fashion in the Golden Era of Hollywood was less complex and diverse. However, there is still a lot to say, and I am going to redress the balance now. After this week's feature, the next two articles in this series will be about men's outfits which I chose for participation in blogathons.
In my previous article about men's fashion, I explained that the standard outfit for gentlemen in the 1930s-50s was a suit. In the 1930s, there were two main suit styles, the double-breasted suit and the single-breasted suit with a matching vest or waistcoat. In my article about Nelson Eddy's fashion in The Chocolate Soldier, I described the double-breasted fashion. Now I am going to explain the 1930s three-piece suit style. To illustrate this fashion with film costumes, I will use three-piece suits from Mr. Smith Goes to Washington from 1939 as examples.
The three-piece suit is a very simple style. It comes with a coat, trousers, and a waistcoat all in the same material and pattern. A three-piece suit fits every occasion except the fanciest situations. The best thing about this style is that it suits every body type. It is for that reason that I chose Mr. Smith Goes to Washington as an example. Three different gentlemen wear nice three-piece suits in this film, and each is an example of a different body type. Jimmy Stewart as Jefferson Smith is tall and very thin, Claude Rains as Joseph Paine is short and fairly stocky, and Edward Arnold as Jim Taylor is slightly above average height and quite stout. However, each gentleman looks excellent in his suit. Let's consider the basic suit of each character, using products from Amazon to describe how you can recreate the looks for yourself.
Jeff Smith wears a fine three-piece suit when he first arrives in Washington. It seems to be a gray textured suit, probably wool. One noteworthy aspect of his coat is that it has three buttons rather than the customary two. This was a popular style in the 1930s, and it looks especially good on tall men. Unfortunately, I couldn't find any suits with three buttons on Amazon, but I encourage you to look for one elsewhere. The coat also has rather large pockets. The fit is excellent. It complements Jimmy Stewart's slenderness, but it also enhances the width of his shoulders. Since it doesn't fit him too tightly in the abdomen, it doesn't reveal just how thin he was. Mr. Stewart was so skinny that he was ranked underweight for his height when he tried to join the Army Air Corps in 1942. A modern slim fit would make him look too skinny by highlighting his thinness. The classic fit makes him look strong and sturdy but still pleasantly slim. Notice how long the sleeves and pants are. Both were worn quite long in the 1930s, but it is especially noticeable in this film. The cuffs and socks couldn't possibly be seen in most circumstances! That was the look then, which is something you should consider when getting your own suit.
The above suit from Amazon is a gray suit which has a similar look to Jimmy Stewart's. The main reason it looks similar is that it has a rather long coat, although it unfortunately has two rather than three buttons on its coat. It is textured and patterned, although not as textured as Jeff's. Like most modern suits, it has pocket flaps rather than large pocket outlines on the coat. The coat has split-peak lapels, which are slightly different from those on the suit in the movie. The vest has five buttons. This is a fine-looking suit with a real vintage style. Although it is not exactly like Jimmy Stewart's suit in many ways, its general look is close enough to make it a great starting point for this outfit. It is 100% wool. It costs $169.

Joe Paine wears a black three-piece suit in every scene in the film except those in which he wears full dress. This gives him a very serious look, and it is an excellent style for him. I am specifically using his suit from the last scene as my template in this article. Mr. Rains was a very short gentleman who always wore lifts in his shoes to enhance his 5'6″ stature. Although he was slender, he was not a slight man. He had broad shoulders and sturdy bones, indicating that he would have been taller if not for undernourishment as a child. The three-piece suit makes him look very dignified and smart. Even as a corrupt senator, he is very dashing in this style. His black suit is quite sleek. The coat seems to have only two buttons, and the vest has about six buttons, which are black. The coat accentuates his strong shoulders and is loose enough in the torso to make him look as strapping as possible. Since Jimmy Stewart also wears his pants and sleeves long, we know that Claude Rains's long sleeves and trousers are not from poor tailoring. They are meant to look that way, and they look so much better than modern styles which reveal the wearer's wrists and ankles.
The above suit from Amazon is very like Joseph Paine's. It is solid black. The lapel is a little smaller than Mr. Paine's, but otherwise the coat looks quite similar. The vest has five buttons, which are black, small, and closely-spaced. This is a great option if you are looking for a plain solid-color suit. It would look very good in a recreated version of Senator Paine's standard outfit. The material is man-made. This suit costs between $99.99 and $179.00, depending on which size you order.

Jim Taylor wears a light gray three-piece suit in the scene in which Jeff Smith comes to talk to him in Washington. He wears this style in most scenes in which he is not wearing full dress. Edward Arnold's suits in this movie show us how good this style looks on heavier men. Mr. Arnold is by no means thin like Jimmy Stewart, and he is certainly not even as trim as Claude Rains. Nonetheless, the three-piece suit is a very attractive style on him. The first instinct about a heavier man's wardrobe is usually to make the clothing in his torso loose to hide the extra weight at his middle. However, this can sometimes make the gentleman look heavier than he actually is, since it leaves his actual waistline undetermined. A vest has a remarkably slimming effect. By creating a single line from his chest down to his feet in the same material, often in a dark color, it makes his torso transition into his legs more gently. It eliminates the stark contrast between his waist and his legs, which the modern un-tucked shirt style creates. On the other hand, it makes him look much thinner than a single-breasted suit without a vest does, since an uncovered dress shift, even tucked in, adds weight. Mr. Taylor frequently leaves his coat unbuttoned to reap the full slimming benefits of the waistcoat. Interestingly, a vest is also very flattering on a thin gentleman, since it highlights how slender he is. It's a great style for all men! Mr. Taylor's suit in question seems to have a subtle herringbone checkered pattern, which was very popular for gray suits at this time. From a distance it seems to be a solid color, but the pattern is visible upon closer inspection. He seems to have two buttons on his coat, although it is hard to tell because it is unbuttoned in all the pictures I found. The vest is snug, but the coat and trousers are properly loose.
The above suit from Amazon has a similar pattern to Mr. Taylor's. It is gray, although it looks like a lighter shade of gray than the suit in the film. However, it has the herringbone checkered pattern, which gives it a nice vintage look. It has a classic fit, which is hard to find but very important. The shape of this suit's lapel is more pointed than Mr. Arnold's. However, both suits have two buttons on the coat. The main difference is the vest. It has five rather than six buttons. More importantly, it has small lapels and little pockets, while the waistcoat in the movie has neither lapels nor pockets. However, this is still a fine suit. It is 100% wool, which is excellent. It costs $209.
The above suit from Amazon is a good standard three-piece suit which could work in either Jeff Smith's or Jim Taylor's outfit. It comes in burgundy, navy, white, medium gray, and heather gray, which is pictured. It has a very classic fit and style. There are two buttons on the coat. What really distinguishes this coat is its notch lapel, which is the sort of lapel which all three gentlemen in this film wear. Most modern suits have a split-peak lapel, so this lapel stands out. It has a matching vest with five buttons. In heather gray for Jeff, medium gray for Jim, or navy for a slight variation on Joe's usual style, this is an excellent suit choice. The material is 65% polyester and 35% with a luxurious wool feel. It costs between $119.95 and $159.99, depending on which size you order.
No suit is complete without the proper tie. You can have variety with the same suit by wearing different ties with it. A new tie can give an old suit a completely new look. If one wears a solid-color suit, like these, he can freely experiment with different colors and patterns without making his outfit too busy. However, it is often nice to base one's first tie and suit combination off a sharp outfit from a movie. After all, who doesn't want to look like a movie star? I was fortunate to find ties on Amazon which are good replicas for all three outfits.
Jimmy Stewart's tie is striped. It appears to be black and gray. The stripes are quite wide. They go down from right to left, and the black stripes are considerably wider than the gray ones. It is a fairly wide tie, and it looks like it is silk. The three ties below from Amazon are good options to wear with this suit.
Claude Rains's tie in this scene is solid black. It is quite thin with a light sheen. Since the
suit is so plain, a black tie with a subtle pattern could be worn without looking too loud. In another scene, he wears a black tie with thin gray and red stripes, which you can see in the picture at the right. However, in this particular scene, Senator Paine is wearing the simple black tie. This reflects his somber, sullen mood at this particular Senate meeting. If a gentleman wants a very serious, professional, and formal suit, this is the ensemble to imitate. Since it is so simple, it is easy to recreate. Below are three plain black ties from Amazon which are like the one in this outfit. The next three ties are similar to his tie from the other scene.
In this scene, Edward Arnold wears a black tie with little circles on it. It is fairly wide and quite shiny. It surely is silk, since the material has that certain sheen. Besides, Jim Taylor would wear nothing less than pure silk. At first glance, the design looks like small polka dots. However, on closer inspection, one realizes that they are in fact hollow circles. The below tie from Amazon is an excellent replica of this tie. It is black, fairly wide, and quite shiny. It has little circles exactly like those on Edward Arnold's tie. Best of all, it is 100% silk and made in Italy by Ralph Lauren. This is just the tie which Jim Taylor would wear!
All three gentlemen wear plain white dress shirts with their suits. They have pointed collars which do not button down. Since the sleeves of their suits are so long, you don't get much chance to see the cuffs. However, the standard style of the day was the French cuff, which required cufflinks, since it didn't come with buttons. Mr. Taylor seems to wear his sleeves slightly shorter than the other two gentlemen, since you can see his cuffs and cufflinks in many pictures. He probably is wearing very expensive cufflinks, so he wears his sleeves a little shorter to display them. The below shirt is a good option to wear with any vintage suit.
As I noted earlier, Jim Taylor is the only gentleman whose cufflinks are visible. However, the others are doubtless wearing them too, despite the fact that their sleeves are so long that they cover them most of the time. Not only were cufflinks a necessary tool to fasten shirt cuffs, they were one of the only forms of male jewelry which was popular in the 1930s. Thus, they were an item through which men could express their style. Below is a pair of black onyx cufflinks from Amazon which would look good with any of these three suits. However, I encourage you to look for your own favorite styles, since you can never have too many pairs of cufflinks. Also, cufflinks are a great gift for a gentleman who likes vintage suit styles!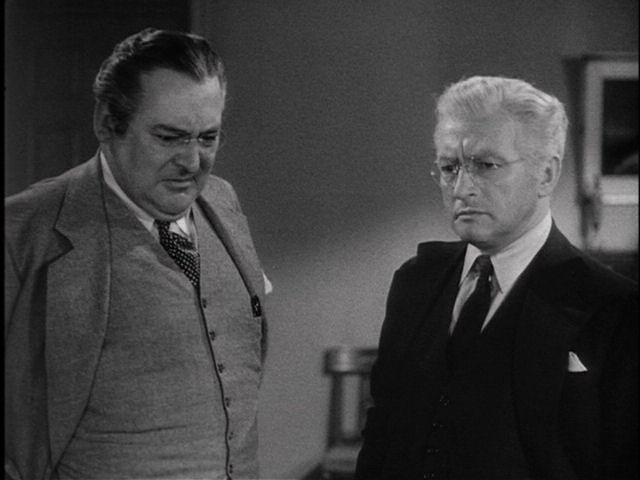 Jimmy Stewart doesn't seem to wear a pocket square with this particular suit. However, both Claude Rains and Edward Taylor wear plain white pocket squares. In the 1930s, pocket squares were often plain white, matching the simple white shirt. However, they sometimes had a pattern, which would usually match either the shirt, if it wasn't white, or the tie. While a tasteful patterned pocket square can be a smart touch, nothing beats the simplicity of the simple white handkerchief. Below are four fine options from Amazon. The last is a value pack of twelve cotton handkerchiefs.
All three of these suits can be nicely completed by a nice pair of black leather shoes. Black is the ideal color to go with all three suits, and it was the standard color back then. The color didn't matter too much because the pants were so long that you could hardly see the shoes! I deduced from the pictures that they are wearing the standard style of the day, which included laces and a rounded cap toe. Below are two options from Amazon. The first is a synthetic material, and the second is real leather. Although they will rarely if ever be seen, socks must be worn. Black is always good, but gray could also be worn with the gray suits.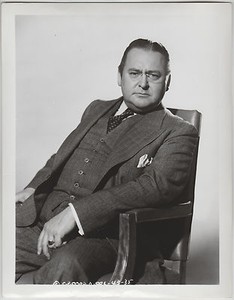 There is another very important point which I must mention, and it is related to fitting. It is more of an undergarment point than a style issue. However, it is vital because it greatly effects the look of the whole outfit. Advertisements for modern three-piece suits often feature male models whose belts can be seen. This is largely because they, firstly, don't button the bottom button of the vest, which is unacceptable, and, secondly, wear their pants too low. However, even with the pants at the proper height and the waistcoat fully-buttoned, a gentleman's belt can easily show on a three-piece suit when his coat is unbuttoned. The beauty of a three-piece suit is that a gentleman can decently unbutton his coat and stick his hands in his pockets, as the two older gentlemen in this film frequently do. In classic films, you never see gentlemen's belts when they are wearing waistcoats. In three-piece suits, the pants always come up so high that their top is hidden beneath the bottom of the vest. This gives a wonderfully streamline look. How did men achieve this taught suspension of their trousers, even if they were a little heavier? They wore suspenders, which hold pants higher than a belt ever can. In addition to that, suspenders don't create the lumps or the bulges which a belt does. If you want a really  vintage look, opt for suspenders! However, if you want to be truly accurate, you can't get suspenders with metal clips that attach to belt loops on pants. You have to get the kind with elastic button ends which loop over buttons which a tailor can sew onto the inside of your pants on the front or back. The next time you watch a 1930s movie in which a gentleman doesn't wear his coat, you probably will be able to notice that his suspenders are attached to buttons. Below are four fine options from Amazon, two with a Y-back and two with an X-back, both of which were vintage styles. If all this is too complicated for you, don't bother with clip-on suspenders. Just get a slim belt with a discreet buckle and try to position it high enough that it won't show.
That concludes my description of the three-piece suit! It is a style which is wonderful whether you are going to work, to a party, or to the mall. It is full of class and style no matter how its wearer is built. A man of any size, background, and age can't help but look dashing in a well-fitting, nicely-coordinated three-piece suit. The vest gives it the extra touch of vintage style and masculine charm. My father has many three-piece suits in his collection, all of which we bought from Macy's at reasonable prices! Thankfully, suits with matching vests are now becoming popular. If you get one that fits nicely and is not too loud, you are sure to look dapper. Since you are covered by the vest, you can enjoy unbuttoning the coat and sticking your hands in your pockets to show off your waistcoat. However, you must never remove your coat unless you have to offer it to a lady for warmth or you are going to do something physical. Remember how many times in movies men doff their coats before a fist fight! Other than that, you usually only see a man without his coat if he is undressing or is burning the midnight oil at work. No matter how proud you are of your vest and your suspenders, you must not take off your coat to show them. As the three gentlemen in this film show us, your outfit will be the handsomest when fully put together.
If you want to observe these three gentlemen's style for yourself, I suggest that you purchase the movie and study their outfits firsthand! Click the above image to purchase Mr. Smith Goes to Washington on DVD at Amazon.
Remember, take pictures of yourself in vintage style and send them to me to be featured in a future Film Fashion Fridays article! I will gladly republish your pictures, advice, and experiences in vintage clothing for others to see and read. Let's make Friday a day for film fashion!
To every Glamour Girl and Dapper Dan, "Here's looking at you, kid!"
Follow us to bring back the Code and save the arts in America!
We are lifting our voices in classical song to help the sun rise on a new day of pure entertainment!
Only the Code can make the sun rise on a new day of pure entertainment!