Today is Friday, so it is time for another article about film fashion! This is the third article in our new series, Film Fashion Fridays. As promised, this week's article will be the first post about gentlemen's fashion, since the first two articles have been dedicated to fashion for ladies. As in all the articles in this series, I will include links to products on Amazon which I recommend for recreating the vintage outfits I describe.
In the 1930s-50s, there was one standard garment for a man's daily wear: a suit. Although a complete suit with coat and tie is now considered quite formal, it was standard attire for a gentleman in the good old days, appropriate whether he was going to work or enjoying a day off. If a gentleman were going out, he could wear nothing less than a suit unless he were going to do something very physical or engage in manual labor. If he wanted to be fancy, he had to wear a tuxedo, also known as a dinner jacket, or a full dress suit. While ladies' fashion had several variations, gentlemen's fashion was quite simple and fairly consistent throughout the Golden Age.
As an introduction to men's vintage fashion, we will start with a standard suit style from the 1930s and early 40s. In the 1930s, there were two main styles of suit, the three-piece suit, which included a matching waistcoat (vest), and the double-breasted suit. A well-dressed gentleman always wore one of the two during the 1930s. Today, we are going to focus on the double-breasted suit, which is a very attractive style for gentlemen of all builds. As our template, we are going to study the double-breasted suits which Nelson Eddy wears in The Chocolate Soldier from 1941.
In this hilarious musical comedy, Nelson Eddy plays a singing star married to a beautiful opera singer played by Rise Stevens. Whenever he is not in costume or in full dress, he wears a double-breasted suit. In all, he wears three different double-breasted suits in this film. The first is a black pinstripe, the second is a gray plaid check, and the third is a gray herringbone stripe. (The film is in black and white, but the colors are fairly obvious.) I am mainly describing a concept, since gentlemen who are serious about wearing vintage fashion will need many suits. This is just a starting-point for your collection of double-breasted suits.
Let us first notice the fit of one of Mr. Eddy's suits. The coat is quite loose through the torso. It reaches the middle part of his thigh. A long-enough coat is very important for achieving a vintage look. The sleeves and trousers are rather loose and very long. The sleeves are just barely shorter than the shirt cuffs, and the trousers come to the top of the shoes so that the socks can't be seen unless sitting. A popular modern style is for gentlemen to wear their suits too tight. Models are pictured wearing coats which pull through the body, trousers which are indecently tight, and sleeves and pants which are too short! These poor fellows look like hobos. A proper fit is essential for a good-looking suit.

Nelson Eddy was a sturdily-built gentleman, so he wore his suits looser through the torso. However, you will see many 1930s actors who wore their double-breasted suits tighter in the body. Lew Ayres, for instance, was very slender. To complement his thin frame, his coats were cut in at the waist to give more contrast from his shoulders. You can see that in the above photograph of him. However, notice that he looks very different from a modern suit model, since he does not look like he is wearing his suit a size too small. The important difference is that only the torso is smaller. The sleeves and trousers are still plenty loose and very long. If you do opt for a slim cut to achieve this look, that is fine. Just be sure that the suit is not skimpy in other areas.
Mr. Eddy's above-pictured suit is of a sturdy material, probably wool. It appears to be medium gray with a plaid check pattern. He has six gray buttons on his coat, three on each side. There is a nice pleat down the front of the trousers. He is wearing a white shirt, which was the standard style back then. Occasionally white would be substituted with some other pastel color, such as light blue or gray. However, a dark color such as black was only used when the character was being strongly characterized as a villain, usually a gangster. The collar is quite pointed, and it doesn't appear to be button-down. He is wearing a rather busy necktie which seems to be black and white. He informs his friend Bernard (Nigel Bruce) that it is a new necktie. All three ties which the character wears are rather loud. In fact, I have noticed in general that Nelson Eddy tended to wear rather bright neckties in his films. Men didn't wear many bright colors in their normal clothing, since suits were usually confined to black, brown, gray, and navy. Ties were one garment with which they could express themselves. He has a plain white pocket square.
Let's consider some options for double-breasted suits which you can buy. Double-breasted suits are hard to find. Macy's has many excellent suits for men, many of which come with matching vests. However, we have never found a double-breasted suit there. My father has one black double-breasted suit, which we ordered through a local suit shop. I found several suit options on Amazon. Aside from these, I encourage you to look elsewhere for good double-breasted suits which follow the criteria I give in this article.
The above suit from Amazon is very much like Nelson Eddy's third suit, since it has a brushed herringbone stripe pattern. It is 65% polyester and 35% rayon with a wool feel. It has a slim cut, but hopefully it isn't too tight in the arms and legs. It comes in taupe, charcoal gray, and medium gray, which is pictured. Charcoal gray is the most like Nelson Eddy's suit's color. This suit is also made by Vinci. This looks like a very fine suit with a good vintage style.
The above suit from Amazon is like Nelson Eddy's first suit, the black pinstripe. Also from the Vinci brand, it is 65% polyester and 35% rayon. The stripes are white. It has a classic fit. An interesting feature of this suit is that it comes with a pair of socks, which come in a variety of colors and styles. This suit comes in black, brown, blue, and charcoal gray. It looks like an excellent choice. The pinstripe gives it a very vintage look.
The above suit from Amazon is a second pinstripe. It is a classic fit. I included it last because it doesn't come in black, the color of Nelson Eddy's suit. It is from Vinci, and the material is 65% polyester and 35% rayon with a wool feel. The description refers to this as a "gangster suit," primarily because it has a very vintage look. The coat seems extraordinarily long, which is very authentic, as I pointed out earlier. The suit comes in brown, blue, and charcoal. In the display image, it is also pictured in black, but that is not an option on the page. In any case, this is an excellent suit in a color besides black.

The above suit from Amazon is a good solid-color double-breasted option. Although Nelson Eddy never wears a suit like this in The Chocolate Soldier, I recommend a solid-color suit of some sort to gentlemen who are building vintage wardrobes for themselves. It has a classic fit. From Vinci, its material is 65% polyester and 35% rayon with a wool feel. This suit comes in six solid colors, black, blue, brown, burgundy, heather gray, and navy. For those seeking a vintage look, I cannot recommend the burgundy, which is much too loud for the 1930s-50s. In the above display image, the blue appears to be a muted dark blue. However, in the image on the product page, it is a very loud, vibrant royal blue. A review reported that the suit is a much darker steel blue than the photograph shows. I believe that the photograph with the vibrant blue must have strange lighting which warps the shade. I think we can trust that the color is actually the one shown in the collective image above of all the suits.

The above suit from Amazon is another solid-color double-breasted suit. Like the second pinstripe suit, it comes with a free pair of socks. This suit has a classic fit. It is from the Lucci brand. It is 95% polyester and 5% spandex. This suit comes in seven colors, black, white, navy, charcoal, brown, gray, and burgundy. Black, navy, charcoal, brown, and gray are excellent color-choices for this suit. However, as previously mentioned, burgundy is too loud for a vintage-style suit. As for white, I have only seen gentlemen in films wearing white suits when on vacation in a tropical location such as Florida, Cuba, or Brazil. If you are planning a vintage-themed trip to the subtropics this summer, this white double-breasted suit is a necessary addition to your wardrobe! In all other cases, I recommend one of the five darker colors.
Another important aspect of this outfit is a white dress-shirt. With all three suits, Nelson Eddy wears a shirt with a long, pointed collar that does not button down. At this time, most cuffs did not come with buttons. The cuffs were fastened with cufflinks. This sort of cuff is often now called a French cuff.
The above shirt from Amazon is a good standard shirt to wear with a suit. It is 65% cotton and 35% polyester premium. It has a standard fit. The collars are pointed and not button-down. It has French cuffs, which is an excellent touch for a vintage style. The page says that metal cufflinks are included randomly, but one should not rely on that. This shirt comes in seventeen colors. I highly recommend the white for vintage suits. The only other options which might look nice with suits of corresponding colors are blue, gray, or yellow, which is more of an ivory.
As I previously stated, I don't think you should rely on the cufflinks which may be included with the shirt I recommended. You should get your own cufflinks which match your suit, your tie, or your handkerchief. Cufflinks used to be a standard gift for a gentleman. They are one of the only standard forms of male jewelry, and they are a nice place for a man to show his style. In the above photograph, Nelson Eddy seems to be wearing
round, black cufflinks with his second suit. The cufflinks from Amazon pictured at right seem to be very like his. They are made of solid brass and real onyx with three layers of stainless steel plating. They have a bullet back closure. At $9.99, they are an excellent value.
In the above image, in which Mr. Eddy is wearing his first suit, he is wearing round
cufflinks which seem to be made of white mother-of-pearl. These are very discreet but very classy. The cufflinks from Amazon which are pictured at left are very like Nelson Eddy's. They are made of mother of pearl shell and brass with stainless steel plating. They seem to have a sturdy closure.

Another important accessory is the pocket square handkerchief. A pocket square should either be white or should match the tie. In the three suits from this film, the handkerchief is white.
The above handkerchief from Amazon is 100% silk. At $10, it is a very good value. People were more likely to own clothing and accessories made of silk in the 1930s and early 40s, so Nelson Eddy's pocket square very well may have been silk. The silk twill seems to have a lovely shine. At 17″, this is a very versatile pocket square which is really functional as a handkerchief. That was important in 1941, since Nelson Eddy pulls out his pocket square at one point to wipe tears away!
The above handkerchief from Amazon is a simpler option for a white pocket square, made from microfiber rather than silk. Ironically, it is only 5 cents less than the silk pocket square! It is 12″ by 12″ with a medium satin finish. The best feature of this product is the number of colors in which it comes. It is available in thirty-nine colors aside from white. This is a great choice if you want to have a different color to match the color of your suit's pattern, your shirt, or your tie. A patterned handkerchief can be a nice option, as well.
The final necessary accessory for your suit is the right necktie. A necktie is largely a matter of the wearer's preference. I think that it is good if the tie either picks up a color in the suit or nicely offsets it. I don't think a tie should have a color or pattern which is too much of a departure. Wearing different neckties is a great way to bring diversity to a suit. After all, a gentleman can only have so many suits, but he can have any number of ties! Like cufflinks, ties were a common gift for men in the days when suits were standard daily wear.
 Nelson Eddy can be seen wearing his first suit in the above photograph. His tie can be seen quite well in this picture. It seems to be black with some sort of a lighter pattern on it. To me, it looks like it has red cherries on it. It is tied with a small knot, and it is a fairly wide tie.
The above tie from Amazon is the only black necktie with cherries I could find on the website. This tie is 100% polyester. It is 57 inches long and 3.2 inches wide. It also comes in eight other vibrant patterns. This pattern is much more whimsical than that on the tie in the movie. Since Nelson Eddy's tie is more artistic, appearing to have been hand-painted, it is hard to tell what the obscure images represent. On the other hand, this tie's pattern instantly can be identified as cherries. Personally, I would not choose this tie as the one to wear with a black pinstripe suit, since it has a slightly comical and hardly vintage appearance. However, if you are determined to have cherries, by all means buy it!
The above tie is a navy one with more artistic and classy cherries on it. It comes in a set with a pocket square of the same pattern. I think this 100% cotton tie would look good with a navy pinstripe suit. It is 58 inches long and 2.4 inches wide. This set comes in twelve other patterns, all of which I deem too floral for a gentleman. I think this is the best cherry option available. However, I strongly caution against wearing it with the black pinstripe. Only a navy or gray suit would look good with this.
Personally, I like the above tie from Amazon. It is red, black, and gray. The wide stripes pick up the stripes of the pinstripe, but the pattern isn't too busy. The red is a good accent and pays homage to the red which was surely in Nelson Eddy's tie. This tie is microfiber polyester; it is 58 inches long and 3.15 inches wide at its widest point. It comes in thirty-one other patterns of varying colors and stripe-widths. If you don't want a red accent, I suggest the "Grey Black White" color option for this tie.
I have watched The Chocolate Soldier dozens of times since we bought the DVD for Christmas of 2017. In all those times, I have never been able to discern what exactly is on Nelson Eddy's tie with his second suit. I saw that it was black with a white pattern, but I never could tell what the pattern was supposed to represent. Today, I was studying magnified pictures of this outfit. When looking at the above colorized poster, which ludicrously shows the pattern as light green, I suddenly realized that the objects look like musical instruments. I could be mistaken, but I think that his tie features many different instruments, which is understandable for this character, who is a singer.
The above tie from Amazon is a good option for this suit. It is black with an assortment of instruments in white sketches. It is woven polyester. It is 57 inches long and 3.2 inches wide. It comes in nine other patterns, seven of which are musical. This is one of the most similar ties I could find to the one in the movie. Perhaps the instruments are slightly more modern than those he would have had, but it has a similar concept. If you would prefer to have sheet music on the tie rather than musical instruments, below are several options from Amazon.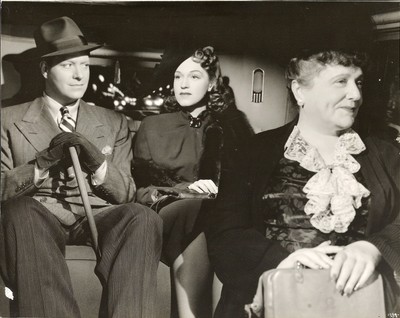 Nelson Eddy's tie with his third suit in this film is a relatively simple one. It clearly has alternating black and white stripes, the white stripes being slightly smaller. Below are several black-and-white-striped ties from Amazon. The sizes of the stripes vary.
That concludes this outfit! I hope that this is a thorough guide for the beginning of a gentleman's vintage wardrobe. An important aspect of any outfit which we did not cover is shoes, but that will have to wait for another article. In the meantime, I suggest a conservative pair of black leather loafers. Be sure to wear socks as well for a vintage look! I encourage you to experiment with different color combinations to make your own dapper style! You will be amazed at the compliments, the admiring gazes, and the excellent service you will receive when you are dressed with vintage style. If you want to observe Nelson Eddy's style for yourself, I suggest that you purchase the movie and study his suits firsthand! Click the below image to purchase The Chocolate Soldier on DVD on Amazon.
I hope that this will inspire you to wear a suit yourself, buying some of the Amazon products I recommended.
Anyone who makes a purchase through this Sunday will receive a free gift in our giveaway!
Remember, take pictures of yourself in vintage style and send them to me to be featured in a future Film Fashion Fridays article! I will gladly republish your pictures, advice, and experiences in vintage clothing for others to see and read. Let's make Friday a day for film fashion!
To every Glamour Girl and Dapper Dan, "Here's looking at you, kid!"
Follow us to bring back the Code and save the arts in America!
We are lifting our voices in classical song to help the sun rise on a new day of pure entertainment!
Only the Code can make the sun rise on a new day of pure entertainment!