Today is Sunday, so it's time for another article about a new Code film! This is the second article in the fifth week of my series about new Code films, 100 New Code Films. This series is my project for watching many American Breen Era (1934-1954) films which I have never seen before. No matter how well-watched a classic film fan considers himself, there are bound to be at least a few famous or iconic old films which he hasn't gotten around to seeing yet. I've watched a lot of old movies, but there are still dozens of famous, iconic, and acclaimed classic films which I have watched yet. This is partly because, at only eighteen, I haven't had that many years to watch classic films yet! However, I hope to watch every Code film every made during my lifetime, if I can! As a start in that direction, I am vowing to watch and review 100 Code films I have never seen before during 2020.
Today's topic is Road to Singapore from 1940. Speaking of famous films which I haven't seen yet, the Road movies fall into that category. Nearly all my life, I have been aware of the mock feud between Bing Crosby and Bob Hope, which arose from their partnership in many Paramount musical comedies called the Road or Road to movies because all their films are titled Road to (Somewhere). I've heard them sing funny duets on the radio. I've heard them make cracks about each other in their separate films. I've even seen Boing Crosby make a cameo appearance at the end of one of Bob Hope's films, The Princess and the Pirate, to get the girl after Bob Hope starred in the film! However, I had never seen one of their Road movies. I decided to watch one this week, having read about them recently. The duo and Dororthy Lamour made seven of these movies together, and all of them are Code films! When I realized that we owned the first of these films, Road to Singapore, I decided to make it my second new Code film for this week. I watched it on Thursday evening.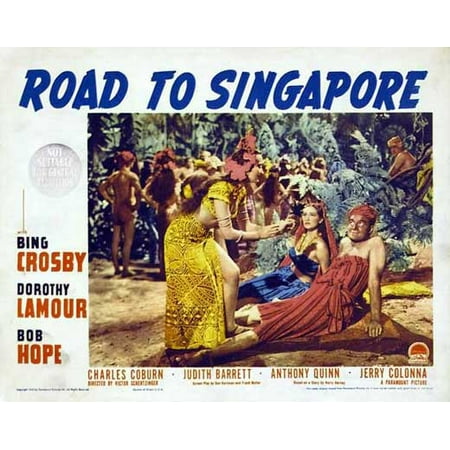 Plot
A millionaire's son doesn't want to be responsible by joining the shipping company, marrying his fiancée, and settling down. Realizing that he can't escape his father's sensible plans for his life if he stays at home, he and his best friend, a poor sailor, board a ship bound for Singapore and get off on a beautiful tropical island, Kaigoon. There, they vow to avoid women and enjoy the carefree life of bachelors. This quickly goes south, however, when they rescue a beautiful dancer from her abusive performance partner and take her to their shack, where she cleans up the mess and captivates their hearts, threatening their carefree existence.

Cast
This movie stars Bing Crosby, Dorothy Lamour, and Bob Hope. Supporting actors include Charles Coburn, Judith Barrett, Anthony Quinn, and Jerry Colonna.

Production Notes
This movie was directed by Victor Schertzinger. It was produced by Harlan Thompson. The production company was Paramount Pictures. The screenplay was written by Don Hartman and Frank Butler. It was based on a story by Harry Hervey.

Code Compliance
This is a good Code film. It is completely free of Code violations. The comedy in this movie is totally clean and wholesome. Although it is set on a tropical island for the most part, the native costumes are sufficiently covering. These old comedies are such good examples of movies which are really funny without including crude humor or anything which is inappropriate. They are good, clean fun which the whole family can enjoy!

Recommendation
I highly recommend this film. If you want a good laugh, this is a good movie to lift your spirits and give you an hour and half of fun. The comical interaction between the two leading men is hilarious. There are some hilarious lines, great skits, and impressive fights, which always begin with the "Pattycake" game that became a running gag in the Road movies. Some nice songs are sung by the three leads. Dorothy Lamour is lovely in this movie. Before this, I had only seen her in one non-cameo role, which was in Last Train from Madrid from 1937. She has a small but dramatic role in that film. I enjoyed seeing her in this light-hearted, exotic role. Anthony Quinn is menacing in his small role as her dance partner who literally cracks a whip at her. It was interesting to see Jerry Colonna, whose comical voice I have heard on the radio in "Who's Yehoodi?" with Kay Kyser and as a narrator in Walt Disney's Make Mine Music. He is really funny in the soap suds skit. I can say without reservation that I enjoyed this film. I look forward to seeing the rest of the Road movies which these feuding friends made!
Click the above image to buy this movie on DVD at Amazon and support PEPS through the Amazon Affiliate program!
Follow us to bring back the Code and save the arts in America!
We are lifting our voices in classical song to help the sun rise on a new day of pure entertainment!
Only the Code can make the sun rise on a new day of pure entertainment!