Today is Friday, so it is time for another Film Fashion Fridays article. In my weekly articles in this series, I choose an outfit from a movie which is great in itself or which represents a concept, and I explain how you can recreate that outfit with products from Amazon.com for your own vintage style. This is my fifth article in the series. I hope that my readers have enjoyed discovering vintage glamour with me!
For the first four and a half months of 2019, I did not participate in any blogathons. I decided that I needed to concentrate on my own series on my website. However, after I participated in the Jimmy Stewart Blogathon last weekend with an article about Rose Marie and one about Born to Dance, I realized that I have missed the involvement and the reader participation which comes from blogathons. Thus, I figured out a way to do blogathons as well as my series with little additional work. I decided to join blogathons on the weekends and make them part of my regular series. This article is my first attempt at doing that. As well as being a Film Fashion Friday article, it is my entry in the Jeanne Crain Blogathon.
The Jeanne Crain Blogathon is being hosted by Overture Books and Film this weekend on May 24-26. This blogathon is being hosted in honor of Jeanne Crain's 94th birthday, which would have been tomorrow. Also, it is honoring the memory of 20th Century Fox, which ceased to be a member of the Big Six studios in Hollywood when it was bought by Disney a few months ago. My topic for this blogathon is a costume which Miss Crain wears in Leave Her to Heaven from 1945. I have never watched this movie, but I have read about it. Now that I have studied this costume, I want to watch this movie. I may watch it later this year as one of my new movies in 52 Code Films!
Today's featured ensemble is the final costume which Jeanne Crain wears in Leave Her to Heaven, a film noir which also features Gene Tierney and Cornel Wilde. In this movie, Miss Crain plays Ruth Berent, the leading lady's adopted sister. Truly the two ladies look similar enough to be natural sisters. The outfit of choice today is a light, casual ensemble which is perfect for a vintage summer look. It is a long-sleeve button-up white blouse with a white skirt that ties at the waist and white peep-toe shoes. I thought that the all-white outfit was appropriate for Memorial Day weekend, which has long been cited as the beginning of the period during which it is acceptable to wear white shoes and garments.
Jeanne's blouse is a lovely white long-sleeved piece. It has three or four large white buttons down its front; the buttons seem to be covered in white cloth, a nice touch which isn't common now. It has a V-neckline with a large, pointed lapel. The shoulders are very structured, the sleeves are puffy, the collars are tight at the wrists, and the torso is fitted enough to show her lovely figure. It is easy to overlook the lovely, stylish form of blouses like this. They look so simple that one assumes they are average. Looking for a blouse which recreates this look on Amazon made me appreciate just how structured and feminine this garment is. The material is a good quality, decently-thick so that one can't see through it. It has a nice sheen, so it probably is silk. I couldn't find anything just like it, but I found several options which are similar in some ways. You can appraise them and choose which you like for your outfit.
Above are two white button-up blouses from Amazon. Each of them has small white buttons up its front. Neither has as nice or as wide a lapel as that of the blouse in the movie. However, the look can be recreated quite well by turning down the collar and unbuttoning the top few buttons. Click on either of the above options if you want a simpler blouse in this outfit.
The above blouse from Amazon is a third option with front buttons. However, it is quite different from the others in the fact that it has prominent round buttons covered in material all the way up the front. The buttons are close, fairly large, and are circled by small material loops. Although it is not exactly what Ruth wears in this outfit, this type of button gives the blouse a very vintage look. Buttoned as low as in the picture, it looks rather sleazy. However, if it were buttoned decently high, I think the above option would be an excellent choice, since it is the only blouse I could find with material-covered buttons.
The above three blouses from Amazon are an alternative style for this outfit. They don't have buttons up the front, nor do they have a traditional collar. However, they have a definite V-neck style, which is a key element in Jeanne's blouse. Because they have a more stylistic design, they look a little fancier than the simpler button-up options. I think any of these three blouses would be a very nice choice in this outfit.
Jeanne Crain wears a lovely white skirt in this outfit. The skirt flows so nicely from the blouse that at first I thought this was a one-piece dress. However, the buttons on the blouse made me decide that it is indeed two separate pieces. The skirt is a high-waisted A-line which reaches just below the knees and flares slightly. It has a few pleats, and the material is crisp but not too stiff. The most noteworthy feature of this skirt is its bow. The outfit has definition and style because of the small tie at the waist which is done into a small bow at the front. It seems to be the top of the skirt, but the look could be recreated with a separate white material belt over a skirt without a tie. I found several skirts which are similar to this in different ways.
The two above skirts from Amazon are almost identical. They both are full, pleated white skirts. They could even be described as swing skirts. They seem quite structured and rather shiny. I would say that they both would reach to the knee on the average woman. Each has a neat little bow at the front of its waist band. Although a little more structured than Ruth's skirt, I think that both of these garments are lovely, vintage skirts which would look very good in this ensemble.
The above skirt from Amazon is the most similar skirt I could find to Ruth's. It is about the same length, since it goes beneath the knees. It is quite stiff, and it is pleated. It has a tie at the waist which runs through the waistband and adjusts its tightness. It has a very vintage look. The only problem is its color. Its description page says that it comes in black or white. However, in the display pictures, the white doesn't really look white. It looks more like beige or off-white. Perhaps the pictures distort the color, and it really is a true white. There are no reviews, so I have no way of knowing. All you can do is order it and see!
The above skirt from Amazon is the only skirt I recommend which doesn't have a bow or tie at the waist. It is a flowing skirt that reaches below the knee. It has small pleats and a lot of movement. It has an underlayer which prevents it from being see-through and an over-layer which is diaphanous. It has a fitted waistband. It looks very pretty and estival.
If you choose the last skirt, you can wear a thin sash as a belt to tie as a bow at the waist. Both the above options from Amazon look like excellent choices. They both are chiffon and very sleek. Each is about an inch and a half wide. You can tie one of them over the last skirt's waistband as a lovely accent.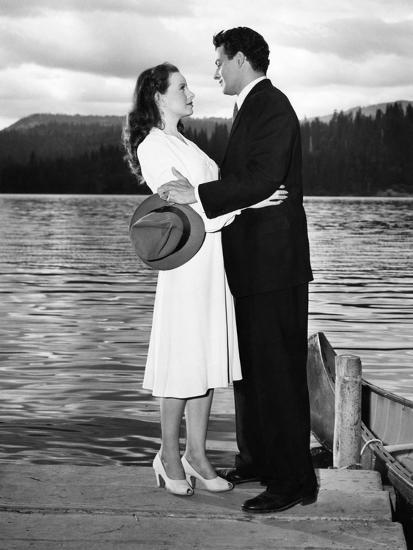 The last piece of this outfit is the shoes. They are white pumps with a medium-width heel of about three inches in height. They probably are leather. They come quite high on the foot. The most singular feature about these shoes is the fact that they are peep-toes. They are hardly open-toed, since just a small hole at the front of the shoe exposes the tiniest bit of foot. These are very vintage and very classy shoes. These shoes may look too fancy for a lakeside scene, but remember that this is the 1940s, when women didn't wear tennis shoes just because they weren't in New York City! Below are three peep-toe shoes with heels of different heights.
If she went into town, Ruth would certainly wear a hat. If she were out during the day, she would probably wear a sun hat to protect her lovely complexion. The hat would be more casual because she is in a rural setting. To give your outfit the final touch, why not choose one of the below white sunhats from Amazon?
That concludes my description of this outfit! With a white blouse, a white skirt, white peep-toe shoes, and a white sunhat, you are ready to go out for a day of carefree vintage glamour! This would be perfect for a vintage look to wear at a summer barbecue or other outdoor event. You would be the life of the party! Like Jeanne Crain, pair this ensemble with a beautiful smile to be fully-dressed! Happy Birthday, Jeanne Crain! She was a beautiful actress who could make even a simple white outfit look glamorous.
If you want to observe Jeanne Crain's style for yourself, I suggest that you purchase the movie and study her outfit firsthand! Click the above image to purchase Leave Her to Heaven on DVD at Amazon.
Remember, take pictures of yourself in vintage style and send them to me to be featured in a future Film Fashion Fridays article! I will gladly republish your pictures, advice, and experiences in vintage clothing for others to see and read. Let's make Friday a day for film fashion!
To every Glamour Girl and Dapper Dan, "Here's looking at you, kid!"
Follow us to bring back the Code and save the arts in America!
We are lifting our voices in classical song to help the sun rise on a new day of pure entertainment!
Only the Code can make the sun rise on a new day of pure entertainment!