We have reached the end of another week, so it is time for the next 52 Code Films article. As in every week this year, I watched one new movie from the American Breen Era (1934-1954) this week which I have never seen before. Now, as on every other Sunday, I am reviewing that film. I use a simple layout for these articles, since I want to give just what I would want to know when reading about a new film, an overview of the plot, the cast, and the production information. In addition, I appraise how faithfully each film adheres to the principles of the Code, following the guidelines I set forth in my article about Classifying Code Films. Finally, I give my opinion on the film and say whether or not I recommend it. Out of the the twenty films I have reviewed in this series so far in 2019, I am happy to say that there has only been one film which I haven't recommended, Three Coins in the Fountain. Now I give you my newest article in the series, which will be the last one I publish in May.
This week's topic is Salome, Where She Danced from 1945. Earlier this week, I decided that I was going to begin participating in blogathons again, as long as I could participate with articles which I had to write anyway for one of my regular series. When researching upcoming blogathons, I realized that Shadows and Satin, Speakeasy, and Silver Screenings are hosting this year's Great Villain Blogathon this weekend. I immediately knew I must join the 2019 version of this annual blogathon, which was my very first blogathon in 2017. I started looking at our Amazon Video watchlist in search of a new Code film with an interesting villain that I could review for this event. I happened upon Salome, Where She Danced. I had been curious about this film for some time but hadn't gotten around to watching it yet. When I read the film's description, which said that the story was about a dancer who vamped one man after another to advance her career, I though that Salome sounded like a sinister character. I signed up for the blogathon with Yvonne De Carlo's character in this film as the topic. I watched the film on Thursday, and I thoroughly enjoyed it! However, I quickly realized that the descriptions I had read were misleading, since Salome is not the villain. If she isn't, who is? I decided to make my topic "Who is the Real Villain?" I will include an additional category after my regular paragraphs to dedicate to the blogathon topic.
Plot
A war correspondent encounters a sarcastic Prussian military aide who is a count after the end of the Civil War. The men observe the retreat of General Lee, who encourages a young Confederate soldier to go back to school. However, the young man is disillusioned because of the South's defeat and thinks that he doesn't know anything except fighting. A year later, the reporter is in Vienna, where he meets the beautiful Viennese ballerina who is loved by everybody but only loves the Austrian prince. Realizing that the former military aide, who is now a member of the Prussian General staff, is very infatuated with the beautiful dancer, the war correspondent convinces her to respond to his attentions and spy on the Prussians. The Austro-Prussian War breaks out, and the Austrians are defeated. When it is discovered by the count that the ballerina was sending secret information to the Austrians, her life is in danger. The war correspondent helps her and her uncle, a music professor, escape to America with him, where he says she will be a star in the West. In an outpost town in Arizona, they meet a former show business woman, who agrees to help them put on a show with the ballerina. Calling the presentation a dance of Salome, they attract the whole town and earn enough money to go to San Francisco. However, while Salome is dancing, bandits come in and steal their earnings as well as rob everyone else. After the show, the lead bandit, whom the war correspondent recognizes as the dismayed young Confederate soldier he met after the war, kidnaps the beautiful dancer. Back at his hideout, she says that she danced for him because he looks exactly like the Austrian prince she loved, who was killed. The pretty dancer soothes the troubled spirit of the bandit with her kindness, so he brings her back to her group and returns all the stolen loot. He agrees to give up his criminal life and go to San Francisco with the performers. In the West Coast city, the war correspondent decides that the ballerina, whom he is growing to love very dearly, needs a supporter who will back her performing and build a theatre for her. He selects a Russian tycoon, who soon meets and befriends the attractive dancer.  The Russian wants to build fame for the dancer's talent and win her love in the process. He is guided by the advice of a Chinese doctor in his employ who is a sage friend to all. However, both he and the reporter know that the dancer's heart belongs to the stubborn former bandit, who is reluctant to take an honest job that will make him an enemy of his bandit friends. The ballerina must choose between the men who can make her career great or the rebel whom she wants to help find peace in an honest life, yet she is haunted by the threat of the count who may someday arrive and try to take revenge on her.

Cast
The Viennese dancer who travels west is Anna Maria, also known as Salome, played by Yvonne De Carlo. The war correspondent who accompanies her on her journey is Jim Steed, played by Rod Cameron. The bandit who falls for Salome is Cleve Blunt, played by David Bruce. Anna Maria's uncle is Professor Max, played by J. Edward Bromberg. The Russian tycoon who is entranced by Salome is Colonel Ivan Dimitrioff, played by Walter Slezak. The show business woman who goes west with the group is Madam Europe, played by Marjorie Rambeau. The sinister Prussian who pursues Salome all over the world is Count Erik Von Bohlen, played by Albert Dekker. The Chinese doctor who works for Colonel Dimitrioff is Dr. Ling, played by Abner Biberman.

Production Notes
This film was directed by Charles Lamont. It was produced by Walter Wanger. The production company is Universal Pictures. The screenplay was by Laurence Stallings from an original short story by Michael J. Phillips about Lola Montez, a Mexican dance hall performer who called herself Salome and led to the renaming of an Arizona town called Drinkmens Wells.

Code Compliance
This is a fair Code film. The story is very wholesome and decent. I was impressed by the delicacy with which the relationship between Anna Maria and Count Von Bohlen was depicted. The only reason I judge it as less than a good Code film is that Yvonne De Carlo  wears several costumes with low necklines. Other than some fairly revealing costumes and the slightly suggestive choreography of the Salome dance, there is nothing wrong with this movie. It is very wholesome and very entertaining. I really enjoyed watching it. I think that Code classification helps us to form a deeper understanding of the Production Code Administration's work. This passing of judgement may seem like criticism, but I don't mean it as such. It is so easy for those on the outside to ridicule the slightest oversight or unacceptable element in a Code film. It is easy to do that now, and it was all too easy when the PCA was functioning, as well. There are so many cases when the self-regulators had to argue their best judgement against often-stubborn filmmakers. At heart, all the filmmakers knew that the Code administrators were just helping them to avoid censorship and controversy around the country and the world. Everyone had to make compromises to reach that goal. How quick are decency-minded film-goers to ridicule the slightest oversight! It is amazing how many films were close to perfection during the Breen Era. It really is a miracle. Even when we see slight breaches, such as in fair Code films, we should be extremely grateful for the self-regulation which did go into the films. Imagine how risqué this movie probably would have been in any other time! It is squeaky clean by any standard other than that golden one during the Golden Era. In fact, it is a compliment to the PCA that this is an example of a second-rate film, decency-wise. It just shows how clean good Code films are!

My Opinion
I think this is an excellent movie. I really enjoyed it. I thought that the Technicolor was beautiful. I enjoyed the historical setting of this work. From Old Europe to the Old West, there is a lot of period culture which is ornately depicted. I liked the Victorian dresses which the ladies wore. This was the film that made Yvonne De Carlo a star. It is the first full movie in which I have seen this actress, who is best known for playing Lily Munster in the 1960s. I have been curious about her since I saw her villainous role in the first thirty-minutes of American Gothic, a 1987 Canadian horror film which I breened in January because a friend of ours was in the cast. I knew from early photographs I had seen of her that she was a lovely young woman, but I was very impressed by how gorgeous she is in this movie. She is stunning as Salome. I thought that she acted very well in this part, which included a very convincing European accent. What I found particularly impressive was the fact that she made her first entrance in pointe shoes! In her opening number in Vienna, she is very graceful as a ballerina. In a later scene, she sings with her own deep voice, which has a lovely tone. It seems those singing and dancing lessons in Vancouver payed off! I also thought that the rest of the cast was excellent. Rod Cameron was effective and increasingly sympathetic as Jim. I really liked David Bruce's performance as Cleve. I have seen this actor in a few other roles, but I really noticed his talent and good looks in this movie. He and Yvonne De Carlo were a powerful combination. The background music by Edward Ward lent a lot of drama, as well. It reminded me a lot of his score to Universal's Phantom of the Opera from 1943.

Recommendation
I highly recommend this film to my readers. It is very exciting. I have heard the plot criticized as weak, but I didn't think it was. I thought it was very dramatic. It had art, romance, and a lot of excitement in the hold-up scene and a tense sword fight. It is a very unique Western. Producer Walter Wanger envisioned this film as "an Arabian nights story in a western setting," and I think it is all that with the gothic glamour of The Phantom of the Opera as well! The message in this movie about the honor of war but the importance of fighting for a good cause is a fine one. It is very appropriate for Memorial Day weekend, when we are remembering all the soldiers who fought so valiantly for our country's freedom. Made in 1945, this movie was a wartime picture. Although it was set eighty years earlier, its message about fighting for the right thing must have rung true then as now.

For the Blogathon
This blogathon is all about the "heavies" in motion pictures. Many films have clear-cut villains whom we immediately recognize and despise. Others are not so simple and straight-forward. This film has a very complex protagonist and antagonist system. As a matter of fact, you may not be able to determine who is the actual villain even after "The End" has appeared on the screen. Let's consider the different characters, their actions, and their motivations to determine who is the real villain in Salome, Where She Danced.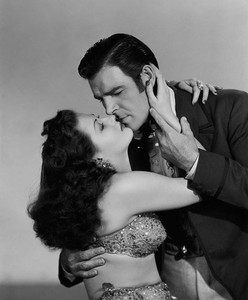 The first prominent character we see is Jim Steed, but we aren't immediately sure that he is a protagonist. He is rather cynical when we first see him after the Civil War, and in Vienna he is a Casanova who swears his true love to two women in as many minutes. Then, he asks the ballerina Anna Maria to accept the attentions of the Count Von Bohlen to gain inside information, perhaps playing the role of Mata Hari as well as Salome. We question the ethics of this gentleman in these early scenes. We question him again when he rifles the person of a fallen soldier on the battlefield. However, his attitude changes when he realizes that the deceased is the prince of Austria, whom Anna Maria loved. He then risks his own safety to help her and her uncle escape, proving that he is not a villain at all.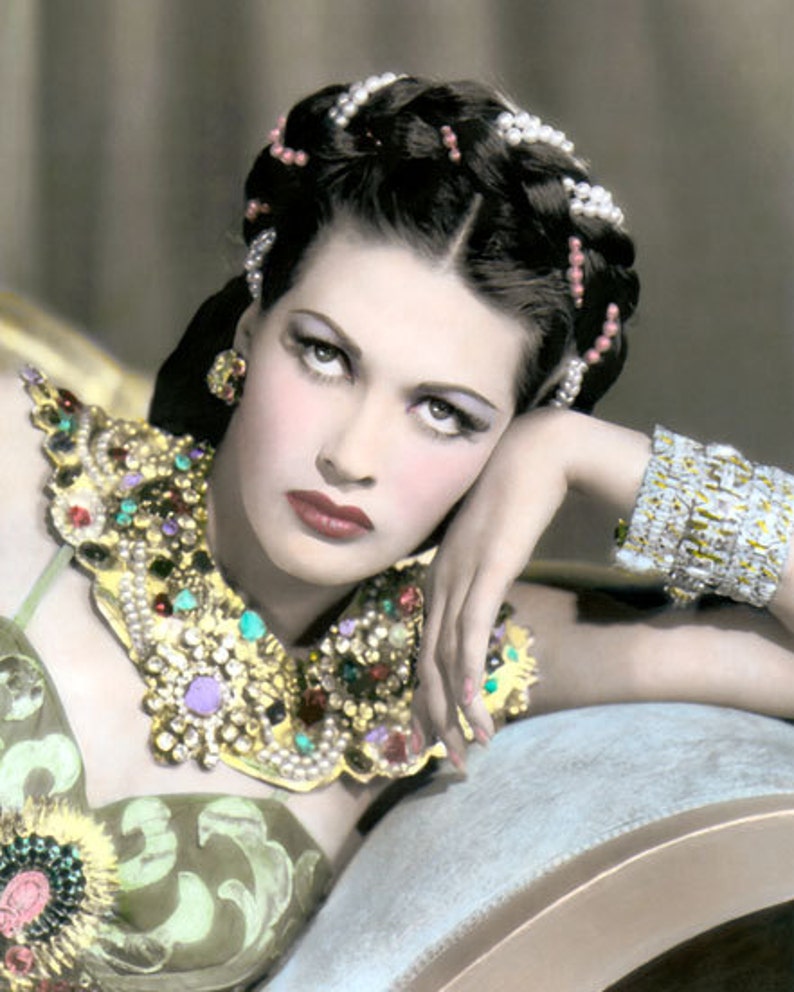 When Anna Maria first entered the story, I was not convinced that she was not the vamping femme fatale the descriptions had led me to believe she was. She looked very cold when Jim first entered her dressing room. She seemed like a woman of few principles when she began to respond to the count. However, when Jim finds letters from her on the person of the fallen Austrian prince, we realize that she did whatever she did for her beloved, despite the danger to herself. From then on, we know that she is the heroine of the story, and Jim Steed is definitely her ally. We have only to determine which other man in her life is the villain.
It is surprising when a bandit and his gang hold up the audience during Salome's show. It is even more shocking when we realize that the lead bandit is the sensitive Confederate soldier who spoke to General Lee in the first scene. He is now daring and sly with the cocky swagger of a gangster. However, he is entranced and softened by Salome's dancing. He adds kidnapping to his list of crimes when he abducts Anna Maria after the show. He seems to worsen by the minute as he begins trying to kiss the dancer back at his camp. However, he and Salome are soon having a strangely sympathetic conversation, in which she tells him that he looks like her late beloved. The next thing we know, he has returned Salome and all the stolen money. He decides to go to San Francisco to be with her, but he still is a confused character. He says that he wants to go back to Virginia and be honest, but we wonder for the rest of the movie whether he has the potential to really reform. He lost faith in everything after the Confederacy was defeated, and he thought that he had to steal because all he had known was fighting since he was sixteen years old. However, love for Salome gave him faith in something for the first time in years and the possibility of redemption.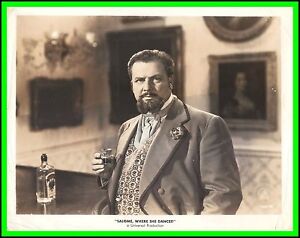 Dimitrioff introduces himself to Anna Maria by shooting a feathered plume off her hat. He pursues the friendship by giving her expensive gifts. It seems obvious that he is a wealthy man who will do anything to win the beautiful young woman. He seemed like the type of man who would rather have a beautiful mistress than a wife. For most of the movie, I doubted the honor of his attentions. He is jealous of Cleve, since he and Jim both believe that Anna Maria loves him. When Salome later says that she doesn't want to dance, he tries to blackmail and threaten her. However, a sudden switch at the ending reveals that he is not the black-hearted villain he seemed to be.
As the film reaches its climax, Count Von Bohlen reappears. He has pursued Anna Maria all the way from Vienna, and he intends to kill her for using him to learn secrets. Despite the fact that Prussia still won the war, he would be dishonored if it were discovered that she gained state secrets through him. This man's ruthlessness is exceeded only by his lust for Salome. He is supposed to bring her back to Europe, where she undoubtedly will be shot for spying. Even as he tells her this threatening mission, he tells her that she can still escape by going away with him! Thankfully, Cleve defends her honor in a swordfight with the tyrant. Even as he fights with the younger man, he mocks the knowledge of dueling which his opponent learned during the Civil War. Without a doubt, Count Von Bohlen is the villain in this movie.
Salome is certainly the protagonist of Salome, Where She Danced. Although she is alluring, she does not use men. Many men in the story act selfishly at times because of their desires to have Salome for themselves. However, every one redeems himself eventually by putting his love for the lovely Anna Maria above his own desires and motivations. Count Erik Von Bohlen is the villain because he would rather see Salome dead than happy with some other man. Few characters are nastier villains than a man who would gladly kill a beautiful woman he claims to love.
Click the above image to buy this movie on DVD at Amazon and support PEPS through the Amazon Affiliate program!
This week, I only watched this one new Code film.
Follow us to bring back the Code and save the arts in America!
We are lifting our voices in classical song to help the sun rise on a new day of pure entertainment!
Only the Code can make the sun rise on a new day of pure entertainment!