Today is Sunday, so it's time for this week's second 100+ New Code Films article. This series is a great way for me to participate in many different blogathons! If the blogathon's topic is a genre or category of film, I can find a new Code film with that theme. If it's honoring a particular actor, I can see which of his Code films I haven't watched yet. Since I have to watch and review at least to American Breen Era (1934-1954) films which I have never before each week anyway, it's the perfect excuse to join interesting blogathons!
Today's topic is My Favorite Spy from 1951. When I heard about the blogathon dedicated to the famous partnership of Bing Crosby and Bob Hope, I knew I wanted to join. At first I thought about reviewing one of the Road movies, the collaborations between the two. I also considered reviewing The Country Girl (1954), a Bing Crosby film on my list of Oscar-winners to watch this year. Then, I remembered that I have been wanting to watch My Favorite Spy, a Bob Hope film on our Amazon Prime Video watchlist, for a while. I realized that this is the perfect opportunity! We watched this film on Thursday night.
Plot
A burlesque comic is picked up by the police because they believe that he is an international assassin who is on the lose in the city. When the assassin is shot and brought to the hospital, the authorities realize that the comic is telling the truth. However, they have a special assignment for him. They ask him to impersonate his deadly lookalike and go to Tangiers to obtain microfilm worth $1 million. After extensive training, the reluctant imposter embarks on his journey. There, he immediately meets the gorgeous femme fatale who has been the real assassin's sweetheart, partner in crime, and double-crosser in several international incidents. He quickly finds himself falling for her, even as his life is in constant peril.
Cast
This movie stars Bob Hope, Hedy Lamarr, and Francis L. Sullivan. Supporting actors include Arnold Moss, John Archer, Luis Van Rooten, Stephen Chase, and Morris Ankrum.
Production Notes
This movie was directed by Norman Z. McLeod. It was produced by Paul Jones. The production company was Paramount Pictures. The story was written by Edmund Beloin and Lou Breslow. The screenplay was written by Edmund L. Hartmann and Jack Sher, with the adaption being by Edmund Beloin and Lou Breslow.
Code Compliance
This is a good Code film. It manages to be funny without being indecent, vulgar, suggestive, or crude. That seems to be impossible with modern comedy, so this is so refreshing! Like many Bob Hope comedies, this isn't just comprised of slapstick humor. It also is a suspenseful drama, including peril. Of course, much of the violence and action is played for laughs rather than serious. Nevertheless, it could easily have been very violent for comedic effect. Since this film complies with the Code's standards of being "reasonably acceptable to reasonable people," it manages to be hilarious and exciting without including any content likely to offend.
Recommendation
I highly recommend this movie. If you're a Bob Hope fan, you will love this movie! What sets it apart to me is the fact that Hedy Lamarr is the leading lady, instead of the usual exotic leading lady of the Road films, Dorothy Lamour. Miss Lamarr is gorgeous, dramatic, and confusing in this part. She keeps us guessing regarding her character's loyalties. Although Hedy herself was disappointed that she was playing her usual femme fatale role instead of a comedic role, I found her to be charmingly comical in many scenes. The exotic locale is the perfect setting for this thrilling story. I love the dual role theme. It's more common in Danny Kaye films, but Bob Hope pulls it off brilliantly! He is understandably believable as a baggy-pants comic from a burlesque theater, complete with a funny nose for his shows! In contrast, he is sinister and sneaky as the true assassin. One of the funniest moments is when Peanuts White (Bob Hope) is given a truth serum and goes into an elaborate song and dance routine, complete with impressions of Dr. Jekyll and Mr. Hyde! This is a mysterious, hilarious escape of intrigue, laughs, and romance in Tangier!
For the Blogathon
This weekend, Kristen K. Winiarski of Hoofers and Honeys of the Classic Movie Era is hosting a blogathon in honor of the classic musical comedy team behind Paramount's numerous Road movies. This blogathon is called the 1st Annual Bing and Bob Blogathon. Bloggers can participate by writing about one of the duo's numerous collaborations or any film which either of the gentlemen made separately.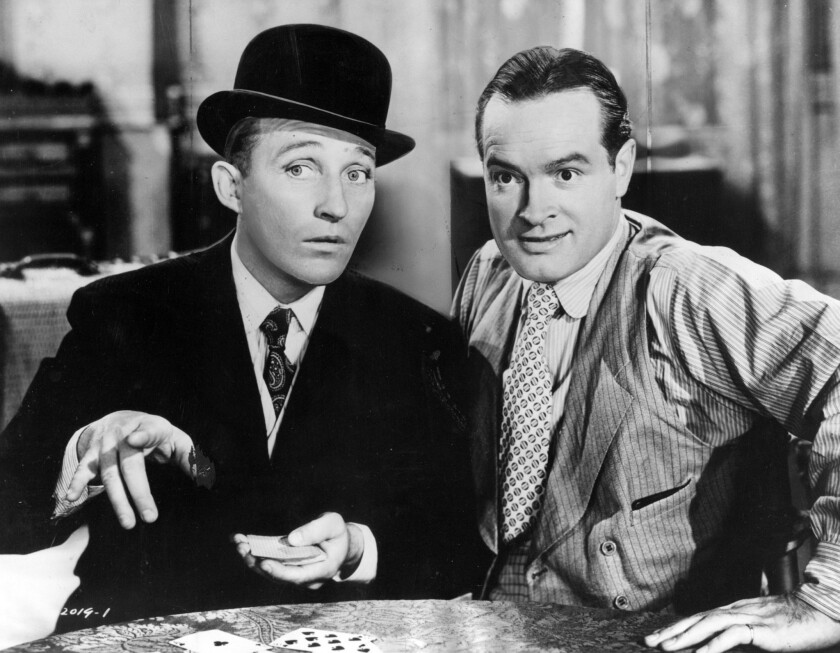 The rivalry between Bing and Bob became the stuff of Hollywood legend. In fact, it always was Hollywood legend. Bing and Bob were not real-life enemies or even rivals, since Mr. Crosby was a popular crooner while Mr. Hope was a successful comedian. Although Bing was very funny and Bob sang, neither really gave the other competition in his chosen field. Their famous feud originated from the fact that they were always competing for the girl (Dorothy Lamour) in the Road movies. Since they were so successful as associates who constantly double-crossed each other in these films, their rivalry was perpetuated outside of these films. It wasn't hard to do so with cameos and references in films, since they both worked for Paramount Pictures during their heyday!
Bob Hope made three comedies with the title My Favorite (Something). After My Favorite Blonde and My Favorite Brunette, he made My Favorite Spy, the film we're discussing today. In the two earlier films, Bing Crosby actually made a hilarious cameo appearance! Bing doesn't actually appear in My Favorite Spy, but he is referenced in the film. While performing his musical number under the influence of a truth serum, Peanuts picks up a skull which is part of the décor. Holding it, he says, "You remind me of someone I know who used to sing." This is an obvious jab at his old crooning nemesis, Bing Crosby! If you are a fan of either of these comical Paramount boys, you'll love this movie!
Extra Movies Watched This Week:
Good Code Film, Recommended
Follow us to bring back the Code and save the arts in America!
We are lifting our voices in classical song to help the sun rise on a new day of pure entertainment!
Only the Code can make the sun rise on a new day of pure entertainment!