Today is Saturday, so it's time for this week's first 100+ New Code Films article. This is the last weekend in May. Thus, this will be my second to the last article for the month. You probably know my pattern by now. Each week, I watch and review two new American Breen Era (1934-1954) films. For the past couple of months, you may have noticed that my posting of these articles has gotten rather inconsistent. However, I am catching up on the old ones now, so by July I should be fully caught up and back on schedule!
Today's topic is Edward, My Son from 1949. This film has been on our Amazon Prime Video watchlist for some time. I periodically look up favorite actors of our on Amazon to see if more of their films have been added to Prime Video. A few months ago, Edward, My Son was added to our watchlist. I don't remember if I added it or if my mother added it when it came up as a suggestion, based on films we had previously purchased. Anyway, we had hesitated about watching it because it looked quite dramatic and possibly dark. We finally decided to watch it on Wednesday night.
Plot
An aged businessman addresses the audience and says that he wants to explain his behavior during the life of his son. After World War I, he and his wife celebrated the first birthday of their son with the family doctor, their best friend. When the lad is a few years old, he is diagnosed with an ailment which requires an expensive surgery to prevent a lifelong limp. His father will do anything to get the money, so he burns down his failing retail credit business's building for the insurance money. He gets away with it, thus beginning an unscrupulous career as a crooked but very successful businessman. He eventually becomes a member of the House of Lords. As his son grows up, nothing is too good for him, as far as his father is concerned. When his selfish, undisciplined behavior gets him in trouble, his father buys his way out of it. He refuses to listen to his wife's concerns that he is spoiling their son by always giving him his own way. Meanwhile, the parents are drifting farther and farther apart, since the husband doesn't realize how ruthless and selfish he is.
Cast
This movie stars Spencer Tracy, Deborah Kerr, and Ian Hunter. Supporting actors include James Donald, Mervyn Johns, Leueen MacGrath, Felix Aylmer, and Walter Fitzgerald. Which actors plays Edward is purely up to personal conjecture, since he is never seen onscreen.
Production Notes
This movie was directed by George Cukor. It was produced by Edwin H. Knopf. The production company was MGM. The credited writer is Donald Ogden Stewart. The screenplay was based on the play of the same name by Robert Morley and Noel Langley. The film was nominated for two awards, both an Academy Award and a Golden Globe. They were both for Best Actress for Deborah Kerr.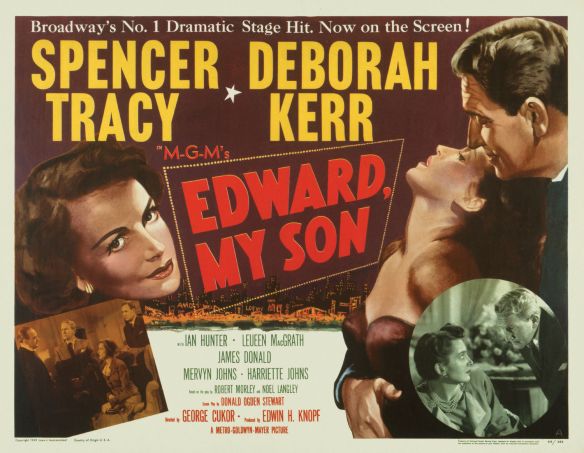 Code Compliance
This is a good Code film. I'm tempted to classify it less generously than that, since there is something extremely dark about it. However, I can't think of anything which was not handled properly or pointedly violates the Code. There are some very mature, serious topics addressed, including an extramarital affair, unwed motherhood, blackmail, and alcoholism. The inclusion of these topics might make some think that this film "got by" the Production Code Administration (PCA). However, I don't believe that that is the case. The Code did not expressly forbid the inclusion of the aforementioned controversial topics. It merely regulated their proper handling. I think that this film handles these difficult topics well because it does not glorify or excuse them. Instead, it shows how immoral, selfish, and unlawful behavior leads to personal suffering and the ruination of families. In addition, these topics are handled delicately. The situation of a young woman being expectant out of wedlock is depicted very discreetly, as is the fact that the future grandfather (Spencer Tracy) subtly hints that he will pay for her to have an abortion. Again, this is between the lines, since abortion could not be mentioned in Code films. In all, I'm very impressed by the way this film handled difficult topics.
Recommendation
I recommend this film for its artistic excellence, but I must say that I personally found it very bizarre. The leading couple of Spencer Tracy and Deborah Kerr is surprising, since they are playing decidedly out of character. Spencer Tracy is unusually unsympathetic as Arnold Boult, a man who seems completely unaffected and unaware when he ruins and destroys people's lives. Spencer Tracy gives a flawless performance, completely convincing us that he is the self-made but selfish Lord Boult. He doesn't act overtly self-centered. He truly thinks that he is only concerned about the ones he loves, namely his son. Perhaps that is what makes him such a threatening character. Deborah Kerr is equally captivating and disturbing in her powerful performance. The most unsettling thing about her role is how much she physically ages because of her husband's cruel, selfish ways. I was very impressed! Ian Hunter plays the faithful family friend, who grows increasingly upset by the way Arnold acts. He is in love with Evelyn Boult, but he is too honorable to make any advances toward her. This is indeed a dramatic, artistically excellent movie.
For the Blogathon
I'm writing about this film for a blogathon we're hosting here at PEPS this week, The Mystery Character Blogathon! This blogathon is all about characters who are discussed but not seen, so I decided to review this movie, in which the titular character drives the actions of the whole story while never being seen.
Edward Boult is the center of his whole story, which lasts from the time of his first birthday until after his premature death during the war. The character of Edward was unseen in the 1947 play of the same name, so director George Cukor decided to maintain this principle in his film of the story. The story is all about the Boult family, particularly Arnold Boult, so it feels strange at first that Edward is never seen by the audience. However, this is meant to have a purpose. The main point of the story is a father's obsessive and ultimately destructive protection of his son. By trying to give him everything he wants and needs in the world, Arnold ruins Edward's life by making him a spoiled, immoral, and pampered fool.
Who would play this role if he were seen? Well, just one actor would not be enough, since the film covers more than twenty years. One of the pivotal events in the story is when Edward is almost expelled from prep school. That would be a time when a noteworthy child actor could embody the character. Roddy McDowall comes to mind, but he would have been too old for this age. Since he was born in 1928, he would have been old enough to play the fully grown Edward. The other actor I think would have been good for the part is Peter Lawford. Can you imagine either of these talented young British actors as the selfish, spoiled son?
Who do you see in this role? Be sure to let me know in the comments!
Follow us to bring back the Code and save the arts in America!
We are lifting our voices in classical song to help the sun rise on a new day of pure entertainment!
Only the Code can make the sun rise on a new day of pure entertainment!