Today is Saturday, so it's time for this week's second 100+ New Code Films article. Every week this year, I plan to watch and review two American Breen Era (1934-1954) films for the first time. These articles make up the entries in this series. Following this formula, I provide some basic information on each film and give my thoughts on it. If I watch more than two films during the week, I list those extra Code films at the bottom of the week's second article. If there are any movies I haven't reviewed on here which you would like me to watch and review, please leave a comment with your suggestions!
Today's topic is from The Keys of the Kingdom from 1944. I discovered this movie in our VHS collection last year when looking for so-far unwatched movies. I think someone must have given it to us with some other old movies, since neither of my parents was very familiar with the title or premise. When I planned our religion-themed blogathon, I knew that I had found the perfect opportunity to watch and review this movie. I started watching this movie on Friday evening and finished it this afternoon.
Plot
An old Catholic priest has returned to his hometown in the British isles after spending most of his lifetime abroad as a missionary. Although the bishop is his boyhood friend, he has sent a monsignor to investigate the reports of the old priest's increasingly unorthodox ideas and management of his parish. The monsignor has all but decided to recommend the priest's retirement when he spends the night at the old man's parish. He finds the elderly priest's memoirs from his decades in China, where he used his unconventional faith, kindness, and work ethic to overcome countless obstacles while starting his church there.
Cast
This movie stars Gregory Peck, Thomas Mitchell, and Vincent Price. Supporting actors include Benson Fong, Rosa Stradner, Roddy McDowall, Edmund Gwenn, and Sir Cedric Hardwicke.
Production Notes
This movie was directed by John M. Stahl. It was produced by Joseph L. Mankiewicz. The production company was 20th Century Fox. The screenplay was written by Joseph L. Mankiewicz and Nunnally Johnson. It was based on the novel of the same name by A. J. Cronin. This film was nominated for four Academy Awards, including Best Actor for Gregory Peck, Best Black-and-White Cinematography for Arthur C. Miller, Best Black-and-White Art Direction – Interior Decoration for James Basevi, William S. Darling, Thomas Little, and Frank E. Hughes, and Best Scoring of a Dramatic or Comedy Picture for Alfred Newman.
Code Compliance
This is a perfect Code film. Like many faith-based films from the Breen Era, this movie does more than just avoid violating the Code. In addition to complying with the Code's rules, many movies included an additionally inspiring theme, message, or quality. This film is comparable to Going My Way (1944), Boys Town (1938), The Fighting 69th (1940), and The Song of Bernadette (1943) in that is has a Catholic central theme. However, like these acclaimed films, it doesn't preach Catholicism too strongly, so it is enjoyable for Christians of other denominations, like me, as well as people of other faiths. The main characters' faith is very important to them and thus to the story, but these films aren't trying to convert anyone. This story, like its contemporaries, focuses on the protagonist's faith rather than the details of his religion. Thus, it is relatable to anyone who has faith. The Code did not require movies to contain themes which were Catholic or religious at all, but I know that movies like this pleased Joseph I. Breen, the Code's enforcer and a devout Catholic, as well as Code authors Martin J. Quigley and Father Daniel A. Lord, who were also devoutly Catholic. It's wonderful when films offer a respectful view of faith, something which you rarely see in mainstream films outside of the Breen Era.
Recommendation
I highly recommend this movie. Artistically, it is excellent. The acting is phenomenal. In his role as Father Francis Chishold, Gregory Peck is very intense, showing a range of different emotions. He embodies a man who wants to serve God but also struggles with personal longing and loss. He convincingly ages several decades throughout the course of the film, complementing his changed appearance with elderly mannerisms. He was fully deserving of his Academy Award nomination, which he ironically lost to Bing Crosby as another Catholic priest in Going My Way. There really is no other actor whom we see throughout the film, since other characters enter and leave the story throughout as it progresses. Thomas Mitchell has a significant, memorable role as Francis's boyhood friend, an atheist doctor. His longest-seen companion is Joseph (Benson Fong), a Chinese Christian who helps him build his church before anyone else will join him. He remains an endearing and, occasionally, charmingly amusing supporting character throughout much of the film. Rose Stradner plays a complex role as the reverend mother at Francis's Chinese mission. Vincent Price, Sir Cedric Hardwicke, and Edmund Gwenn pay three very different clergymen, all of whom play important roles in Father Francis's life. Roddy McDowall is perfectly cast as Gregory Peck's younger self; I never realized before this how similar they look! Peggy Ann Garner plays his childhood sweetheart adorably. I appreciate that most if not all of the Chinese characters in this story are played by excellent Asian, if not Chinese, actors. That adds extra authenticity, which is enhanced by the beautiful footage of Chinese villages and landscapes. One of the most impressive scenes in this film is the bombing sequence, when many buildings are shown ablaze. This is a dramatic, tender, and moving movie. I'm sure all classic film fans will enjoy it.
For the Blogathon
This is my second entry in the blogathon we're hosting this weekend, The Faith in Film Blogathon. The Keys of the Kingdom is an obvious topic for this blogathon, since it chronicles the life of a priest. However, this film opens many interesting and important topics relating to religion and the Code.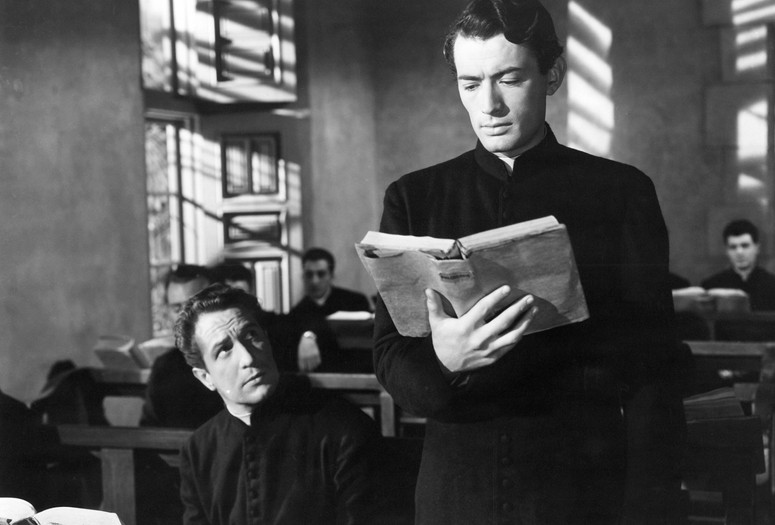 Section X of the Motion Picture Production Code is Religion. This section of the Code details how religions and clergymen are to be depicted. The Code required that all religions must be treated respectfully and that clergy not be depicted as either evil or comical. Critics of the Code have ridiculed the second principle, saying that forbidding men and women of the cloth from being depicted in a negative light puts them above human fallibility. The motive behind this principle was to keep any religious faith from being slandered in the eyes of non-believers because of one bad clergyman. People tend to associate belief systems with the people who practice them.
The Keys of the Kingdom obeys this principle, but it challenges the norm of the flawless priest which one tends to associate with Code films. Four Catholic clergymen are depicted during the story, and each presents different facets of religious life. Father Chishold is a very faithful, good man. Like any person, he has flaws and struggles with inner challenges. While most priests are shown only after they are devotedly celibate, young Francis is shown to be passionately in love with a young woman, Nora (Jane Ball), before becoming a priest. Although he eventually decides to devote his life to God, his love for her remains throughout her life and extends to her child and grandchild. Also, his religious views prove controversial later, since he prefers pragmatic, common sense faith to formal tradition.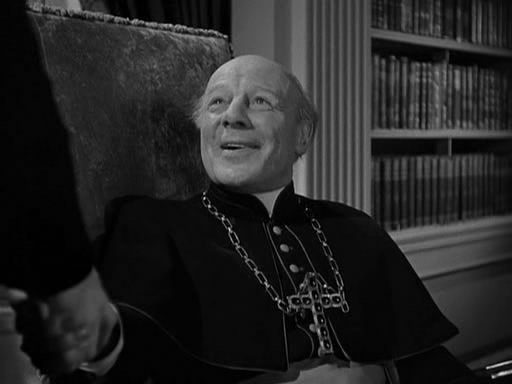 Edmund Gwenn plays Father Hamish MacNabb, Francis's first religious mentor. Like the older Francis, Father MacNabb believes that religion and faith can be lighthearted and enjoyable, not just serious and stern. He loves to go fishing in the local brook with Francis, expressing his gratitude to God for putting the fish there for them! This pleasant, joyous outlook influences Francis throughout his life.
Sir Cedric Hardwicke plays the Monsignor at Tweedside. He has the smallest role of all the Catholic clergymen in this story, but his role is very important. When he comes to inspect Father Chishold's parish at the beginning of the film, he is already quite decided that the good father should be retired. He also knows that the bishop is intent on retiring the old priest. However, he is not ashamed to change his mind when he realizes that both he and the bishop were wrong about Father Francis.
The most ambiguous religious character in this story is Angus Mealey (Vincent Price), who eventually becomes a bishop. He is not exactly evil, but he is rather unsympathetic. He comes to visit Francis's Chinese mission, but he is more concerned with his own importance than Father Chishold's work. He makes prejudiced remarks about Chinese people right in front of Joseph. His actions imply that his main reason for visiting Francis is to brag about his own accomplishments, rather than support and help his old friend's humble, selfless goals. He would rather socialize with the elite reverend mother than communicate with the priest, who has failed to befriend the nun. Father Chishold tries to be understanding of Angus, but that is more than the audience wants to do.
The final Catholic member of the clergy is Reverend Mother Maria-Veronica (Rose Stradner). When she first arrives at Father Chishold's mission, she has a chip on her shoulder. She is disgruntled, unfriendly, and hostile from the moment she meets Francis, and her attitude influences the two other nuns who accompany her. Father Francis makes every attempt to befriend her, but she is harsh and cold. This film explores her struggles in a very real, complex way.
This is a very deep, emotional, and dramatic religious story. I truly appreciated this movie's honest look at religion. I highly recommend it to anyone who wants to learn more about the Code's influence on the depiction of faith in films.
Please join our other upcoming blogathon!
Follow us to bring back the Code and save the arts in America!
We are lifting our voices in classical song to help the sun rise on a new day of pure entertainment!
Only the Code can make the sun rise on a new day of pure entertainment!