Today is Friday, so it's time for this week's first 100+ New Code Films article. These articles have been the ones I've posted most frequently so far during 2021. In fact, I've hardly posted any other articles this year, besides occasional blogathon announcements. I hope to remedy that by posting more Breening Thursday and Code Concepts articles in the near future. In the meantime, however, I hope that my regular readers have been enjoying these reviews of American Breen Era (1934-1954) movies which I am discovering for the first time. Many of them are titles with which I have been familiar for years, and others are movies of which I just learned. I hope that you too are discovering new movies which you want to enjoy for the first time and many more times after that!
Today's topic is Mr. Lucky from 1943. Some may remember that a brief clip from Mr. Lucky is included in a Warner Archives introduction which has been featured on many DVDs. I know that that is where I first learned of this title. When looking for new Code films to add to our Amazon Prime Video watchlist a few weeks ago, I was happy to see that Mr. Lucky was including in available movies to buy. When given the opportunity to select a film last Sunday, I chose this movie to watch with breakfast.
Plot
A gambler's plans to get his cruise ship sailing again are complicated by the fact that he and his business partner get drafted for the army during World War II. However, a Greek member of the crew, who is dying, is 4F. As soon as the man dies, the business partners roll for who gets the 4F card and, thus, the ship. The other man cheats, but the handsome young gambler wins. However, the other man doesn't tell his former friend when he fails his physical examination, instead hanging around in hopes of stealing the business back. The young man, now with a phony Greek surname, needs to raise money to get the ship going. He gets an idea when he meets a young woman who is selling expensive tickets to a charity ball for a ladies' war relief organization. He follows her to the charity headquarters, where he tries to convince the superior officer that the best way to raise the money they need is to host gambling. The younger woman, who is very pretty but also wary, dissuades her older comrade from taking the offer. She suspects that the gambler is dishonest, and she would be right. He plans to take the gambling proceeds himself! However, he persists in following her around town and insisting that he is a passionately patriotic 4F who wants to be as useful as possible as a civilian. Before long, he is lining up to donate blood, knitting, and helping the women save money on supplies. As he pursues his plan, he and the young lady grow very fond of each other. She eventually agrees to the gambling. Can the love of a good woman change this selfish gambler, or will it take a higher power?
Cast
This movie stars Cary Grant, Laraine Day, and Charles Bickford. Supporting actors include Gladys Cooper, Alan Carney, Henry Stephenson, Paul Stewart, and Kay Johnson.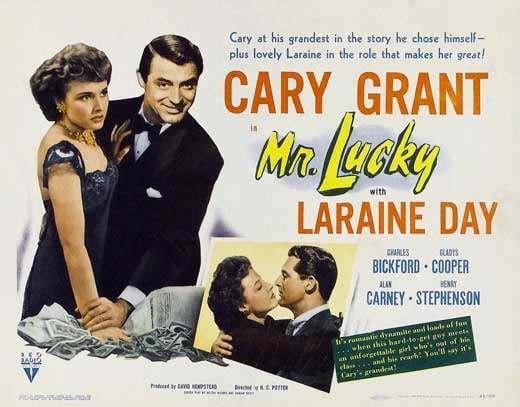 Production Notes
This movie was directed by H. C. Potter. It was produced by David Hempstead. The production company was RKO Radio Pictures. The screenplay was written by Milton Holmes and Adrian Scott. The story was by Milton Holmes.
Code Compliance
This is a perfect Code film. At times, it seems like just a lighthearted romantic comedy. At other times, it seems like a crime drama. However, there is an underlying moral theme. Firstly, a draft evader becomes very involved with helping the war effort. Although his charitable involvement begins through a shady purpose, he proves to be actually helpful. He also grows to care about the cause, despite himself. Also, there is an undeniable message about love, faith, and prayer saving people who seem beyond help. Thus, this movie is surprisingly inspiring and uplifting.
Recommendation
I highly recommend this movie. My whole family greatly enjoyed it! From its description, I thought it seemed like a "cute" movie, one which is neither too dramatic and heavy nor too goofy. It proved to be just that, with an added air of inspiration. The acting is great. Cary Grant is at his best as Joe Adams, aka Joe Bascopolous, displaying his knack for comedy, serious emotion, and suaveness at the same time. He seems tough and dishonest at times, but it's hard to believe that he is really bad. The movie becomes especially entertaining once Dorothy Bryant (Laraine Day) enters the story. She is a suspicious society do-gooder who really believes in the cause of helping the war effort. Joe refers to her as an iceberg, but she is neither harsh nor cold. She is a clever young woman who is justifiably suspicious of Joe's plans and motives. At first, she tries to discover his true motives by putting him through the ringer as a volunteer. However, he surprises her by doing his work effectively and cheerfully. They are both surprised as a tender romance develops between them. Gladys Cooper is atypically capricious as Veronica Steadman, who is keen to accept Joe's tempting gambling proposition. Alan Carney plays Joe's comical sidekick, Crunk, who provides many of the funniest moments. A delightfully funny element in this film is the rhyming slang which Joe uses and teaches to Dorothy. He says that it comes from Australia, although such slang is often associated with English Cockney speech. Some examples include a hat being called a "tit for tat," a suit being called a "fiddle and flute," a copper being called a "bottle and stopper," and his darlin' being called a "briny marlin." It's really adorable, and it plays an important role in the plot! I know you'll like this movie.
For the Blogathon
When I selected this movie, I never imagined that it would be a potential topic for The Faith in Film Blogathon, which we are hosting this weekend. In honor of Easter and Passover, we are asking fellow bloggers to write about religious moments in movies. I had already chosen a new Code film to watch and review for our blogathon. However, I was delighted to find a very inspiring religious moment in Mr. Lucky.
When Joe Adams takes the late Joe Bascopolous's identity, he inherits more than his 4F status. He also acquires his criminal record, reputation, and Greek family. The night of the charity ball and gambling, Joe receives a letter addressed to the real Bascopolous. It is written in Greek, so he can't understand it. He decides to stop by a Greek Orthodox church on his way to the ball and ask the priest (Vladimir Sokoloff) to translate it to him. The situation grows somewhat awkward, since the letter proves to be a very emotional one from Bascopolous's mother. Naturally, the priest believes that Joe is the wayward son addressed in the letter. Mrs. Bascopolous's letter emotionally details the German attack on their small Greek village, in which Joe's brothers valiantly fought and died. Joe tries to stop the priest, but the wise man knows that Joe needs to hear his mother's words. After reading, the priest prays with Joe. This experience proves to be life-changing for Joe.
Many bad characters are saved by the love of a good woman. However, Joe Adams seems almost too corrupt for romantic reformation. He is obviously in love with Dorothy, refusing to take off the necktie she tied around his neck even when in the bathtub! However, he still plans to rob the charity of the gambling proceeds and escape on his boat that night. It takes another woman's words, those of his presumed mother, to reach his hardened soul. Mrs. Bascopolous's tender letter reflects her sincere prayer that her son might be turned from his evil ways back to God. That compassionate prayer for salvation is too late for her real son, but it touches the soul of the man who unflinchingly took his identity. In taking his name, he gained his mother, her love, and the opportunity for his soul to be touched by God. His expression in this scene shows us that his conscience is stricken, since the Bascopolous family have really experienced the Nazi invasion which he made up to convince Dorothy of his sincerity. After leaving the church, Joe's behavior is very different. This is a short scene, but it changes his character and his actions for the rest of the film and, presumably, the rest of his life. This scene may have a similarly inspiring effect on viewers who are searching for the truth.
Please join our other upcoming blogathon!
Follow us to bring back the Code and save the arts in America!
We are lifting our voices in classical song to help the sun rise on a new day of pure entertainment!
Only the Code can make the sun rise on a new day of pure entertainment!