Happy St. Patrick's Day! Today is the first day in our Luck o' the Irish Blogathon, which will last through the end of the week. I plan to post a review of an Irish-themed movie later in the week. However, in the meantime, I want to let you know about a few non-PEPS activities which took place today.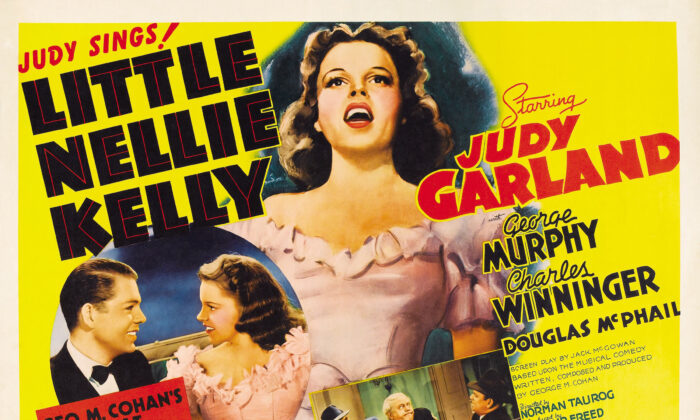 My latest article for the Epoch Times is about one of my favorite St. Patrick's Day films. It's entitled "Little Nellie Kelly:" A Great Day for the Irish. I reviewed this wonderful movie last St. Patrick's Day here on PEPS. Although the article has been online since Sunday, it came out in the national print edition of the paper today! If you're interested in reading the print copy, look for the latest edition of the Epoch Times in your local grocery store. Ralphs often carries it here in California. You'll find it in the Life and Tradition section. This issue will be in stores for about a week. I'm so excited that my article may encourage people to discover this charming musical about "A Great Day for the Irish!"
This morning at 10 AM, I had the honor of being a guest on a radio program! Representing Shine On Hollywood Magazine, I joined Arnold Garcia and Mara New on Frank Helring's BizZne$$ BuzZ BizZness Watch on VoiceAmerica. This episode was called The Making of a Star… YOUR Small Business! Click that link to listen to a replay of our discussion about how Shine On Hollywood Magazine is offering its platform as digital marketing for small businesses by sharing their stories. What does this have to do with St. Patrick's Day? Well, this offer is a veritable pot of gold at the end of the rainbow for any small business owner! Please listen to the replay and let me know what you think! I'd appreciate your sharing it on social media or your website. If you know any small business owners who could use some advertising, I encourage you to send this to them. Every business could use a little spotlight!
Follow us to bring back the Code and save the arts in America!
We are lifting our voices in classical song to help the sun rise on a new day of pure entertainment!
Only the Code can make the sun rise on a new day of pure entertainment!