Today is Tuesday, and I am going to publish my first 100 New Code Films article of the week! I am publishing it today because it is St. Patrick's Day, and I want to review an appropriate film for the occasion. Last week, I also published my first new Code film review on Tuesday, since my article about Stagecoach was part of the 110 Years of Claire Trevor Blogathon, which ended that day. I enjoyed publishing it early like that, since it gives the website a more consistent stream of new content. This week, the holiday today gave me a good excuse to repeat this practice.
Today's topic is Little Nellie Kelly from 1940. I used to sing the song "It's a Great Day for the Irish" out of a Judy Garland book. I wanted to refer to the title as a subtitle for an article I was writing last week, so I looked up the title to confirm the correct wording. I saw that the song came from an MGM musical with Judy Garland called Little Nellie Kelly. I decided that this would be the perfect film to review for St. Patrick's Day. I was delighted to see that this film is offered for free on one of the channels of our Roku stick, so we watched it on Sunday afternoon.
Plot
In Ireland, a sweet young girl is in love with a noble young man, but her stubborn, lazy father who refuses to work is against her marrying. When she marries against his will, he refuses to speak to his son-in-law, although the strife between the two men she loves pains the lass. The young couple decides to move to America, and the curmudgeonly father goes along too because he doesn't want to support himself. The young man starts training to become a policeman. The night he becomes an officer, his wife bears him their first child, a beautiful daughter. However, the mother dies after childbirth, leaving the feuding father and grandfather to raise her alone, as she grows into the image of her mother.

Cast
This movie stars Judy Garland, George Murphy, and Charles Winninger. Supporting actors include Douglas McPhail, Arthur Shields, Rita Page, Forrester Harvey, and James Burke.

Production Notes
This movie was directed by Norman Taurog. It was produced by Arthur Freed. The production company was MGM. The screenplay was written by Jack McGowan. It was based on the musical comedy of the same name by George M. Cohan. Only two songs from the stage musical, "Little Nellie Kelly" and "Nellie Kelly, I Love You," were featured in the film. The other songs in the movie include two traditional Irish songs which are sung. Judy Garland also sings "Singin' in the Rain" by Nacio Herb Brown and Arthur Freed. The only new song in this movie is "It's a Great Day for the Irish" by Roger Edens.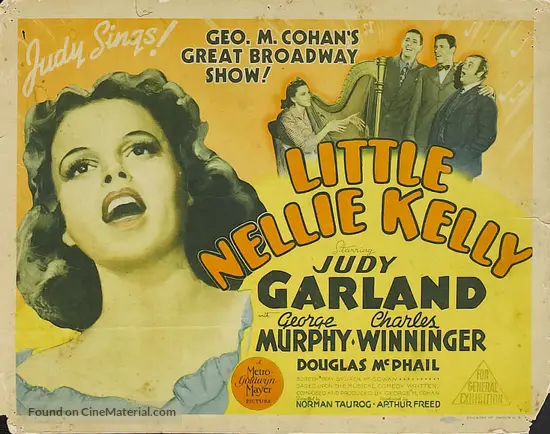 Code Compliance
This is a good Code film. It is so wholesome, clean, and joyous. It has good old-fashioned fun, which is entertaining for people of all ages. In addition, the story has very touching messages about family. The relationship between Nellie (Judy Garland) and her stubborn father, Mike (Charles Winninger), is very sincere. Even though he refuses to accept the man she loves, Jerry Kelly (George Murphy), Nellie is devoted to the stubborn man. She also is completely devoted to her beloved husband. Then, Little Nellie Kelly is just as devoted to her father and grandfather as her mother was. This movie shows the importance of family values, faith, tradition, and forgiveness. It also shows the folly of stubborn, foolish pride and laziness. As Joseph Breen of the PCA always appreciated, it shows the fine qualities of Irish folks who become devoted Americans.

Recommendation
I highly recommend this film. It is so charming and heartwarming. It has many fun, comical, and light moments, but it also has some very serious parts. When Nellie Kelly is on her deathbed, it was so moving that we all were in tears. Judy Garland did a wonderful job playing two roles in this film, creating the different but similar characters of mother and daughter. She did a very effective accent as the older Nellie, but she was blithely American as the second-generation Nellie. She sang beautifully and acted well, too. Her death scene, the only one she ever did onscreen, was very moving and convincing. George Murphy was wonderful as the beau, husband, and father, Jerry Kelly. He aged effectively while never losing his spirit of youthful fun. One of the best members of the cast is Charles Winninger as the stubborn Irishman who refuses to make friends with Jerry Kelly even though they live together for years. His obstinate refusal to give in, be reconciled, or go to work is infuriating, but it is very realistic. Movies tend to idealistically solve all family strife in a timely manner, but this movie shows the harsh truth that some people refuse to change. The final pivotal person is the young man who becomes Nellie Kelly's beau, Dennis Fogarty (Douglas McPhail). He has a beautiful singing voice, and he is so sweet. The rest of the cast is great, too!

Happy St. Patrick's Day!
Today is a day for celebrating Irish culture. Although the coronavirus epidemic has restricted public celebrating, we can still celebrate the faith, history, and culture. After all, St. Patrick's Day isn't about drinking. It's about what makes Irish people great citizens of their own country as well as America. No matter what happens in the world, March 17 will always be "A Great Day for the Irish!"
Click the above image to buy this movie on DVD at Amazon and support PEPS through the Amazon Affiliate program!
Follow us to bring back the Code and save the arts in America!
We are lifting our voices in classical song to help the sun rise on a new day of pure entertainment!
Only the Code can make the sun rise on a new day of pure entertainment!