Today is Friday, so it's time for this week's first 100+ New Code Films article. We are now in the final week of February, the ninth week of 2021. As spring approaches here in Southern California, I'm continuing to publish articles in my semi-weekly series. Other writing commitments and endeavors have prevented me from posting as many additional articles as I would like to, but I'm trying to at least maintain this series. Every week this year, I plan to watch at least two American Breen Era (1934-1954) movies for the first time. I may watch more new Code films than that, but I will usually only review two movies each week.
Today's topic is Captain Blood from 1935. I have wanted to see this film for a while, since it was the first movie collaboration of Errol Flynn and Olivia de Havilland. It was also the movie which made them both stars. When I heard about a blog party dedicated to pirates, I decided it was a good opportunity to familiarize myself a bit more with the serious genre. I remembered that Errol and Olivia made at least one pirate movie together, so I looked it up and found this movie. We bought and watched this movie on Amazon Prime Video this afternoon.
Plot
An Irish physician is arrested for treason when he tends the wounds of a man involved in a rebellion against the King of England. He and many other rebels are sent to Jamaica as slaves instead of being hanged. At a slave auction, the doctor's stubborn pride angers the wealthy colonel who thought of buying him. His sympathetic niece buys him instead, keeping him out of the mines. However, he is bitterly ungrateful. All the men are treated horribly as slaves on the plantation, facing starvation, beating, and branding if they attempt escape. Luckily for him, the physician receives favor when he successfully treats the governor's gout, having been recommended by the lovely niece. His skill gains him better treatment, but he is sickened by the conditions his friends endure. He tricks two disgruntled local doctors into helping him buy a ship for escaping, knowing they want to remove his competition. Meanwhile, there is a growing attraction between the slave and his lady purchaser, but circumstances stand in their way. When a happily timed Spanish invasion creates confusion, the escaped slaves are able to steal the vessel and leave Port Royal. They become the most feared pirates in the Caribbean, led by the brilliant Captain Blood.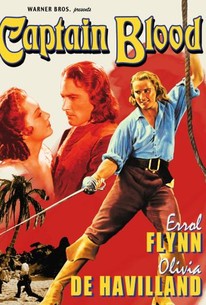 Cast
This movie stars Errol Flynn, Olivia de Havilland, and Lionel Atwill. Supporting actors include Basil Rathbone, Ross Alexander, Guy Kibbee, Henry Stephenson, and Robert Barrat.
Production Notes
This movie was directed by Michael Curtiz. It was produced by Harry Joe Brown and Gordon Hollingshead with executive producers Hal B. Wallis and Jack L. Warner. The production company was Warner Bros. Pictures. The screenplay was written by Casey Robinson. It was based on the 1922 novel of the same name by Rafael Sabatini. This movie was nominated for five Academy Awards, including Best Picture, Best Director for Michael Curtiz, Best Screenplay for Casey Robinson, Best Recording for Nathan Levinson, and Best Score for Leo F. Forbstein (head of department); the original score was written by Erich Korngold.
Code Compliance
This is a good Code film. I was pleasantly surprised that this movie was not excessively violent, by 1930s standards, of course. Pirate movies can be rather bloody, and some movies from 1935 hadn't reached full Code compliance. However, this movie is very Code-compliant. Despite depicting drama and action, it isn't gory. I would say that there is some violence but not blood. There also are a few instances of brutality, such as when the rebels are kept as slaves in Jamaica. However, the actual gruesomeness is kept to a minimum. I admire how movies of this kind would depict intense fights and battles without showing any real violence. Most of the actual injuries and deaths happen offscreen. The key was very fast editing, which involved cutting to different shots so frequently that it was hard to see what was happening in any of them. Movies of this genre feature a bit more violence than some people may like. However, other people, especially men, really enjoy movies with action, adventure, and even some violence. Some consideration must be given to differing taste, and that's why the PCA would allow a bit more violence in action films. After all, what's a pirate film without some action? People who don't like any violence are forewarned by the genre itself.
Recommendation
I highly recommend this film. It really is excellent. It's easy to see why this movie made Errol Flynn a star. He is excellent in the role of the doctor turned slave turned pirate. As Peter Blood, he shows many different sides to his personality even as he displays many different looks. Blood is an appropriate name for both the vocation of a doctor and the calling of a pirate. Peter goes through many diverse adventures during the course of the film, but throughout he maintains enough principles, bravery, and consideration for his fellows to remain a sympathetic character. He performs the swashbuckling and action scenes with impressive flair. He delivers the dialogue with great flair and an effective British accent. His leading lady is Olivia de Havilland, who was also made a star by this film. Her well-deserved fame is understandable, since she is emotional, deep, and lovely in the role of Arabella Bishop. For most of the film, she is torn between her prejudice against his station, first as a slave and then as a pirate, and her personal admiration for him. She is a very sympathetic, kind young woman, since she loathes seeing men being bought and sold like animals. She later shields Peter from her uncle's harshness whenever possible. The romantic chemistry between Errol Flynn and Olivia de Havilland is obvious in this movie, showing why they would have such a successful partnership. As the villain, we have Lionel Atwill playing Colonel Bishop. He is despicably evil, growing more and more harsh as time passes. Peter Blood has many friends among his fellow slaves, but his best friend is navigator Jeremy Pitt (Ross Alexander), a sensitive young man. The tormented Mr. Alexander gives an excellent, emotional performance in this role. Basil Rathbone has a small but memorable role as a French pirate captain, Levasseur. His excellent swordsmanship, dashing bravura, and suave French accent are very dramatic in this role. The costumes are very convincing for the era. Olivia de Havilland's gowns are beautiful. This is a very dramatic film with several different portions.
For the Blog Party
This is my entry in We Love Pirates Week, a blog party hosted by Rachel of Hamlette's Soliloquy. In terms of a pirate film, this is a great one. Just a few days before watching this movie, we were discussing pirate movies with a twenty-three-year-old friend of ours. This young man usually has a fairly open mind about learning of old culture, but he has had little experience with classic films. He expressed the opinion that old pirate films are "cheesy," although he admitted that he had never actually seen one! We insisted that there must be some old pirate films which he would enjoy. The Spanish Main (1945) was the film which we recommended to him at the time, but I think this is an even better example. When I seem him again, I plan to mention this film as a pirate adventure which he would find enjoyable. I likewise recommend it to all my readers and their friends who might not believe that they would like any old pirate movies.
This movie contains all the pirate film requirements, and it was one of the films which revived the swashbuckler film genre in Hollywood. It has daring swordfights, the pillaging of towns, a Caribbean setting, the purchasing of a woman, and nautical battles. The battles at sea are very impressive, looking extremely realistic. Errol Flynn performs some impressive stunts and daring acts. There is even a charming dabble of humor thrown in for diversion. In addition, there is Olivia de Havilland's beauty, charm, and witty spirit to heighten the stakes. However, those with regards for ethics won't feel bad about rooting for these pirates, since they aren't thoroughly corrupt. They are ethical pirates! If you want to introduce someone, including yourself, to Hollywood's classic pirate genre, watch Captain Blood!
Follow us to bring back the Code and save the arts in America!
We are lifting our voices in classical song to help the sun rise on a new day of pure entertainment!
Only the Code can make the sun rise on a new day of pure entertainment!