Today is Sunday, so it's time for this week's second 100+ New Code Films article. How many new movies do you watch per year? By new, I don't just mean recent releases. I'm referring to movies which you have never seen before, no matter how long ago they were made. Through this series, 100+ New Code Films, I have to watch and review at least 100 American Breen Era (1934-1954) films which I will watch for the first time during the year. I usually watch more than two new films each week, so I list those as extra films without writing separate articles about them. It's a great way for me to make progress in my goal of watching every Code film made during that twenty year period.
Today's topic is As Young as You Feel from 1951. Although Amazon Prime Video seems to have an unlimited supply of Code films, it is becoming a challenge for us to find more lighthearted films. Although we enjoy dramas occasionally, our mother often finds crime and suspense films too heavy. There is a fine line between films which feel dark, even if totally Code compliant, and comedies or musicals which feel goofy. It is this happy medium which we are beginning to exhaust. However, this morning, we discovered this film on our watchlist and unanimously agreed that it seemed like a nice, lighthearted film.
Plot
A grandfather is retired from his job at a printing company because he is now sixty-five years old, much to his dismay. Although he loves his son, daughter-in-law, and granddaughter, he doesn't want to just sit around the house like an old man. He concocts an elaborate scheme to get his job back. He disguises himself as the president of his organization's parent company. He takes his former boss by storm, making inspiring speeches about the benefit of older men in the company. The boss hastily agrees to rehire employees who were discharged during the last year because of their age. Meanwhile, the boss's beautiful wife, who is being neglected while he chases his younger secretary, finds the admiration she has been missing in the charming imposter. How long can the grandfather keep the ruse a secret? His granddaughter's beau, who refuses to set the date until he gains a promotion, is the only one who recognized him at the company, and he is facing a dilemma about turning him in.
Cast
This movie stars Monty Woolley, Thelma Ritter, and David Wayne. Supporting actors include Jean Peters, Constance Bennett, Marilyn Monroe, Allyn Joslyn, and Albert Dekker.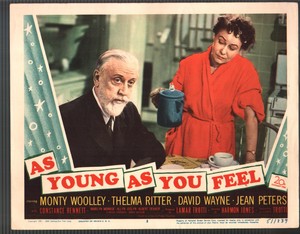 Production Notes
This movie was directed by Harmon Jones. It was produced by Lamar Trotti. The production company was 20th Century Fox. The screenplay was written by Lamar Trotti. The story was written by Paddy Chayefsky.
Code Compliance
This is a good Code film. It is decent, wholesome, clean, and generally morally uplifting, which is what we expect from Code films. This particular film handles a difficult subtopic well. Louis McKinley (Albert Dekker), the printing company's boss, has a lovely wife named Lucille (Constance Bennett). However, he also has a very attractive, blonde secretary, Harriet (Marilyn Monroe). The film subtly lets us know that Louis has a roving eye, which he has turned toward his voluptuous, flirtatious secretary. However, the situation isn't pointedly suggestive, and nothing indecent is depicted onscreen. Although it seems likely that they are having an illicit affair, we don't know for sure. The clearest evidence that there relationship is more than just business comes when Louis is at the country club with his wife and the visiting president, John R. Hodges (Monty Woolley). He sees Harriett at a table with one of his employees (Horace Gallagher), and the two employees both look very guilty. On the telephone, Harriett later tries to explain that it was just business, but Louis obviously believes that his secretary is betraying some sort of agreement they have. Importantly, this story shows that a little fling is never without consequences. Because of his philandering, Louis has been neglecting his wife, whom he almost loses to Hodges! Imagine how this situation would be depicted in an un-Code film. A Rating System Era (post-1968) film could easily turn this subplot into R-rated material. Even a pre-Code or early Shurlock Era movie would include suggestive, if not obscene, lines and implications.
Recommendation
I highly recommend this film. It is a charming story which gives character actors a chance to shine in leading roles. Monty Woolley is charming and lovable as John Hodges, the man who refuses to be put out to pasture! He is very spry, even ballroom dancing with great skill! Thelma Ritter is delightful as always, playing Della, his daughter-in-law and the mother of the Hodges family. Who better to serve up a large helping of homespun, motherly charm and wit? The ever-funny David Wayne is very enjoyable as Joe Elliott, the grandfather's co-worker and potential future son-in-law. Jean Peters plays Alice, the granddaughter who wishes that Joe would stop being so responsible and would ask her to marry him! Constance Bennett plays the lovely but lonely Mrs. McKinley, a charming middle-aged woman who doesn't realize how much she is longing for true love in her life until she meet Hodges, whom she believes to be Harold P. Cleveland. Their relationship is totally proper and decent, but the obvious mutual admiration is very pleasant for us to see. Mr. McKinley doesn't agree, but the rival makes him appreciate his wife! I greatly admired Miss Bennett's costumes in this film. Her clothes are very feminine and beautiful, complementing her lovely figure, but they don't look like the styles which Marilyn Monroe wears. They are elegantly appropriate for a mature woman. Other great actors who contribute to this story are Allyn Joslyn as the exasperated son, Clinton Sundberg as the sneaky co-worker, Rusty Tamblyn as the McKinleys' son, and Minor Watson as the real company president. This movie is an expose of Western society's tendency to judge people on age rather than merit. As Mr. Hodges proves, many industries benefit from the wisdom and experience which only come with age. This story reminds us to not discount or discard our elders. We have a lot to learn from them, just as we can learn from the entertainment of previous ages, like Code films!
Please join our upcoming blogathon!
Follow us to bring back the Code and save the arts in America!
We are lifting our voices in classical song to help the sun rise on a new day of pure entertainment!
Only the Code can make the sun rise on a new day of pure entertainment!