This weekend, we are hosting The Joe Pasternak Blogathon! This three-day event is in honor of Golden Age Hollywood producer Joe Pasternak's 119th birthday, which would have been today. In honor of Joe's special day, I am posting a montage of photographs of him. These photographs document his thirty-year career, showing how many famous Hollywood personalities were his colleagues and friends. These publicity shots and candid photos create a timeline of Joe Pasternak's Hollywood career, showing the fine man he was.
We begin with this quote by Mr. Pasternak. He may not have written any scripts himself, but he had very definite ideas about how scripts should be written. When he came to America in 1936 to be a Hollywood producer for Universal, he said, "No one's going to get sick or die in my pictures. That's no form of entertainment." He lived up to that standard admirably during his career.
Joe's first American film was Three Smart Girls (1936), which was fourteen-year-old radio singer Deanna Durbin's first feature film. Joe assigned Henry Koster, his good friend, to direct this picture. The German-born Henry (far right in the picture) couldn't speak any English when he came over from Europe with Mr. Pasternak, but he proved to be a great director. He directed three Pasternak films in Europe and nine more in Hollywood.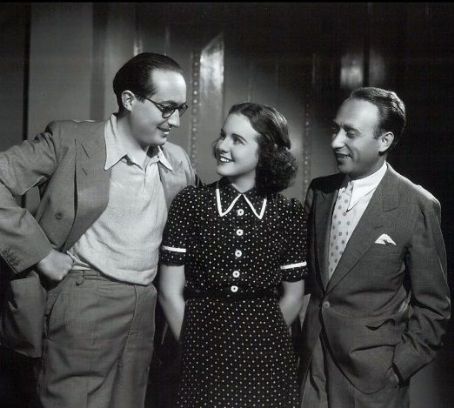 Deanna Durbin, Henry Koster, and Joe Pasternak were a wonderful team. Their first film together, the first Hollywood movie for all three, was Three Smart Girls, which saved Universal Pictures from bankruptcy. Apparently they were three smart artists. Their next film together was One Hundred Men and a Girl, which brought them to the top, proving that audiences were not only mad about music but about this successful trio! This threesome made six films together, all for Universal, the last of which was It Started with Eve.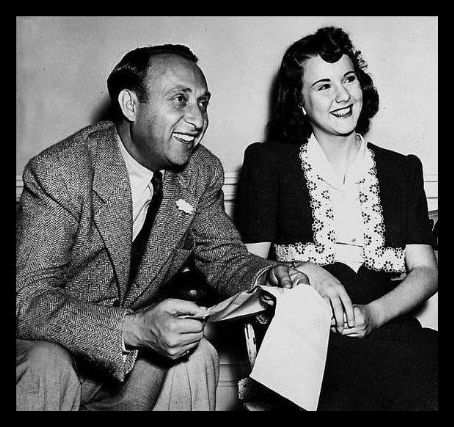 Henry Koster didn't direct every Deanna Durbin while he was at Universal, but Joe Pasternak produced her first ten films, ending with It Started with Eve. It Ended with Eve would be a more appropriate title, since it was the end of Joe Pasternak and Henry Koster's Universal era.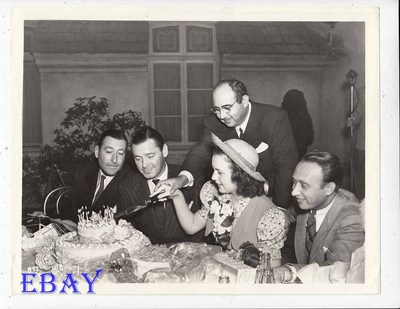 This picture seems to be from a birthday celebration. Since Herbert Marshall and character actor Arthur Treacher are present, it is obviously from the set of Mad About Music (1938). Herbert Marshall plays an Englishman who poses as Deanna's father, and Arthur Treacher is his valet. Since Deanna is cutting the cake, it may have been her birthday.
This picture shows Joe fondly posing with his two starlets at Universal, Deanna Durbin and newcomer Gloria Jean. She was discovered by Joe Pasternak in 1938 when he held auditions for his upcoming film The Under-Pup, looking for a younger version of the then sixteen-year-old Deanna. Twelve-year-old Gloria, who was being trained as a coloratura soprano, was brought to the auditions by her voice teacher. She recounted, "I had been grabbed out of the sandbox, and I didn't look so nice. I had pigtails and my teeth were a little crooked. But that's what Joe liked." She horrified her mother by telling Mr. Pasternak that she couldn't sing because the piano was out of tune. "My mother almost shot me. Joe said, 'I like this kid. Let's get the piano tuned and bring her back tomorrow.' I got all kinds of lectures on the way home about being a little more subdued. When I sang the next day, I knew it went very well."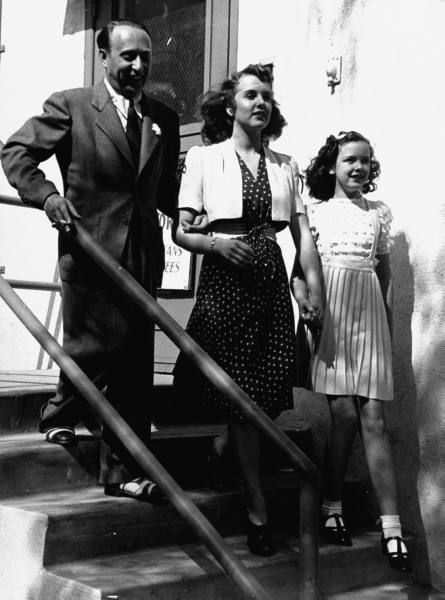 This picture shows the two young starlets again. After being very successful in The Under-Pup (1939), Gloria Jean became a very popular star at Universal. Her third film was another Pasternak production, A Little Bit of Heaven (1940). After that, she never appeared in another Joe Pasternak production.
During his Universal films, believe it or not, Joe did make films other than those with young soprani. He produced the highly successful Destry Rides Again (1939), a dramatic Western which revived Marlene Dietrich's waning career. Joe's production of this movie is as unlikely as the alleged romance between Miss Dietrich and her co-star, James Stewart, during production. Mr. Pasternak was very deft at producing this movie, even though it contradicts his principle of avoiding sickness and death.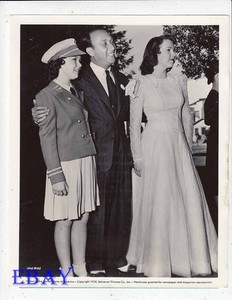 Unfortunately, Deanna Durbin and Gloria Jean never made a picture together, which you would never guess from the publicity photos of the duo. I just imagine the sort of cute Pasternak musical which could have featured both songstresses, perhaps as singing sisters in a Three Smart Girls sort of thing. By the same token, later Pasternak soprani Kathryn Grayson and Jane Powell worked at MGM at the same time yet never appeared in the same film. This probably was purposeful, not accidental. Each starlet could be better featured in her own movie than by sharing the spotlight.
After Joe Pasternak left Universal in 1941 because of a difference of opinion with the management. He then went to MGM to produce the same sort of musicals which had brought Universal such success. Louis B. Mayer immediately assigned nineteen-year-old singer Kathryn Grayson to Mr. Pasternak's production unit, hoping he could make her a star as he did Deanna Durbin. Joe's first MGM film was Seven Sweethearts (1942), Kathryn Grayson's fourth film. Between then and 1950, he produced seven films with her, showcasing her classical singing by featuring operatic music in movies.
Thousands Cheer (1943) was huge musical hit produced during World War II. It was Joe's second production featuring Kathryn Grayson and his first featuring Gene Kelly. This was classical pianist and conductor Jose Iturbi's film debut. This morale-booster also included cameos of many of MGM's biggest stars, including Mickey Rooney.
On January 9, 1942, Joe Pasternak married Dorothy Darrell. Before her marriage, Miss Darrell played a few uncredited or minor roles as models and hostesses. She appeared in two Joe Pasternak productions, The Flame of New Orleans (1941) and It Started with Eve.
Joe Pasternak was a great friend to Judy Garland. He produced three films in which she starred, Presenting Lily Mars (1943), In the Good Old Summertime (1949), and Summer Stock (1950), which was Judy's last MGM film. He also produced Thousands Cheer, in which she made a cameo appearance to perform a musical number. Presenting Lily Mars, their first film together, was the first movie in which Judy was able to play a mature character, moving beyond her adolescent roles of earlier films.
Emotional child actress Margaret O'Brien appeared in Joe Pasternak's Music for Millions (1944), which Henry Koster directed. This film is a true celebration of music in many forms, including the classical talent of Jose Iturbi and the jazz talent of Jimmy Durante. Seven-year-old Margaret is this movie's true star, receiving top billing.
Mr. and Mrs. Pasternak were married until his death. They had four children together.
Anchors Aweigh (1945), a musical starring Kathryn Grayson, Gene Kelly, and matinee idol Frank Sinatra, was one of 1945's most successful films. It is another Joe Pasternak loving tribute to classical music, featuring the talents of Jose Iturbi with a piano and a baton. Particularly memorable is a scene at the Hollywood Bowl in which Jose leads dozens of child pianists in a rousing rendition of Hungarian Rhapsody by Liszt. Kathryn Grayson and tenor Carlos Ramirez provide classical and operatic vocals, while Frank croons memorably. Gene Kelly dances with Jerry Mouse of Tom and Jerry in this peerless musical!
Joe Pasternak produced Danny Thomas's film debut, Music for Millions (1947). The next year, he produced another film with him, Big City, which again featured Mr. Thomas as an unrelated guardian to Margaret O'Brien. He produced six films with Jimmy Durante. However, these two great entertainers, both famous for their large noses, never appeared in a Joe Pasternak film together.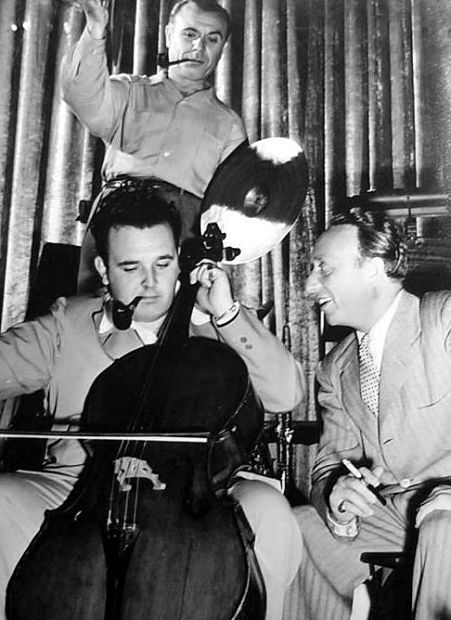 Joe Pasternak featured a lot of music just for the sake of music throughout his film career. He produced all seven of the films in which Jose Iturbi played himself. Even though he always was addressed as Jose Iturbi, the great Spanish musician had a wonderful personality on the screen, holding his own as an actor as well as a musician. His last film was That Midnight Kiss (1949), which introduced audiences to another great classical musician, opera tenor Mario Lanza.
Jose Iturbi played his only real acting part in Three Daring Daughters (1948). Although still credited as himself, he interacts with fictional characters. He bizarrely marries Jeanette MacDonald's fictional character in the story, which would have made more sense if he were the famous pianist Jose Gomez. This film was also rare as the only time when Joe Pasternak worked with Hollywood's first "operatic soprano" movie star, Jeanette MacDonald. This story about three scheming daughters trying to get their divorced parents back together is very reminiscent of Joe's first hit, Three Daring Daughters, instead featuring younger girls. The oldest daughter is played by singer Jane Powell.
In the Good Old Summertime (1949) featured the musical talent of Judy Garland and the acting talent of Van Johnson. It also featured Joe Pasternak's old Hungarian friend, character actor S. Z. Sakall. An additional musical talent is the beautiful violinist Marcia Van Dyke, who plays Van Johnson's tentative sweetheart. She is an excellent actress in this part as well as a great musician, one of the first renowned female violinists in America.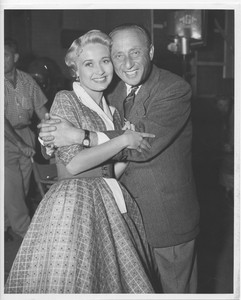 Jane Powell was the last youthful soprano to be made a star by the Joe Pasternak formula. This perky young singer made her MGM debut in a Joe Pasternak film, Holiday in Mexico (1946). This musical was her third film, and it established her as a lovable singing heroine after Deanna Durbin's own heart. She played a young girl who is very close to her father and infatuated with an older man (Jose Iturbi), a role she would play in later films. She made nine movies with Joe Pasternak.
June Allyson wasn't a great singer like the classical girls whom Joe made into stars, but this wholesome "girl next door" successfully appeared in multiple Pasternak musicals. His film, Two Girls and a Sailor (1944), established her stardom at MGM, although she appeared as herself in his Thousands Cheer the year before. She made six movies produced by him in all, most of which were musicals.
Singer Tony Martin and dancer Cyd Charisse were married for decades. Cyd appeared in Joe Pasternak's dramatic ballet film, The Unfinished Dance (1947). Although it lost money and failed to start a trend of ballet-themed films, it remains a dramatic, poignant film about the art of ballet. Tony Martin appeared in an Esther Williams musical produced by Joe Pasternak, Easy to Love (1953). At the end of the this film, Cyd Charisse appears in a cameo as a lovely girl whom Tony meets after losing Esther to Van Johnson.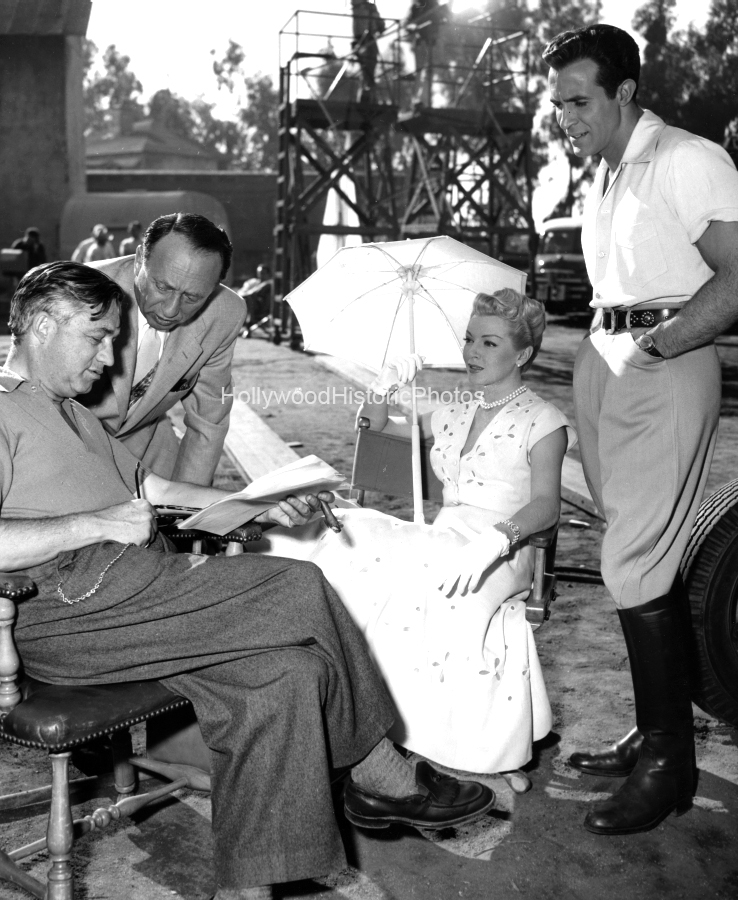 Latin Lovers (1953) was the second film with Lana Turner that Joe produced. The year before, he produced The Merry Widow, starring Lana and another Latin star, Fernando Lamas. The next year, he would produce a third Lana Turner film, Flame and the Flesh.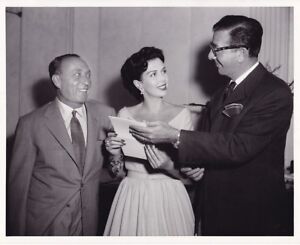 Joe Pasternak produced four movies with Ann Miller, The Kissing Bandit (1948), Small Town Girl (1953), Hit the Deck (1955), and The Opposite Sex (1956).
Mario Lanza, an Italian tenor who has been called the greatest voice since Enrico Caruso, made five Hollywood films. He was a star for a few brief years. All five of those films were produced by Joe Pasternak. In 1951, The Great Caruso was the highest-earning film of the year and one of Mr. Pasternak's most successful films of all time. Mr. Lanza's last Hollywood film was The Student Prince, for which he just provided the singing. He left the production due to difficulties, and Edmond Purdom played the role. However, the film's success was largely due to Mario's beautiful voice.
Joe Pasternak bought the rights to 1920s singer Ruth Etting's story for Jane Powell, who wanted to do more dramatic works. However, Marty Snyder, Miss Etting's gangster husband, insisted that James Cagney play him, so the older Doris Day was cast as Ruth. This was the first of three films which Miss Day would make with Joe Pasternak after leaving her Warner Bros. period.
Love Me or Leave Me is the only film in which Joe made a cameo appearance. When Ruth is in Hollywood, making movies, she is seen filming a scene on a swing. The producer is seen sitting in a chair, and he is clearly identified as Joe Pasternak, the film's real producer. He doesn't say any audible lines, but he can be seen indicating to another man that there is a technical difficulty with the swing.
Joe Pasternak sat next to Grace Kelly at the 1956 Golden Globe Award ceremony. It was one of if not the last event which Miss Kelly attended in Hollywood before going to Monaco to marry Prince Rainier, retiring from films.
The Opposite Sex was a remake of The Women (1939). Although it was a flop, I think this musical remake was an improvement upon the original because it featured some men instead of an all-female cast.
Joe Pasternak's favorite hobby was cooking. He loved making up dishes to serve to guests at his house. He wrote a book, Cooking with Love and Paprika, in which he dishes up tasty Hungarian fare plus stories about Hollywood friends and their epicurean preferences.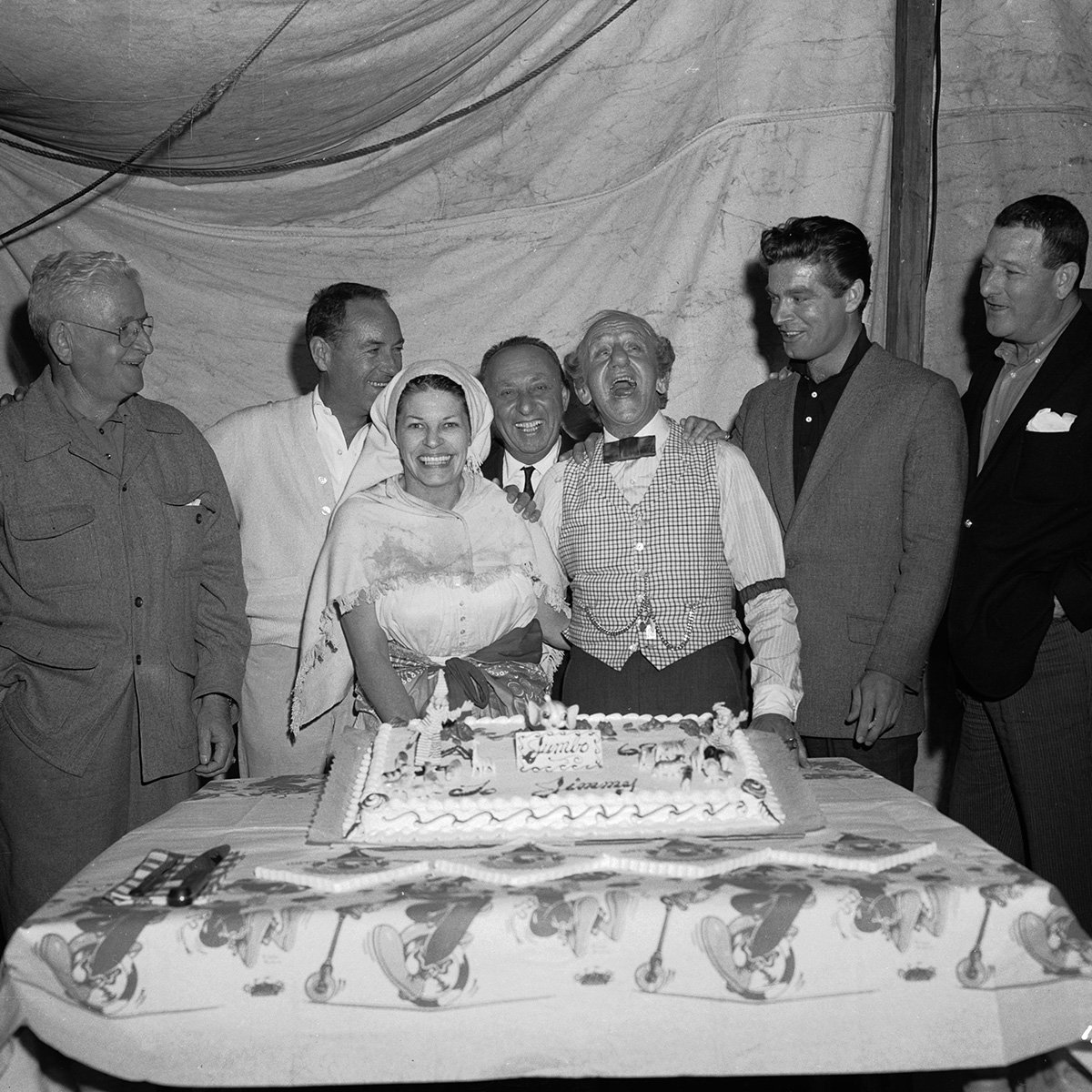 This picture shows a celebration on the set of Jumbo (1962), perhaps Jimmy Durante's birthday. This was the last Joe Pasternak production to feature Jimmy Durante and Doris Day. This was Joe Pasternak's last musical, as well as Miss Day's. This film has the glowing, wholesome quality of Breen Era movies. You can sense good old Joe's influence in this film, even though his friend Joe Breen had been retired from his position as head of the PCA for eight years.
In 1991, the eighty-nine-year-old legend received a star on the Hollywood Walk of Fame. He died on September 13 of that year, so the star was a loving tribute and sendoff to this wonderful man and his amazing legacy, which included producing 100 films!
One added bonus about Joe Pasternak, which makes me like him even more, is that he was a good friend of Joseph Breen. My original evidence of this was Thomas Doherty's reference in his biography, Hollywood's Censor: Joseph I. Breen and the Production Code Administration, to Mr. Pasternak being one of the pallbearers at Mr. Breen's funeral. However, in A Testimonial Dinner for Joseph I. Breen, an article by Thomas Doherty published in 2011, he refers to a bit of evidence that they enjoyed socializing:
"Recently, while watching writer–director Karen Thomas's PBS documentary Cinema's Exiles: From Hitler to Hollywood (2009), I was surprised to see Breen pop up on screen for a nanosecond, unidentified but hale and hearty, greeting refugees from Nazi Germany in home movie footage taken at the swimming pool of producer Joe Pasternak in 1938."
Happy Birthday, Joe! You can celebrate by watching one of this great producer's many wonderful Breen Era movies!
Follow us to bring back the Code and save the arts in America!
We are lifting our voices in classical song to help the sun rise on a new day of pure entertainment!
Only the Code can make the sun rise on a new day of pure entertainment!