Today is Friday, so it's time for this week's first article in our semi-weekly series, 100 New Code Film. One of my goals is to eventually see every American Breen Era (1934-1954) ever made. This is quite an undertaking, since around 8000 feature films were made during these twenty years. I like to share these new Code films with my readers by reviewing them all through this series.
Today's topic is Because You're Mine from 1952. Whenever possible, I combine articles in this series with blogathon entries. When PEPS hosts blogathons, I try to do the same thing. I wanted to review a new Code film for our Joe Pasternak blogathon, so I looked on Amazon Prime Video to see if the streaming service offered any of Joe Pasternak's Code films which I hadn't seen yet. This was the only Breen Era film which I hadn't seen yet. I watched it tongiht.
Plot
When a famous opera singer is drafted into the army, he thinks that his glamorous life is over. However, his celebrity privileges continue into the infantry when he luckily is assigned under an opera-loving sergeant, who is a huge fan of his singing. When the sergeant wants the singing private to hear his sister sing, the tenor sees an opportunity to get back to New York to make a record. However, all that changes when he falls in love with the beautiful singer. Complicating matters are the captain, who hates both the sergeant and his singing protégé, and the tenor's jealous diva sweetheart.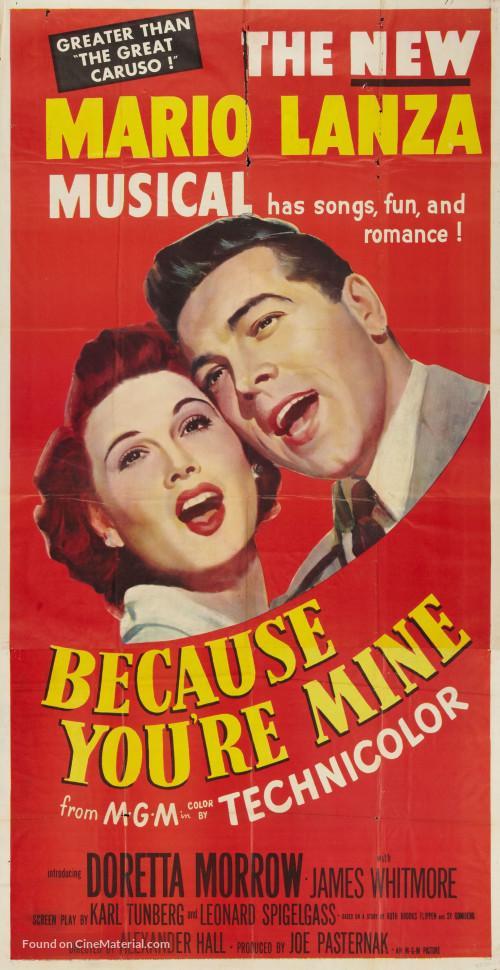 Cast
This movie stars Mario Lanza, Doretta Morrow, and James Whitmore. Supporting actors include Dean Miller, Rita Corday, Jeff Donnell, Spring Byington, and Bobby Van.
Production Notes
This movie was directed by Alexander Hall. It was produced by Joe Pasternak. The production company was MGM. The screenplay was written by Leonard Spigelgass and Karl Tunberg. The story was by Ruth Brooks Flippen and Sy Gomberg. It was nominated for an Academy Award for Best Original Song for Nicholas Brodszky and Sammy Cahn for "Because You're Mine."
Code Compliance
This is a good Code film. It is very proper, decent, and wholesome at all times. There are no improper lines, unacceptable situations, indecent costumes, or untoward lyrics. It is thoroughly Code compliant at all times. Louis B. Mayer may have left MGM by the time this film was released, but Joe Pasternak continued using his production unit to make lighthearted, thoroughly nice movies, obeying the Code.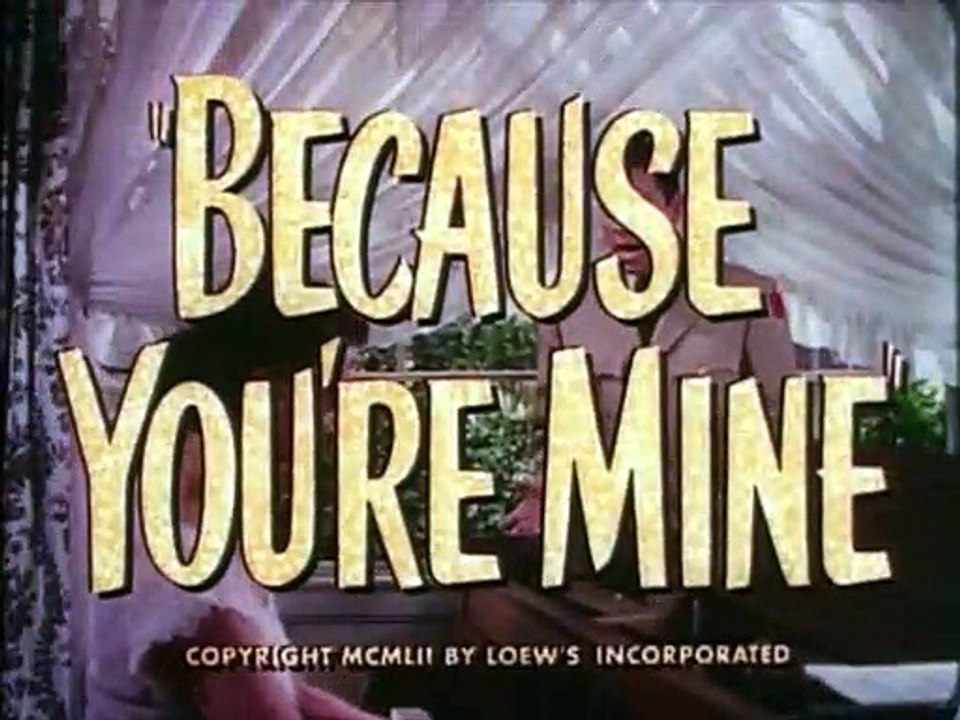 Recommendation
I highly recommend this film. It is really enjoyable throughout its runtime. Mario Lanza only made a few films, so it is wonderful to be able to see his magnificent talent on display. He was more than just an amazing singer, though. He was also an excellent actor who was very convincing in the roles he played in his Hollywood films. Opposite him is Doretta Morrow, a name no film fan will recognize. This film was her introduction and her swansong, since it was the only movie this Broadway singer ever made. Joe Pasternak probably hoped that this young lady would be another great film singer, but she was destined not to follow in the footsteps of younger film soprani like Deanna Durbin, Kathryn Grayson, and Jane Powell. Despite that, she is very good in this particular film, playing her part well and providing some lovely singing. James Whitmore gets an unusually large part as Sergeant Batterson, proving that he was a strong supporting actor who could provide genuine emotion as well as comedic relief. Another lovable character is Mrs. Rossano (Celia Lovsky), Reynaldo's (Mario Lanza) sweet Italian mother. Bobby Van plays a surprisingly small role as another private, but he does do one great but short tap dancing number. Although it is never actually stated, this film is set during the Korean War, which is surprisingly rare. While dozens or hundreds of musicals were sent during World War II, very few films were set during the Korean War while it was actually happening, especially musicals. You don't have to be an opera fan to like this movie.
For the Blogathon
This is my first entry in The Joe Pasternak Blogathon, which we are hosting this weekend. Mario Lanza only made five films at MGM, to one of which he only provided his voice. All five of them were produced by Joe Pasternak, a fact which testifies to Mr. Pasternak's appreciation for classical music. Joe made young soprani into film stars, but he also appreciated established classical musicians. Opera singers Lauritz Melchior and Lotte Lehmann were featured in Pasternak films, so the Pasternak unit made a brief but bright Hollywood star out of Mario Lanza. I love the fact that Hollywood films, which are made to appeal to the masses, glorified classical music. Mr. Pasternak also used real classical musicians, performing not only popular music but real opera. This film is a culture lesson as well as an entertaining romance. Opera aficionados like me can appreciate the beautiful singing and opera music for all that it is. I'm sure that this film and other Pasternak musicals made many people become fans of opera and the great Mario Lanza.
Follow us to bring back the Code and save the arts in America!
We are lifting our voices in classical song to help the sun rise on a new day of pure entertainment!
Only the Code can make the sun rise on a new day of pure entertainment!