Today is Saturday, so it's time for this week's first 100+ New Code Films article. Every week this year, I watch and review at least two American Breen Era (1934-1954) films for the first time. This gives me a great outlet for writing about the lovely Code films which are now readily available to be watched, just waiting to be discovered! There are so many of them I want to watch, and this series gives me a great excuse for watching them. If there are any new movies which you recommend I watch and review, be sure to leave me a comment and let me know.
Today's topic is Camille from 1936. I watched this film yesterday afternoon. I was resting during the day, since I am recovering from a slight cold. This gave me a great opportunity to watch a film I could review for our blogathon. I had a difficult time choosing from the many Code classics on our Amazon Prime Video watchlist. I eventually decided on this film, since I've been wanting to watch it for some time. I'm glad that I finally did!
Plot
A beautiful woman of pleasure lives in Paris, charming all with her extravagant spending, glittering parties, and camelias. However, the lifestyle of pleasure is taking a toll on her already-weak health. Her self-centered friend, a greedy older woman, advises her to go after a wealthy young baron, but the lady of the camelias mistakes him for a handsome but wealthless youth. They feel an immediate attraction, but she sends him away on a trivial errand when she discovers who he is. Months later, she is keeping company with the baron, although she dislikes him. She is touched when she learns that the young man, who truly loves her, sent her flowers every day when she was ill. They realize that they love each other as they never have loved and never will love anyone else. However, the lady knows that he cannot support her extravagant lifestyle as the baron can, and her reputation will ruin his diplomatic career. Meanwhile, her tuberculosis threatens her life.
Cast
This movie stars Greta Garbo, Robert Taylor, and Lionel Barrymore. Supporting actors include Henry Daniell, Jessie Ralph, Laura Hope Crews, Lenore Ulric, and Elizabeth Allan.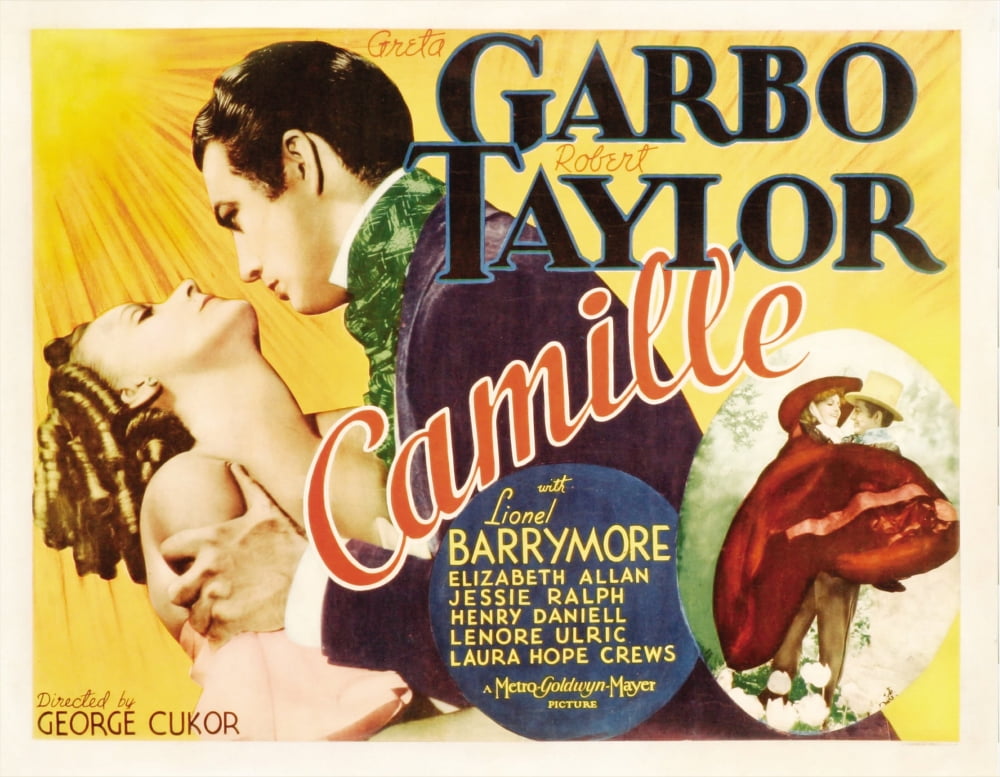 Production Notes
This movie was directed by George Cukor. It was produced by Bernard H. Hyman and Irving Thalberg with associate producer David Lewis. The production company was MGM. The screenplay was written by Zoe Akins, Frances Marion, and James Hilton. It was based on the play and novel by Alexandre Dumas fils. This film was nominated for one Academy Award, Best Actress for Greta Garbo. It was also listed in the Top Ten Films by the National Board of Review, and Greta Garbo won a Best Acting NBR Award. In addition, she won a New York Film Critics Circle Award for Best Actress.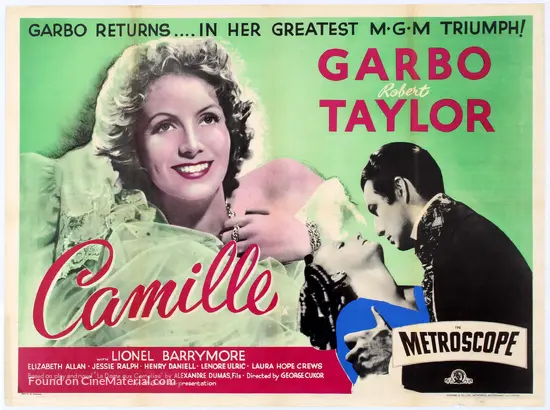 Code Compliance
This is a perfect Code film. Marguerite Gautier (Greta Garbo) is always described as a courtesan. However, this word is never used in the film. Admirable discretion was used in her characterization. Mature audiences will deduce that she is a kept woman. It is clear that the Baron de Varville (Henry Daniell) is supporting her multiple times throughout the film, since we see him give her money and offer her gifts. However, there is never even an implication that they are living together or that she is being paid to have an immoral relationship with him. Obviously, she is his kept woman, but the film leaves the amorous side of their relationship entirely unmentioned and offscreen. Furthermore, stories of this kind often show the young hero living immorally with the fallen woman. However, Armand Duval (Robert Taylor) clearly does not want or have an immoral relationship with Marguerite, since he loves and respects her too much to want anything less than marriage with her. A few low necklines are featured, but they are used tastefully and to make a point. Furthermore, Marguerite never is indecently exposed, adding to the characterization that she is good at heart. For this tasteful handling, I consider this movie a perfect Code film.
Recommendation
I highly recommend this movie. Camille was Greta Garbo's favorite of her films, and I must agree that she is magnificent in it. No one could be tragic like the great Garbo. Her tall, slender frame becomes increasingly frail as consumption wracks her lovely body. She indeed looks beautiful in the dramatic period costumes. Robert Taylor is perfect as Armand. He is emotional, passionate, sensitive, and hotheaded in the part of the young man who is driven to his wits' end by his love for Marguerite. He looks handsomer than ever in these period costumes. I have sometimes found his early performances a bit shallow, but I was very impressed by his depth of drama and emotion in this performance. He and Greta Garbo have the perfect chemistry for these roles. Lionel Barrymore plays his father. He has a very small amount of screen time for being third-billed, but he makes a huge impression during his two scenes. It's so nice to see the talented Mr. Barrymore on his feet, striding around steadily a mere two years before he was confined to a wheelchair. His presence always adds so much to a movie. Jessie Ralph is tender and kind as Marguerite's faithful servant and companion, Nanin, who never will forsake her. She is juxtaposed with the obnoxious Prudence (Laura Hope Crews), a selfish dressmaker who alternates between helping Marguerite and her rival, Olympe (Lenore Ulric). Both Prudence and Olympe feign friendship and concern for Marguerite, but they both are clearly out for themselves. Henry Daniell is cold and sinister as the heartless baron, the polar opposite of the warm, passionate Armand. The sets, which depict glittering Paris in all her gaiety, are beautifully evocative of the frivolous society.
For the Blogathon
This is my entry in our July blogathon, The 2nd Code Classics Blogathon. We're hosting it this weekend as the finale of #CleanMovieMonth2021.
The story of Camille is a very famous one. It originated as a French novel entitled La Dame aux Camelias (The Lady with the Camelias), which was written in 1848 by Alexandre Dumas fils. He later adapted the story into a play of the same name in 1852. That was just the beginning of the story's life on the stage. Giuseppe Verdi used the story as the basis for his famous 1853 opera La Traviata (The Fallen Woman), in which Marguerite is renamed Violetta, while Armand becomes Alfredo. In 1963, British choreographer Sir Fredric Ashton wrote a ballet called Marguerite and Armand for Margot Fonteyn and Rudolf Nureyev. In addition, the play has been made to many other films.
This movie is a true Code classic. It presented a beautiful, famous, and timeless story on the screen in a way which was both fresh and traditional. In so doing, it honored the principles of the newly adopted Motion Picture Production Code, which was shaping American film standards in the 1930s. Thus, Camille is a cinematic masterpiece which can be enjoyed by people of all ages in all times.
Follow us to bring back the Code and save the arts in America!
We are lifting our voices in classical song to help the sun rise on a new day of pure entertainment!
Only the Code can make the sun rise on a new day of pure entertainment!