Today is Sunday, so it's time for this week's second 100+ New Code Films article. I feel like an explorer as I work on this series. Every week, I look for films to watch for the first time. Like an archeologist's, my discoveries aren't new. However, they are fresh discoveries for me, and they may be unfamiliar works to many of my readers. If I am unearthing uncelebrated and little known classics which other old film fans will then watch, my semi-weekly articles have some purpose! Just to remind you, the "new" old movies I'm discovering through this series are all American films released between July of 1934 and 1954, a period which we call the American Breen Era. We call it that because, as the head of the Production Code Administration, Joseph I. Breen faithfully enforced the Motion Picture Production Code during those twenty years.
Today's topic is Ah, Wilderness! from 1935. I heard about this film a long time ago. I'm not sure if this was the first thing I heard, but I learned that it is the original of a later Code musical I saw over three years ago. That musical is Summer Holiday (1948), starring Mickey Rooney and Gloria DeHaven, which was directed by Rouben Mamoulian. Despite the always wonderful Mickey Rooney playing the lead, my mother, sister, and I strongly agreed that this was a very weak film, largely due to the painfully theatrical musical numbers. However, my objections to that film are the topic for another day. I merely brought it up to say that we all agreed that the original had to be better. We bought it on Amazon Prime Video last Sunday to see.
Plot
A young man in a small American town is about to graduate from high school. While planning for college, the young man is entertaining some radical ideas against the traditional business structure, which he has gained from reading. However, he isn't too radical to be in love with a local girl. His father runs the town's newspaper and supports his family well, which consists of his wife, three sons, a daughter, his sister-in-law, and his ne'er-do-well brother. Although the uncle has tried several jobs, his drinking has made him irresponsible and unstable. This saddens the sister-in-law, who has been in love with him for years and wishes he would settle down.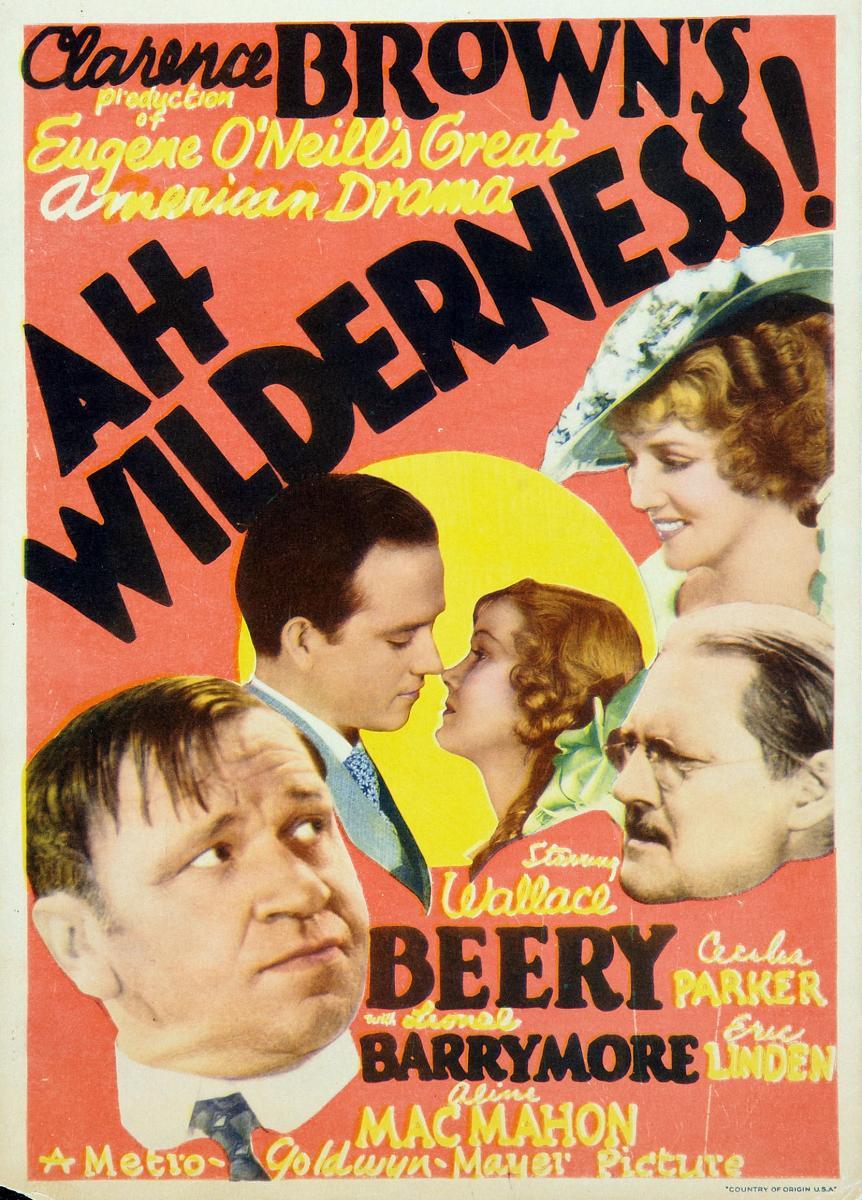 Cast
This movie stars Wallace Beery, Lionel Barrymore, and Eric Linden. Supporting actors include Cecilia Parker, Aline MacMahon, Spring Byington, Mickey Rooney, and Charles Grapewin.
Production Notes
This film was directed by Clarence Brown. It was produced by Hunt Stromberg and an uncredited Clarence Brown. The production company was MGM. The screenplay was written by Frances Goodrich and Albert Hackett. It was based on the successful stage play of the same name by Eugene O'Neill.
Code Compliance
This is a good Code film. It is totally decent and wholesome in every aspect. It deals with some common, realistic issues in American life. It is a sensitive, insightful portrait of a young man's coming of age. Although basically a good young man, Richard Miller (Eric Linden) is not unbelievably well-behaved. He finds his share of trouble, including liquor and a "fast" woman. However, all the topics are handled with decorum and the proper moral interpretation. Another controversial topic which is covered is alcoholism, since Uncle Sid (Wallace Beery) is a chronic drinker. The seriousness and corrupting effects of alcohol are shown, even as the comedic merit is milked for all its worth! It's a great example of an early Breen Era film which is completely Code-compliant, showing how quickly Hollywood adapted to Joseph Breen's strong enforcement of the Code.
Recommendation
I highly recommend this film! My whole family greatly enjoyed this movie, especially my father. When he saw that it was only given four out of five stars on Amazon, he couldn't believe it! The acting is truly great! Eric Linden, a little-known but very talented young actor, is perfect in this role. He looks sufficiently young but acts properly moody and thoughtful. Cecilia Parker is very lovely in this part, and she is so sweet and ingenuous in the part of the high school sweetheart. The biggest stars in this movie are the older actors. The remarkable Lionel Barrymore plays the wise old father. It's always a pleasure to see this amazingly talented actor on his feet, able to walk around as well as dominate every scene with his presence. Wallace Beery is top-billed in the role of the drunken and lazy but lovable brother. I must say that his drunk scene on July 4th is one of the funniest things I've ever seen! Spring Byington is ideal as the mother, and Aline MacMahon plays Aunt Lily with an interesting mixture of fondness and exasperation toward Sid. Of course, we can't forget young Mickey Rooney in a small but adorable performance as the younger brother, Tommy. This film was so popular that it inspired another film with almost the same cast and similar premise but a modern setting, A Family Affair (1937). This was the first film in the Andy Hardy film series. It too was very successful, so much so that MGM wanted to make a sequel about the further adventures of the Hardy family. Lionel Barrymore and Spring Byington were too busy and important to make further films in the story, so they were replaced by Lewis Stone and Fay Holden. This is a great movie and momentous in Hollywood history, as the inspiration for classic Hollywood's most successful film series.
Extra Movies Watched This Week:
Good Code Film, Recommended
Please join our upcoming blogathon!
Follow us to bring back the Code and save the arts in America!
We are lifting our voices in classical song to help the sun rise on a new day of pure entertainment!
Only the Code can make the sun rise on a new day of pure entertainment!