Today is Sunday, so it's time for another 100+ New Code Films article. My frequent readers will remember last year's semi-weekly series, 100 New Code Films. As the title of my 2021 series implies, this year I'm "upping the ante" by not limiting myself to watching and reviewing two American Breen Era (1934-1954) films for the first time each week. The plus quality allows me to watch as many new Code films as possible, although I probably will still only review two per week.
Today's topic is Quality Street from 1937. When looking for new films to watch a few Sundays ago, my family and I browsed Amazon Prime Video. We searched for Katharine Hepburn. One of the films which came up was Quality Street. Although we didn't decide to watch it then, we added the movie to our watchlist. When my mother asked me to choose a film to watch with breakfast earlier this week, I thought about this film's charming premise and decided to watch it. We watched this film on Wednesday.
Plot
A young woman in Regency Era England lives with her spinster sister, hoping that her dashing young admirer will ask for her hand in marriage. However, when he visits their house, his important matter is not a proposal but the news that he has enlisted in the Napoleonic Wars! He leaves, and the sad young woman also accepts spinsterhood as she and her sister start a school in their home. Ten years later, the soldier returns at last. He is dismayed to see the damsel's beauty faded and her lovely ringlets hidden beneath a schoolmarm's cap. She is heartbroken that she no longer is beautiful and charming. She wishes that she were young, beautiful, and silly like the girls who are successful with men. Out of whimsy, she tries to transform herself into such a frivolous creature. Much to her surprise, she easily recaptures her beauty when she doffs the cap and dons a beautiful gown. When the young man comes over that evening, she pretends to be her own niece, whom the soldier escorts to the ball when he believes her "aunt" has a headache. She keeps up the masquerade for days, deceiving the officer and gaining many new admirers. At first she enjoys the attention and the freedom, but she soon wonders if her beloved is falling for her or for a façade.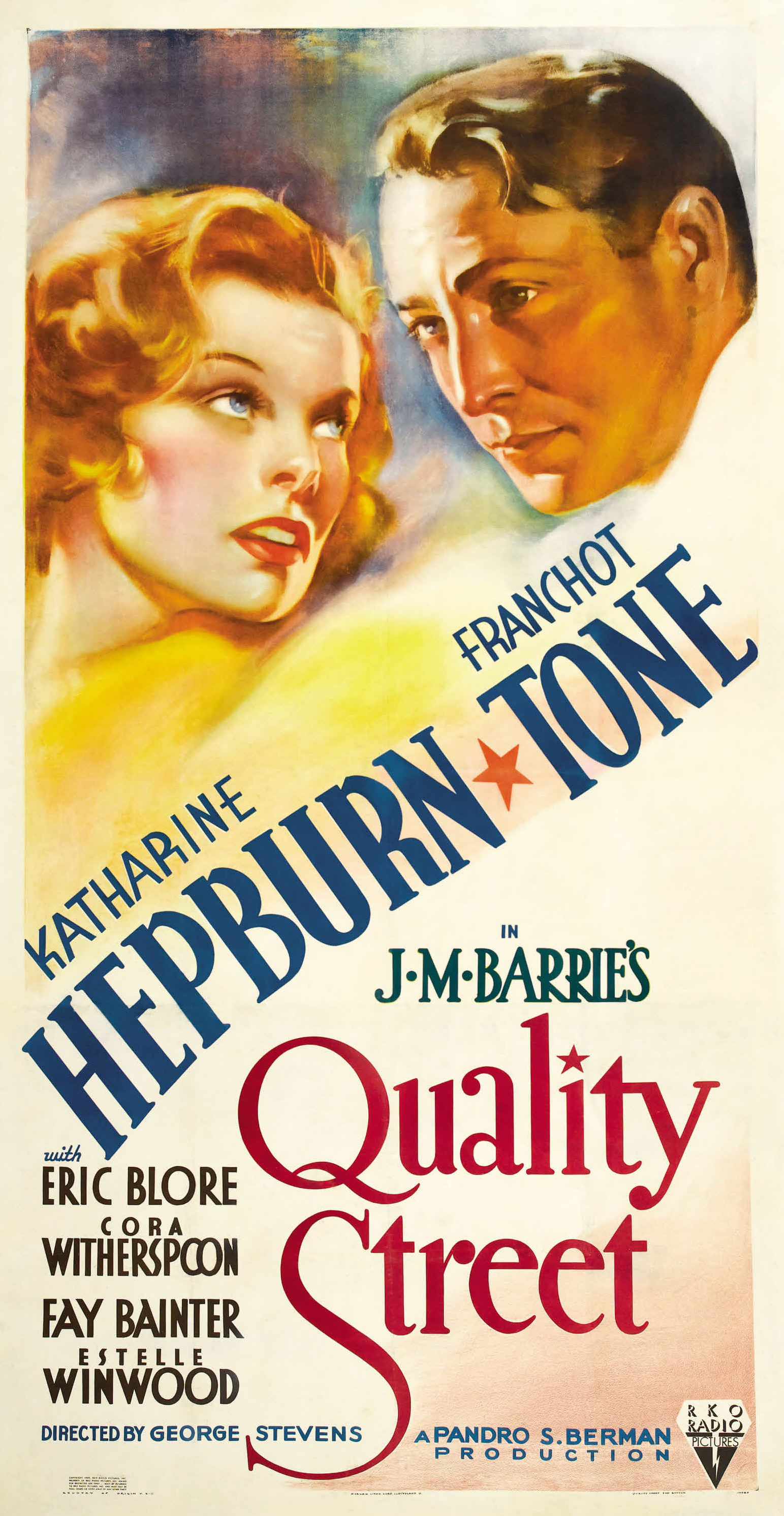 Cast
This movie stars Katharine Hepburn, Franchot Tone, and Fay Bainter. Supporting actors include Eric Blore, Cora Witherspoon, Estelle Winwood, William Bakewell, and Joan Fontaine.
Production Notes
This movie was directed by George Stevens. It was produced by Pandro S. Berman. The production company was RKO Radio Pictures. The screenplay was written by Allan Scott and Mortimer Offner. It came from the play of the same name by Sir J. M. Barrie. This film was nominated for an Academy Award for Best Score for Roy Webb.
Code Compliance
This is a good Code film. It is decent and wholesome. All the costumes are proper and modest in their styling. The dialogue is acceptable at all times. In addition, the themes of proper, decent conduct are refreshingly structured and restrictive compared with today's loose morals. Although modes had changed and relaxed in some respects by the 1930s, when this film was made, the Motion Picture Production Code made decency, propriety, and morality very popular customs in America.
Recommendation
I highly recommend this film. It is delightful. The acting is superb. Phoebe is a perfectly charming role for young Katharine Hepburn. She looks very sweet in this part. Franchot Tone plays Dr. Valentine Brown, her long-absent sweetheart. In the part, he is sincere but often seems unaware of the feelings and situations which surround him. Fay Bainter plays Susan, the sensible sister who longs for love but wasn't blessed with the beauty which wins husbands. The story begins simply enough, charming nonetheless. However, things really become interesting when Phoebe decides to deceive everyone as the frivolous, popular Livvie. This premise is very unusual and makes for some intriguing as well as hilarious lines and moments. The humor is light and witty, never goofy but always adding some sparkle. Supporting actors like Eric Blore, who plays a recruiting sergeant, and Cora Witherspoon, the sisters' maid, add extra comic relief. The script is very clever. As delivered by these superb actors, this film will keep you entertained from start to wonderful finish!
For the Blogathon
This is my entry in the Valentine's Day Period Drama Blog Party, hosted this weekend by Heidi of Along the Brandywine. This has been a busy weekend here at PEPS, since we're hosting our own blogathon in honor of St. Valentine's Day. However, I couldn't resist joining this other Valentine blogathon, which is being hosted by my blogging friend Heidi. I considered watching a period classic, such as Camille (1936), but time constraints and poor internet service made me decide to contribute with a review of a film I saw previously but hadn't reviewed yet, Quality Street.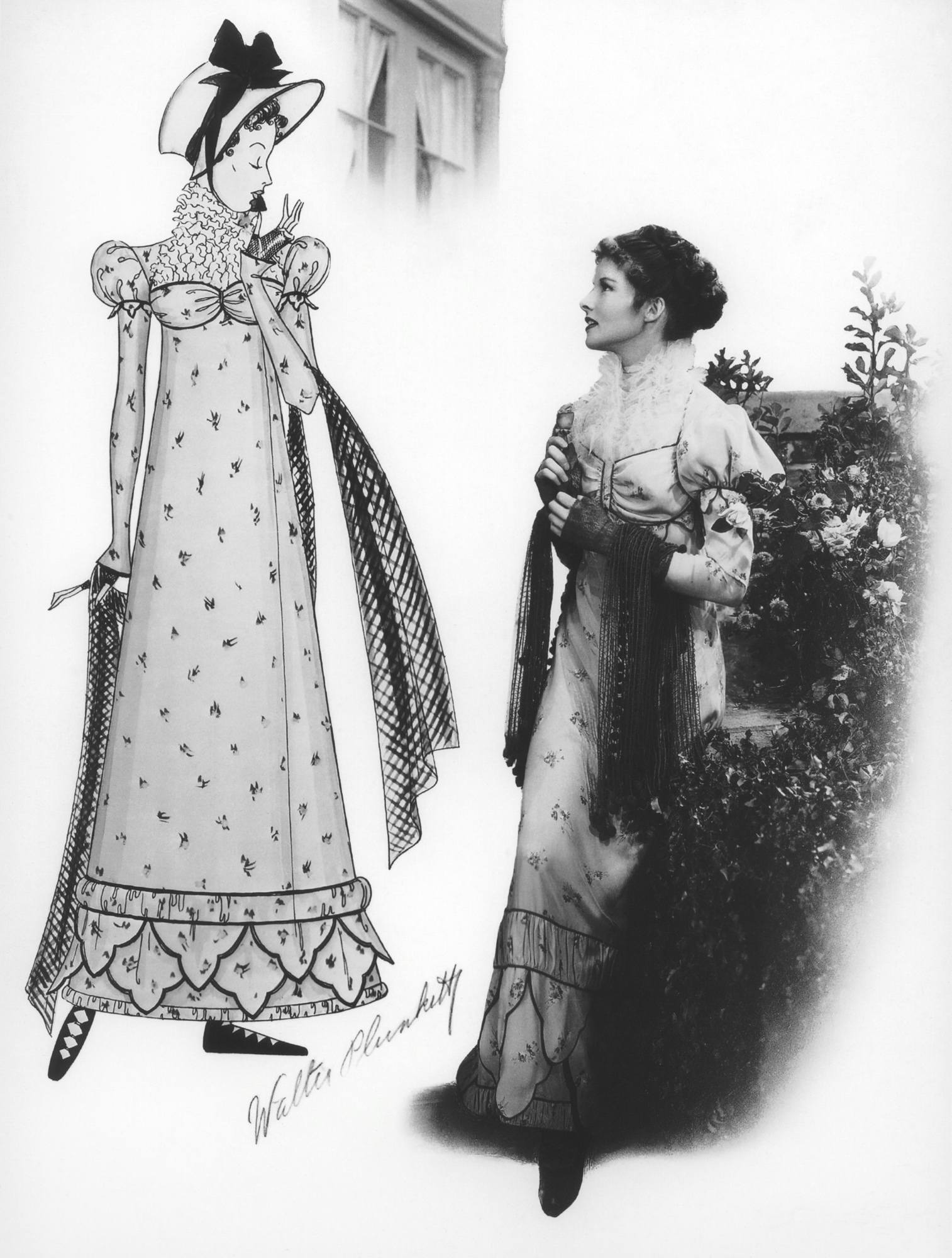 If you are interested in exploring Regency Era fashions through Golden Age Hollywood films, you will find it challenging. When researching my last article for the Epoch Times, I discovered just how few Code films are set during the British Regency Era. My editor asked me to contrast the unwholesome Bridgerton, a popular Regency series streaming on Netflix, with wholesome classic films with Regency settings. As my topic, I chose three movies based on famous novels, Wuthering Heights (1939), Pride and Prejudice (1940), and Jane Eyre (1943). I was halfway through the watching, researching, and writing process before I realized that none of these films were actually set in the 1810s! Either to save money by reusing Civil War gowns or because filmmakers found mid-nineteenth century fashions more flattering, all three films' settings were updated to the 1840s-60s. Just after I finished the article, I watched this film, which is truly set in the Regency Era! That was a bit frustrating, but I was glad to have finally found one.
If you want to see Regency Era fashions on classic Hollywood actors and actresses, watch Quality Street! I assure you that it will be a good way to spend your time. The film has even more quality than the street on which it focuses. Fashions for all occasions are on display in this film. You will see the finery of the parlor, the garden, the schoolroom, and the ballroom. Ladies and gentlemen of all ages and walks of life parade their finery. If you love period dramas, look no further than Quality Street!
Happy St. Valentine's Day!
Please join our upcoming holiday blogathon!
Follow us to bring back the Code and save the arts in America!
We are lifting our voices in classical song to help the sun rise on a new day of pure entertainment!
Only the Code can make the sun rise on a new day of pure entertainment!