Today is Sunday, so it's time for this week's second 100+ New Code Films article. I may publish the first new Code film review earlier in the week, but I almost always hold the second until Sunday. Every article in this series is a review of an American Breen Era (1934-1954) movie which I recently watched for the first time, usually earlier in the week. I am going to review slightly more than 100 movies during this year through this series; I'll watch even more than that! I hope that you will join me in this journey throughout the year.
Today's topic is Sullivan's Travels from 1941. Technically, I can watch and review any films for this series, but I listed some special movies that I plan to watch during 2021. These are Academy Award-winning films, plus classic movies which the American Film Institute (AFI) listed as on their Top 100 Films list. Sullivan's Travels is on the latter list, so I was curious to see it. I watched it on ok.ru on Thursday and Friday.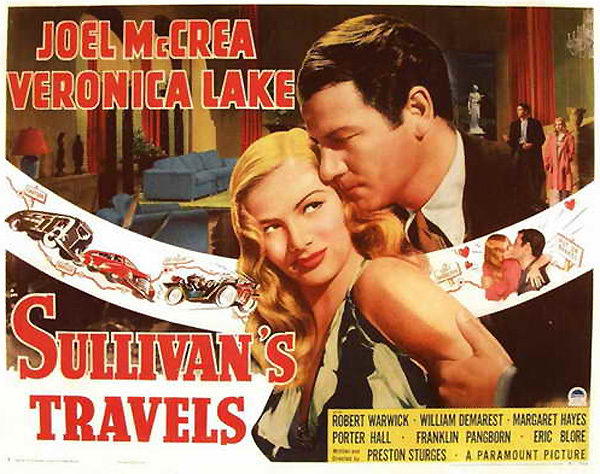 Plot
A successful musical comedy director is eager to make a social message picture about the Great Depression, despite producers' objections. When he realizes that he hasn't had the experiences to properly depict poverty, he determines to live the life of the hobo until he has learned what it means to be poor and homeless. Despite his best efforts to wander the country, he keeps ending up back in Los Angeles. He meets a poor actress who is just about to leave Hollywood because of her failed film career. When she eventually finds out about his project, she decides to accompany him, dressed as a vagrant boy. The journey is long, hard, and often ironic. During this experiment, the director learns not only about poverty of America but the possibility of true love through his newfound friend.
Cast
This movie stars Joel McCrea, Veronica Lake, and Robert Warwick. Supporting actors include William Demarest, Franklin Pangborn, Porter Hall, Byron Foulger, and Margaret Hayes.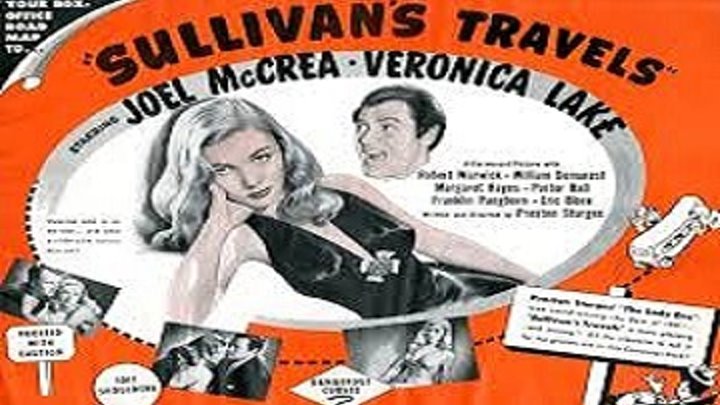 Production Notes
This movie was directed and produced by Preston Sturges. The associate producer was Paul Jones, and the executive producer was Buddy G. DeSylva. The production company was Paramount Pictures. It was written by Preston Sturges. The National Board of Review listed this movie in its Top Ten Films of the year.
Code Compliance
This is a non-Code film. I knew that it was such before even watching it, having read some reviews which mentioned rather revealing shower scenes with Veronica Lake. I wasn't surprised by this, since this movie was released during the Non-Code Era. This was the period from May 1941 to May 1942 when Joseph I. Breen was absent from the Production Code Administration (PCA), instead working at RKO Radio Pictures. During his year-long absence, Geoffrey Shurlock unofficially ran things, and the results are shocking. While many filmmakers continued making Code-compliant films out of habit, others took advantage of the PCA's leadership limbo to sneak some very un-Codish content into theaters. The results alternate between a flashback to pre-Code standards and an eerie foreshadow of the Shurlock Era (1955-1968). Within its first few minutes, Sullivan's Travels lived up to my non-Code expectations. The word sex was flippantly bandied about four times in an opening scene! Fictional titles of films which John L. Sullivan (Joel McCrea) and his associates discuss would never have been approved as Code films, unless from 1941 or 42! When Sully and "The Girl" (Veronica Lake) travel around the country together as a couple of hobos, they are a bit too friendly. They often sleep side by side or in each other's arms for warmth or protection. I'm not inferring that there is anything immoral between them; I just think this is rather suggestive. Of course, the two shower scenes do deserve mention. The first one is definitely the worse of the two. When the Girl is cleaning up on Sully's luxurious motor home, his secretary (Margaret Hayes) comes in with a wrapper for her. Veronica leans out of the shower, covering herself with a transparent shower curtain. There is steam, but this is far from the usual Code shower scene. You can see her chest quite plainly! The second time, she is showering in a communal bathroom for women; we see her from the shoulders up, but the wall doesn't quite cover enough of her upper body. Added to this, Sully is given an unnecessary marriage, merely to complicate matters by forcing him to get divorced if he ever wants to marry Veronica! A ridiculous story about getting married for income tax purposes was included, but the whole thing seems like a forced and contrive way to make light of marriage. If you ever find yourself wondering, "How did that get past the censors?" or "Why did Joe Breen let that one slip by?" take into consideration the fact that eight other employees worked at the PCA. Not all of them were extremely effective, and Joe Breen didn't work on every film.
Recommendation
I recommend this film with reservations. At the time of its initial release, it was a flop because many viewers felt that it couldn't decide whether it was a comedy or drama. In recent decades, it has gained great popularity, with modern film lovers and makers alike lauding it as a masterpiece. However, I am more inclined to agree with the 1941 opinion. It isn't a bad movie from an artistic standpoint, although I think its non-Codishness weakens it significantly. However, I found the story to be confused and presented rather oddly. I would call this The Grapes of Laughter, since at times it seems like The Grapes of Wrath as a comedy. I also want to compare it to Modern Times (1936), although I feel unqualified to do so because I haven't seen Charlie Chaplin's last silent classic yet. However, the theme of a man searching for his place in Depression Era America, aided by a nameless girl, is featured in both. There are some long dialogue-less sequences of this movie which make it seem like a silent. Other portions are filled with fast-paced dialogue. There are moments of deep meaning and sympathy for poverty, and there are moments of slapstick comedy. I'm sure that many think the juxtaposition is what makes this film brilliant, but it didn't blend into one cohesive story for me. I admired Joel McCrea's performance. He and his struggles are really the center of the whole story, and Joel imbues the character with the necessary feelings, passions, courage, fears, and compassion. The Girl is played very effectively by Veronica Lake. She displays her acting prowess in this role, since she is more than just a vixen. She is sympathetic, sensitive, and a perfect travel companion for Sully, since she bravely faces all the hardships and challenges he has chosen to endure. She looks very cute in her hobo clothes! In contrast to the multi-faceted leads, the rest of the characters are pretty one-dimensional. The Hollywood crowd who surround Sully are primarily focused on getting him to do what they want, namely ending his silly project and making another financially successful movie. The cinematography does an excellent job of capturing the Depression Era, but I really struggled with this overall film because I felt it lacked an overall cohesive message. Without a point of view, it just floundered. I can't help but wonder if it would have found its way more clearly if it had Joseph Breen's guidance. Have you seen this film? I would love to hear your opinions, both agreeing and conflicting!
Extra Movies Watched This Week:
Good Code Film, Recommended
Please join our two upcoming holiday blogathons!
and
Follow us to bring back the Code and save the arts in America!
We are lifting our voices in classical song to help the sun rise on a new day of pure entertainment!
Only the Code can make the sun rise on a new day of pure entertainment!