Today is Saturday, so it's time for this week's first 100+ New Code Films article. Every week this year, I plan to watch and review at least two American Breen Era (1934-1954) films for the first time. Does this sound familiar? It probably does, since this series is very similar to one I managed last year, 100 New Code Films. It differs by being 100+ new films, so I am not limited to just 100 movies. I can watch as many new movies as I watch to during this year, while only having to review two per week. This is much better for me, since I'm supposed to be using this series to watch as many Code films as possible!
Today's topic is Above and Beyond from 1952. After we discovered The Voice of the Turtle, my mother began to really appreciate Eleanor Parker. She added many of her movies to our Amazon Prime Video watchlist. One such film was this movie set during World War II. One afternoon, she said that she would like to watch this movie, and Rebekah and I agreed that it sounded great! We watched this movie on Monday.
Plot
An World War II pilot has been away from his wife for two years while serving in Africa. He hasn't even seen his infant son. A disagreement with a commanding officer prevents his advancement in rank, but another general recruits him for a special project back in the United States. Because of his skill and nerves, he has been selected to participate in Operation Silver Plate, a daring experiment in atomic energy. He takes the assignment and is given the responsibility of selecting and training men, bringing them to a remote base in Utah. No one but him knows that they are preparing to drop an atomic bomb on a Japanese city, hopefully ending the war. As he struggles with the massive pressure, it puts a strain on his nerves and his marriage. He can't tell his wife what the project is, so she doesn't understand the magnitude of his responsibility. As he shares this secret with only a few other high-power men, he struggles with guilt about the plan, which will lead to the death of thousands of women and children in Japan.
Cast
This movie stars Robert Taylor, Eleanor Parker, and James Whitmore. Supporting actors include Marilyn Erskine, Larry Keating, Larry Gates, Stephen Dunne, and Robert Burton.
Production Notes
This movie was directed and produced by Melvin Frank and Norman Panama. The production company was MGM. The story was written by Melvin Frank, Beirne Lay Jr., and Norman Panama. This movie was nominated for two Academy Awards, including Best Motion Picture Story for Beirne Lay Jr. and Best Scoring of a Dramatic or Comedy Picture for Hugo Friedhofer. The National Board of Review listed it as one of the Top Ten Films of the year.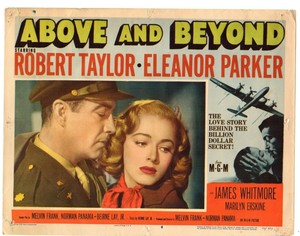 Code Compliance
This is a perfect Code film. It shows the torturous trials of war, but it also shows the nobility, generosity, and heroism which can be found in people. By showing the sacrifices which servicemen and their families had to make during World War II to serve their country and fight for freedom, this movie inspires great patriotism. It really motivated me to be a better citizen. I appreciate that this movie deals with difficult topics, like war, bombings, and death, while being totally Code-compliant. It contains mature, serious themes, but there is nothing in this movie which is inappropriate for a child of any age. It also addresses the complicated moral issue of killing innocent people as casualties of war. This theme couldn't have been handled so boldly ten years earlier. That is not because it violates the Code. It's because the moral ambiguity would have disturbed people during the midst of the war. There had to be a separation of some years for the moral issue to be handled. It is done flawlessly!
Recommendation
I highly recommend this film. It is a very dramatic, stirring story. I think that the most complete knowledge of World War II cannot be given to younger generations through books but through the films made during the duration and in the following years. Some films focus on the front lines, others depict the home front, and still others show the behind-the-scenes planning. This film is of the last category. The plot is based on the real events involving the atomic bomb which was dropped on Hiroshima. It is so fascinating to learn the history behind this daring, famous event. The story is brought to dramatic life by wonderful acting. During his "matinee idol" days as a young MGM star in the late 1930s, Robert Taylor was never my favorite actor. I suspect that I haven't really seen enough of his best roles, and I hope to remedy this situation in the near future. However, in this middle-aged performance, I really appreciated Robert Taylor's dramatic acting. He makes Col. Paul Tibbetts a very nuanced, sympathetic character. His expressions make us understand his inner-turmoil at being unable to tell those nearest and dearest to him what he is facing. A small comment from his wife, Lucey, evokes an angry outburst, since it touches the nerve of his guilty feelings connected with the operation. Eleanor Parker gives a wonderful, emotional performance as Lucey Tibbetts. One can empathize with her confused, conflicting feelings. She is a very patient war wife, understanding her husband's duty and the constant call of the army. However, that doesn't lessen the sadness she feels while waiting for him or her disappointment when yet another plan is ruined by sudden orders. Her narration drives the film, giving us insight into her emotions and lending a very personal, human air to the whole story. The rest of the cast is excellent and effective, too, but I will just focus on how real those two characters are. If you are interested in seeing a dramatic, realistic World War II film which is intense without showing any combat, this is the perfect film. It is ideal for people who don't like actual war action, although most Code films are very delicate about showing war footage. It is appealing to men and women, since it shows daring missions as well as tender romance and family life.
Please join our two upcoming holiday blogathons!
and
Follow us to bring back the Code and save the arts in America!
We are lifting our voices in classical song to help the sun rise on a new day of pure entertainment!
Only the Code can make the sun rise on a new day of pure entertainment!