Today is Wednesday, so it's time for another 100+ New Code Films article. This is my semi-weekly series for 2021. Every week this year, I review two American Breen Era (1934-1954) films which I have seen for the first time during the week. The "plus" quality of this series is what makes it great, since I can watch more new Code films than the two that I review each week. I have discovered many interesting new films so far, and I look forward to this being an excellent series throughout this year.
Today's topic is Room for One More from 1952. We discovered this film while searching on Amazon Prime Video for new movies to watch on Sunday night. For some reason, the search for Katherine Hepburn films produced many results with Cary Grant. One of these films was Room for One More. I remembered hearing about this second film which Cary Grant made with his wife Betsy Drake. We thought it sounded cute, so we added it to our watchlist. We watched this film yesterday afternoon.
Plot
A women's group visits an orphanage, and one kindhearted mother is touched by the director's speech about the children needing homes. The director encourages her to take a troubled adolescent girl for two weeks on probation, telling her how much the child needs a home. The woman is unsure about taking in a foster child, but she knows that her husband won't support the idea. They already have three children of their own, two boys and a girl, but she has always felt they were cheated out of a fourth child since they lost a baby. The wife has such a big heart that she allows any stray dog and cat who wanders by to become part of the family. Of course, she has the same feeling about the troubled girl. When she arrives, she doesn't respond to the kindness which her foster parents and the three siblings try to show her. However, the mother uses wisdom and psychology to build the girl's confidence and eventually make her trust other people. When the two weeks are over, the whole family is sorry for the girl to leave. The father brings her bag back upstairs, welcoming her as part of the family. Having solved one child's problems, the mother wants to bring a problem child twelve-year-old boy on their summer beach vacation. Can they make this boy, an invalid forced to wear leg braces who has spent most of his life in hospitals, part of the family, too?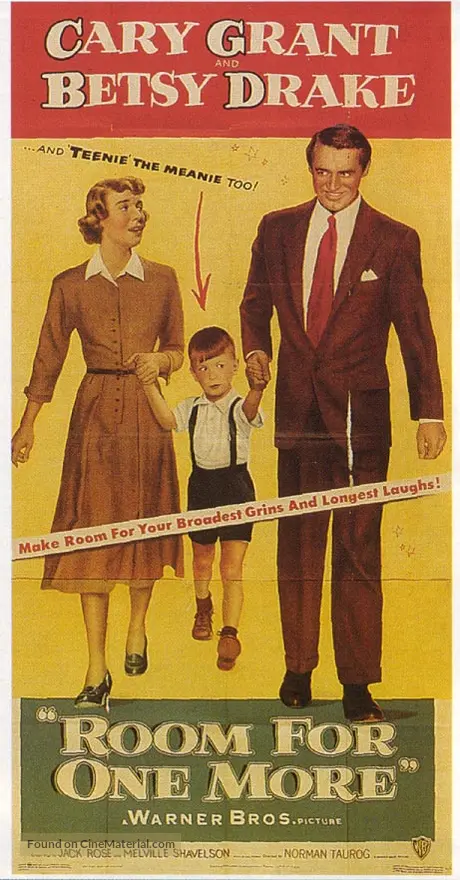 Cast
This movie stars Cary Grant, Betsy Drake, and Lurene Tuttle. Supporting actors include Iris Mann, Clifford Tatum Jr., George Winslow, Gay Gordon, and Malcolm Cassell.
Production Notes
This movie was directed by Norman Taurog. It was produced by Henry Blanke. The production company was Warner Bros. The screenplay was written by Jack Rose and Melville Shavelson. It came from a book written by Anna Perrot Rose, the real mother in the story. Norman Taurog was nominated for a Golden Lion award at the Venice Film Festival. At the Writers Guild of America, it was nominated for a WGA Award (Screen) for Best Written American Comedy for Melville Shavelson and Jack Rose.
Code Compliance
This is a perfect Code film. It is very wholesome and decent. It also has a great message about helping others. This film really encourages people to consider taking in foster children, since so many children are in need of a good home with proper love and care. As you can see on the below poster, at least one censor board deemed this film unsuitable for children. That is obviously because it contains some mature topics, but I don't agree that it is inappropriate in any way. It handles serious topics like child abandonment and troubled youth very well. There is one scene in which the troubled boy they adopt, Jimmy John Wilson (Clifford Tatum Jr.), asks his foster father, George Rose (Cary Grant), where babies come from. "Poppy" Rose very sensitively and wisely tells Jimmy John about how babies are formed inside a mother's womb, yet this discussion of the facts of life is not inappropriate for children of any age.
Recommendation
I highly recommend this movie. It is a great family film. The story is very touching, and the acting is excellent. Cary Grant and Betsy Drake have a very believable rapport as a married couple, since they were married at the time. While Betsy plays a rather silly young woman in Every Girl Should be Married (1948), her earlier film with Cary Grant, she is a very serious, loving mother as Anna Perrott Rose. Cary Grant is very endearing as the father, whom wife and children alike fondly call Poppy. I appreciate the fine young actors who play the children in this family. Of the three biological Rose children, youngster Teenie (George Winslow) definitely stands out. This talented little lad was nicknamed "Foghorn" because of his hilariously droll voice. The two foster children are both played by excellent young actors. Iris Mann gives a very emotional performance as Jane Miller, the troubled girl whom the Rose's must help forget her troubled, abusive past. Jimmy John Wilson seems like even more of a troublemaker, but one can't help pitying the boy because he has to wear leg braces. He is sore at the world and refuses to talk to anyone, making the other children resent him. However, Mrs. Rose challenges him into communicating and interacting with the rest of the family. When he finally does talk, he has a surprisingly strong New York accent. The Boy Scouts element in this film is very inspiring. Participation in Boy Scouts of America helps gives Jimmy John a sense of purpose in life. This is a heartwarming film for the whole family!
Please join our two upcoming holiday blogathons!
and
Follow us to bring back the Code and save the arts in America!
We are lifting our voices in classical song to help the sun rise on a new day of pure entertainment!
Only the Code can make the sun rise on a new day of pure entertainment!