Today is Sunday, so it's time for another 100+ New Code Films article. In this series, I watch and review at least two American Breen Era (1934-1954) films which I have never seen before every week. This series is this year's means for bringing me closer to my goal of watching every Code film ever made. I changed this series from last year's 100 New Code Films to allow myself more freedom for watching extra new Code films. I love the fact that I have been able to watch many extra new Code films so far without feeling like I'm watching too many and thus throwing off my schedule!
Today's topic is Young Tom Edison from 1940. I watched so many great films yesterday and today that I had a hard time deciding which to review. However, of the five new masterpieces we watched, I decided on Men of Boys Town, which I reviewed yesterday, and Young Tom Edison for today. As is often the case when browsing through Amazon Prime on the weekend, one great film just led to another. We bought this film on Prime Video after watchin Men of Boys Town on Saturday night.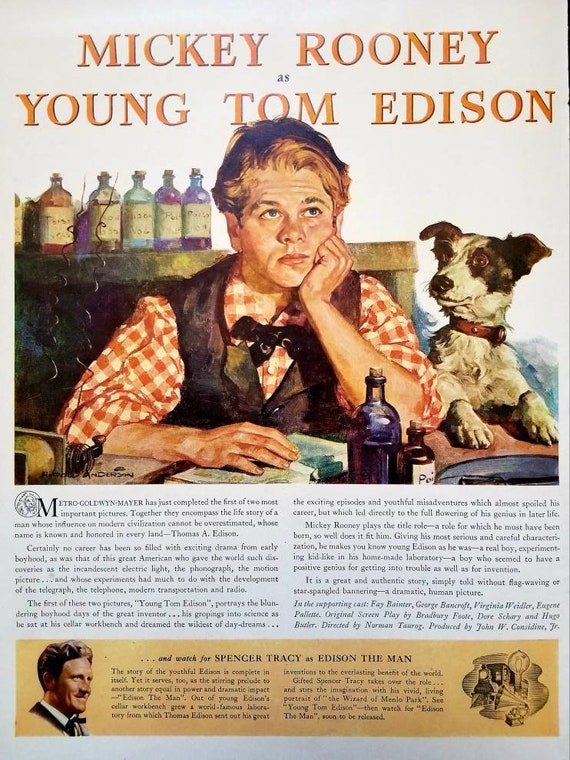 Plot
Before the Civil War, the adolescent son of a grain merchant in a small town is considered a little odd. Because he is always tinkering with things, mixing chemicals together, and making strange inventions, people consider him addled. His younger sister is his devoted admirer and constant partner in crime. He rarely means to do the wrong thing, aside from an occasional prank on another youth, but he always ends up getting into trouble. He is rather clumsy and accident-prone, so no one besides his mother and sister realizes how brilliant he is. His father is frustrated with his son's dreaming ways, especially after a chemical experiment in the school cloakroom gets his expelled. Little do his father, his teacher, the mocking youngsters, and all the doubting townspeople know that the boy's cleverness and ingenuity will save lives in the town and make him the world's greatest inventor one day.
Cast
This movie stars Mickey Rooney, Fay Bainter, and George Bancroft. Supporting actors include Virginia Weidler, Eugene Pallette, Victor Kilian, Bobby Jordan, and J. M. Kerrigan.
Production Notes
This movie was directed by Norman Taurog. It was produced by John W. Considine Jr. with associate producer Orville O. Dull. The production company was MGM. The original screenplay was written by Bradbury Foote, Dore Schary, and Hugo Butler. It was based on original material by H. Alan Dunn, which in turn was based on some real incidents in Thomas A. Edison's life.
Code Compliance
This is a perfect Code film. Firstly, it is totally decent and wholesome, containing no Code violations. However, it rises above the rank of good Code film because it is inspiring. That is what makes it a perfect Code film. This is the story of a boy who rises above criticism and being misunderstood to help first a friend, then his family, then his community, and eventually all mankind. Young people today flounder, not knowing where to find inspiring role models. Classic films which contain decent, hardworking, clever young people like Tom Edison provide good role models. Also, this film is a history lesson in itself, since it depicts the early life of famous inventor Thomas A. Edison. Although not all the facts are accurate and the order of some events is switched, it conveys the spirit of Mr. Edison's life. It brings his story to life and creates an interest in his existence and work which no history book could do. If that doesn't make a movie a perfect Code film, I don't know what does.
Recommendation
I highly recommend this film. I thought it was a masterpiece. It seamlessly blends drama, history, and humor to create a thoroughly entertaining film which could be enjoyed by all ages. It has the simple MGM charm of the Andy Hardy films, yet it is much longer and more in-depth than those episodic movies. Mickey Rooney gives a wonderful performance as the titular inventor as a boy. Although nineteen when this movie was made, he is very convincing as a fifteen-year-old, combining Tom's innate maturity with the playful mischief which would still be found in a boy of this age. Although he is a small town good boy, this role is not Andy Hardy. Mickey Rooney instills a very different nature in him. While Andy spends most of his time having a good time and collecting girlfriends, Tom shows no interest in girls and spends most of his time and money on inventions, chemicals, and experiments. Virginia Weidler is adorable as Tannie, Tom's younger sister. She is exuberant, loyal, and charmingly devoted to her older brother. This sibling relationship is very touching, since Tom never minds having his little sister tagging along. Their close relationship and meeting of the minds, despite a significant age gap, reminded me of my relationship with my sister, Rebekah, since we have always been very close. Fay Bainter is ideal as the mother, who is supportive and accepting of Tom even when everyone in town is laughing at him. George Bancroft provides good contrast as the father, who is more stubborn than stern in his disapproval of Tom. Eugene Pallette plays Mr. Nelson, the train conductor who alternates between being an enemy and being an ally of Tom. There are some really funny scenes in this movie, such as when Tom tricks a mean boy into drinking a chemical which he claims will make him fly and then his mother later pretends to whip him, as well as tense ones, such as when there is a fire on a train and later Mrs. Edison is very ill. The most interesting thing about the movie is that it was made together with its sequel, Edison the Man. Both films were released in 1940, just two months apart. These really are just two parts of the same movie rather than an original and a sequel, since the publicity material and even the ending of this film promote the next one. I decided not to review that whole film just now, although we watched it today. I just will tell you that if you watch Young Tom Edison, you have to watch Edison the Man, as well. Spencer Tracy is magnificent as Thomas Edison. The cinematography, scripting, and style of both films is amazing. As Edison matures in the second film, the story grows, too. However, some wonderful details, such as his loving apple pie and milk, carry over beautifully from the first film into the next. It also is very believable that Mickey Rooney's young Tom could have grown into Spencer Tracy's grown-up Thomas A. Edison. If you appreciate the talent of Mickey Rooney or Spencer Tracy, you have to watch both these movies. Rather, if you are burning a light bulb right now and want to gain a greater appreciation for this modern miracle, watch MGM's twin homages to a great American, Thomas A. Edison!
Extra Movies Watched This Week:
Good Code Film, Recommended
Perfect Code Film, Highly Recommended
Good Code Film, Highly Recommended
Fair Code Film, Highly Recommended
Please join our two upcoming holiday blogathons!
and
Follow us to bring back the Code and save the arts in America!
We are lifting our voices in classical song to help the sun rise on a new day of pure entertainment!
Only the Code can make the sun rise on a new day of pure entertainment!