Today is the first Sunday in 2021, so I am going to publish my first 100+ New Code Films article! This series is my project for discovering new American Breen Era (1934-1954) films in 2021, this year's issue of 100 New Code Films. When I say that I'm discovering new films, I don't mean that I'm uncovering them in old barns. These are just movies that I am watching for the first time, which are thus new to me. I plan to review at least two movies in this series each week, listing any extra movies I've watched. That way, I will equal 100+ movies by the end of the year.
Today's topic is Forever Female from 1953. This afternoon, we were browsing through our Amazon Video watchlist in search of an interesting movie to watch. There are so many movies with great and favorite actors that it's always difficult to choose. Also, it's tough for four people to agree on one movie! However, some movies seem like guaranteed winners just from their trailers. When we watched the trailer for Forever Female, we all agreed that it was worth the purchase price.
Plot
A middle-aged Broadway star who has insisted that she's twenty-nine for years is always in shows produced by her ex-husband. Although she has gone through a series of beaux since their divorce, he is still her good friend. They gather at Sardi's after their latest show, which proves to be a flop despite a promising first act and positive reviews about the leading lady. While they're there, an outspoken young playwright comes over to their table and tells the actress that he thinks she lacks humility, which intrigues her. His manager gives the producer the young man's play to read. The producer finds himself intrigued by the play, an opinion about which the writer demands when he comes to pick up the script the next morning. He works in a market all night and thus always comes bearing produce, but he aspires to be a great writer. The producer and his ex-wife agree that the story about the struggle between a young woman who wants to be a pianist and her domineering mother is very poignant, but the producer is uninterested because there is no part in it for his former spouse. However, she suggests that the role of the daughter be changed from age nineteen to age twenty-nine, so she could play it. At first, the playwright is upset by the idea of changing his masterpiece, but the attractiveness of the producer's offer soon makes him consider rewrites. Soon, the actress is very interested in the handsome young writer. Meanwhile, a hopeful young actress, who frequently changes her stage name and carefully cultivates memorable personality traits, barges into the writer's life. She read his script when working in a secretarial bureau, and she believes it has great potential. She insists that she is destined to play the role of the daughter. In time, her interest in him grows larger than just a professional one, as she finds him to be an attractive man. The star arranges for the would-be actress to get a job out of town, but will that make their play and her blossoming romance with the writer successful?
Cast
This movie stars Ginger Rogers, William Holden, and Paul Douglas. It was Pat Crowley's feature film debut. Supporting actors include James Gleason, Jesse White, Marjorie Rambeau, George Reeves, and King Donovan.
Production Notes
This movie was directed by Irving Rapper. It was produced by Pat Duggan. The production company was Paramount Pictures. The screenplay was written by Julius J. Epstein and Phillip G. Epstein. The story was suggested by J. M. Barrie's play Rosalind. Pat Crowley won a Golden Globe that year for Most Promising Newcomer – Female.
Code Compliance
This is a good Code film. It is wholesome and decent throughout its runtime. I especially appreciate the character of Sally/Peggy/Claudia/Clara (Pat Crowley). Although she seems desperate enough for a career to do anything to obtain it, she is careful about her morals. She is excited when playwright Stanley Krown (William Holden) agrees to let her walk home with him, but she asks her girlfriend (Marion Ross) to call her every fifteen minutes to ensure that Stanley doesn't make too forward a pass at her! Also, she is obviously uncomfortable when she thinks he is making advances, only to realize that he just wants her to do some typing for him. Also, divorce is not glorified. In fact, this film shows a very common situation, where two people get divorced because they fight a lot, but they still love each other. They may have other romances, but they'll never find such true love again. I appreciate that this film upholds the holy state of matrimony.
Recommendation
I highly recommend this movie. It is an underappreciated masterpiece. Like All About Eve (1950), it is a fascinating focus on Broadway and its players. The story is intriguing and very unique. It features top-notch acting from some big names of the screen and the stage. Ginger Rogers is impeccable as Beatrice Page, the star who is not a has-been yet but it also no longer an ingenue. She truly commands the screen, being comical at times but always relatable, even as she is a bit selfish. William Holden is perfect as Stanley Krown, the young writer who acts very confident in an attempt to hide his own doubts. He shows us the many conflicting emotions which must be present in any character of depth. The fact that Stanley always brings fruit or vegetables instead of flower, jewelry, or some other gift is really unusual and funny. I like the interesting little touches in this film. They make it very memorable. The third member of the love triangle is Bea's ex-husband, producer E. Harry Phillips (Paul Douglas). He is a bit brash at times, but it's clear that he loves Bea madly. As in most of his films, Paul Douglas is a bit rough around the edges, but he is lovable and has a heart of gold. He tempers Bea's nature as no one else can. The love triangle is turned into a quadrangle by Pat Crowley's character, the young actress who goes by a series of names. After calling herself Sally Carver, Peggy Pruitt, and Claudia Souvain, she admits that her real name is Clara Mootz, so we'll call her Clara. Pat, who became more of a television star than a big film actress, is cute, hilarious, nuanced, and very dramatic in this role. The trailer gave her a big build-up, and I thought she lived up to their praise. She truly holds her own alongside award-winning Hollywood stars. She funnily uses the word "Siamese" as her favorite expression to give herself an interesting character trait, and this funny habit certainly does just that! As always, the idea of putting on a show within a movie is fascinating. We don't see much of the onstage activity. Instead, the film gravitates toward the famous Sardi's, where caricatures of stars decorate the walls and their larger-than-life identities occupy the tables. Harry's interwoven narration is a very effective touch, too. This is a really great movie. I can say wholeheartedly that I loved it.
For the Blogathon
This is my third entry in the New Year's blogathon we are hosting here at PEPS, The Sunset Boulevard Blogathon. This film features William Holden, one of the main stars in Sunset Boulevard, so it automatically qualifies as a topic for our blogathon. However, we weren't far into this film before I declared that it was the Broadway equivalent of Sunset Boulevard. I wouldn't call it a knock-off or rehash by any means. However, since it is also Paramount Pictures, which produced the earlier William Holden, it is possible that it was intended to be similar. Let me describe the similarities I found.
The biggest similarity is that both star William Holden as a writer. While he writes screenplays in Sunset Boulevard, he writes Broadway plays in Forever Female. In both films, an attempt to advance his writing career gets him involved with an older actress. However, there is also a younger woman in his life. In both cases, he allows his ethics to be compromised for a job. Thankfully, he only compromises his literary ethics in Forever Female, instead of completely selling himself and becoming a kept man as he does in Sunset Boulevard.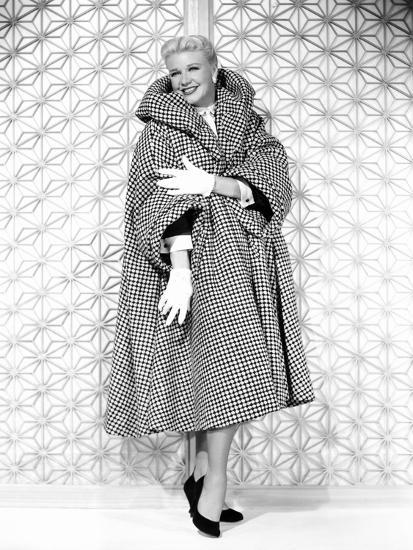 Obviously, Beatrice Page is the Norma Desmond character. Now, there are many differences between Ginger Rogers's Broadway star and Gloria Swanson's silent film queen. The biggest one, other than their entertainment medium, is that Norma is a faded star who has been a has-been for twenty years, while Bea is still a highly-successful actress. However, both are middle-aged women who insist that they are still young. Bea claims she is still twenty-nine, while Norma thinks that she is still young enough to play sixteen-year-old Salome. Both maintain an elaborate façade in terms of appearance to look young. Ginger Rogers has a very glamorous image in this movie, different from her style in many of her films. She wears a large black beauty mark on the lower left side of her mouth, a la Norma, and she affects a full, rich tone of voice and sophisticated way of speaking throughout the film. Instead of sounding like a more average American woman, this gives her a very exotic, almost continental style. This highly theatrical way of speaking is comparable to Norma's excessively dramatic speech.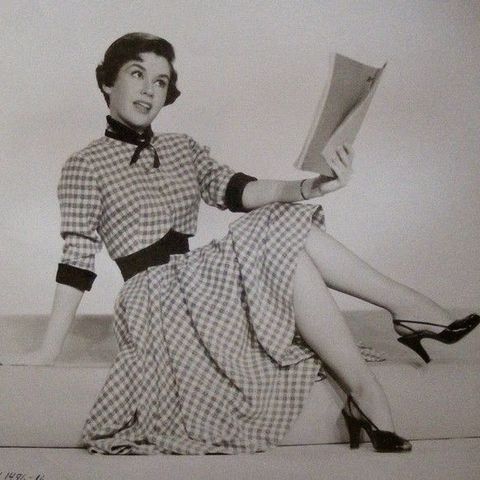 In a story of this kind, there must also be a younger woman. Instead of Betty Schaefer (Nancy Olsen), a movie studio script reader, the young woman in this story is Clara Mootz, a young actress. The tension between the two women is heightened by the fact that she is also a performer, vying for the same part as well as the same man as her older rival. Both women's primary introduction to the leading man is by telling him that a certain script of his needs work! Also, both characters are twenty-two.
The final prominent character in this story is E. Harry Phillips. Believe it or not, he is comparable to Max (Erich von Stroheim), Norma's butler. Max is much more than a household domestic. Harry is very much like him. Both men were married to the leading actress and cultivated her into a star. Even though they are now divorced and she has moved on to younger men, the ex-husband still is devoted to her. He'll go to great lengths to help her stay a star and maintain her illusions and the lifestyle to which she is accustomed. Harry never polishes any silver, but he does cater to Bea.
If you want to see the lighter, happy version of Sunset Boulevard, I recommend Forever Female! My only criticism is that it should have been called Forever Twenty-Nine instead.
Extra Movies Watched This Week:
Fair Code Film, Recommended
Good Code Film, Highly Recommended
Please join our two upcoming holiday blogathons!
and
Follow us to bring back the Code and save the arts in America!
We are lifting our voices in classical song to help the sun rise on a new day of pure entertainment!
Only the Code can make the sun rise on a new day of pure entertainment!