When I first read the IMDb page for Sunset Boulevard, I was intrigued to learn that all the silent film memorabilia for Norma Desmond in the movie actually belonged to Gloria Swanson. Perhaps the most interesting thing is the brief film clip which Norma screens for Joe, reveling in her youth and beauty. This was actually a clip from a movie which Norma Desmond made in 1932, Queen Kelly, which Erich von Stroheim directed. This is very poignant, since Mr. von Stroheim plays Max Von Mayerling in the film, a silent film director who was Norma's first husband before eventually becoming her butler. Queen Kelly was the only Gloria Swanson film that Erich ever directed. I decided to review this very unusual but poignant film for our Sunset Boulevard Blogathon.
If you want to see Norma Desmond, I mean Gloria Swanson, as a silent film beauty, I recommend this movie. It is a little odd in terms of formatting, since a tumultuous production and a difficult director (meaning Max) resulted in the film's not being finished and released. Because of this, the story doesn't really end. What I saw was a 1985 restoration, which was pieced together with extra title cards and still shots to make a somewhat cohesive story. The saga of this film's production is too complex for me to recount. If you want to know the whole story, I suggest that you read IMDb's Trivia page on this film.
Rebekah and I both agreed that this is a very entertaining silent film. Gloria is absolutely breathtaking in it. although she was close to thirty when this was filmed, she is convincing as a very young woman, largely because of her diminutive stature. There are a few moments in Sunset Boulevard when you can tell that she is short, but she often looks very tall and slinky because of her costumes. However, in this movie, it's clear that she was only 5'1″. Her long black hair is very beautiful, too.
I almost wished I were breening the movie, since it contains some interestingly challenging elements. There are many indecent costumes, suggestive situations, and even some loose women who were supposedly real Los Angeles women of the boulevard! From what I've read on IMDb, it seems that there would have been far more problems if Herr von Stroheim had been given free reign. Miss Swanson's objection kept his cruder ideas out of the film, ultimately leading to his being fired when she felt he had gone too far one time too many. Perhaps such artistic differences led Norma to divorce Max.
My favorite scene was definitely the one which is excerpted in Sunset Boulevard. In this scene, Patricia Kelly spends the night in the convent's chapel praying as punishment for losing her temper and hurling her bloomers at Prince Wolfram (Walter Byron). Instead of praying for forgiveness, she asks the Virgin Mary to let her see the prince again. She looks beautifully angelic in this scene, her head covered and her face illuminated by candles. The way she is glowingly shot through the candle glow could easily be the camera work of a director in love with his beautiful leading lady. As Erich von Stroheim pointed out to Billy Wilder, using a scene from Queen Kelly definitely "added realism."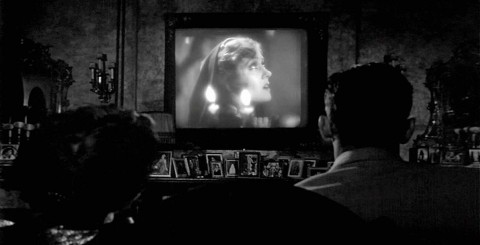 Still wonderful, isn't it? And no dialogue. We didn't need words. We had faces.

Norma Desmond, commenting on her own film in Sunset Boulevard
Please join our two upcoming holiday blogathons!
and
Follow us to bring back the Code and save the arts in America!
We are lifting our voices in classical song to help the sun rise on a new day of pure entertainment!
Only the Code can make the sun rise on a new day of pure entertainment!