Today is Monday, and I'm going to publish this week's first 100 New Code Films article now instead of later in the week. During all but four weeks of 2020, I watch and review two American Breen Era (1934-1954) movies for the first time. I call these new Code films because they are movies which were self-regulated by the PCA which I have yet to see. Somehow, my schedule for this series didn't work out quite how I planned, so I am now on my 98th article when it is only the beginning of the third week in December. Thus, I will only publish one article in this series in each of the remaining weeks of this year. That gives me more time for the holidays leading up to and around Christmas!
Today's topic is So This is Love from 1953. I have been interested in seeing this film for a while, since it is one of the only remaining Kathryn Grayson which I had yet to see. My mother purchased it on Amazon Prime Video and watched it by herself several weeks ago. Since then, I have been interested in seeing this film myself. I finally decided to watch it for a blogathon, so I watched this movie on Wednesday.
Plot
A young woman finally makes it to the Metropolitan Opera. The movie tells the story of how she got there. She remembers herself as a little girl in Tennessee who performed with the circus when it came to town, much to her father's chagrin. She developed a beautiful voice as she matured, but she contemplated becoming a missionary after graduating from high school. After she embarrassed her family by beginning a religious rant instead of singing at the graduation exercises, her free-spirited aunt encourages her to train her voice. She persuaded her stubborn brother-in-law to let his daughter to go to music school in Washington, D.C. When all the students went to the opera, the young lady met a famous opera singer, who encouraged her after hearing her voice. A year later, the girl got a chance to sing on the same concert as John McCormack, but her song was spoiled by declarations of World War I's Armistice. Her father, shocked by his daughter singing in public, went to Washington to fetch her, but she ran away to New York first. There, she struggled to find a job. One manager reported her to her father, but she persuaded her father to give her until Christmas to make good in New York. Would she make it? It was a long, difficult journey, but we all know that her fate is on the stage of the Met.
Cast
This movie stars Kathryn Grayson, Merv Griffin, and Joan Weldon. Supporting actors include Walter Abel, Rosemary DeCamp, Jeff Donnell, Douglas Dick, and Marie Windsor.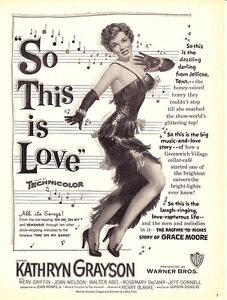 Production Notes
This movie was directed by Gordon Douglas. It was produced by Henry Blanke. The production company was Warner Bros. The writer was John Monks Jr. The music featured in this score is an assortment of popular and classical songs which Grace Moore sang.
Code Compliance
This is a good Code film. It is decent and wholesome. There is nothing unacceptable about this film. It is totally Code-compliant in all ways. To be free from objections from a Code standpoint is want constitutes a good Code film.
Recommendation
I recommend this film. It is a very interesting, enjoyable movie. This tells the story of Broadway star, opera singer, and Hollywood actress Grace Moore's life. There are many historical inaccuracies, as in all Hollywood biopics. Rather than going to the end of this singer's life, the film chose to end with her operatic success, finishing on a positive note. It's no spoiler to mention her succeeding in opera, since the film's opening and flashback style lets you know she will succeed from the very beginning. I thought the acting was very effective. Kathryn Grayson is excellent as Gracie Moore, the spirited young woman who dreams of being an opera singer but is not ashamed to get there by way of Broadway. She looks lovely with blonde hair and in the 1910s and 20s costumes. Merv Griffin is second-billed as Buddy Nash, her first sweetheart, but he plays a rather small role. He doesn't come into the film for a while, and then he leaves the story quite abruptly. He plays an important role during his short screen time, however, since his character is very instrumental in Gracie's life. The second man to enter Grace's life is Bryan Curtis (Douglas Dick), who is first the fiancé of her best friend, Ruth (Joan Weldon). Speaking of Ruth, she is one of the most important characters in the story, providing a strong support to Grace at all times. Walter Abel, whom most will recognize from Holiday Inn (1942), is both funny and stern as Grace's father. He might seem gruff at times, but he always has his daughter's best interest at heart. Another very important family member to Gracie is her aunt, Laura (Rosemary DeCamp). She encourages Grace to pursue singing, a career she obviously wanted for herself. There are some great musical numbers in this movie, both classical and popular. You can hear Kathryn sing surprisingly jazzy tunes, like "The Tickle Toe" and "I Wish I Could Shimmy Like My Sister Kate," as well as famous soprano arias, like "Je veux vivre" from Romeo et Juliette, "Voi che sapete" from Le Nozze di Figaro, and "The Jewel Song" from Faust. One of my favorite musical numbers was the most unique one, a ballet number in a musical. After Gracie sings "Time on My Hands" in a wedding routine, the figurines on the wedding cake come to life as two dancers, The Szonys, who dance a beautiful pas de deux. My other favorite musical number was the La Boheme sequence at the Metropolitan Opera. The set, the costumes, and the music were all so beautiful. It is lovely to see an opera scene as it should be.
For The Blogathon
This is my entry in The Marie Windsor Blogathon, hosted by Toby of 50 Westerns from the 50s. This celebration is in honor of Miss Windsor's 101st birthday, which would have been on December 11. I've seen this underrated actress in a few films, but I am looking forward to discovering more of her work. When I realized that she had a small role in So This is Love, which I had been wanting to watch, I decided to make that my topic for this blogathon.
Marie Windsor plays Marilyn Montgomery in So This is Love, the Broadway star in Gracie Moore's first big show. Gracie has a supporting role with only one number, but the director wants to give her another song. However, during the rehearsal, Marilyn comes in, refined and beautiful but very indignant that the younger woman is being given such a prominent number. She doesn't yell or cause a scene. She just calmly says that the number may remain but with a different bride. This gives Grace an opportunity to talk back to her, declaring that she is jealous because Grace has something Marilyn never will, a voice. Although we only see this character in a couple of scenes, she plays a very important role in the story, furthering the plot when her sickness gives Gracie her big chance. This is a wonderful introduction to this actress's work. I can't wait to see more of her films!
Please join our three upcoming holiday blogathons!
and
Follow us to bring back the Code and save the arts in America!
We are lifting our voices in classical song to help the sun rise on a new day of pure entertainment!
Only the Code can make the sun rise on a new day of pure entertainment!