Today is Sunday, so it's time for another 100 New Code Films article. A new Code film is a movie from the American Breen Era (1934-1954) which I have never seen before. Thus, it is new to me even though it was made decades ago. I watch two such movies in all but four weeks this year and review them here on PEPS in this series. This gives me not only a great opportunity to watch a lot of great classic films but also a steady stream of new content for PEPS. It's even better when I can combine these posts with blogathon entries.
Today's topic is Come to the Stable from 1949. Last year, I heard that this is another Code Christmas movie. I was glad to see that it is available on Amazon Prime Video. Thus, I decided to make it my topic for our holidays blogathon this year. I watched it on Monday evening.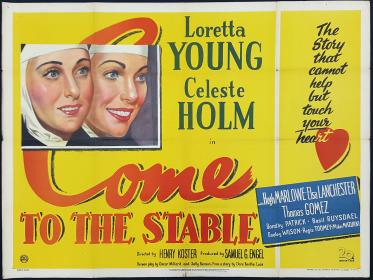 Plot
Two nuns from a French order, one a native of France and the other born in Chicago, travel to a small town in New England called Bethlehem. There, they receive the hospitality of a famous but underpaid religious painter, who welcomes them into the converted barn which is her home and studio. During World War II, the nuns promised God that they would build a children's hospital in the United States out of gratitude for His sparing the French hospital where they worked. Inspired by a postcard painted by the Bethlehem artist which they saw, they decided to build their hospital in the little town with the religious name. They have no money but a lot of faith, so they promptly choose the hill across from the barn as the sight of their hospital. They make friends with the songwriter who owns the barn and lives in a large house nearby; little does he know that, while he goes to Hollywood to write music for a film, they plan to make the preparations for the hospital, which may disrupt his orderly life. Despite the bishop's concerns, the nuns recruit a dozen of their fellow sisters, plus a French priest, to join them in their work of raising money to buy land and buildings. All odds are against them, but they seem to be aided by Divine help as they try to do God's work in Bethlehem.
Cast
This movie stars Loretta Young, Celest Holm, and Hugh Marlowe. Supporting actors include Elsa Lanchester, Thomas Gomez, Dorothy Patrick, Dooley Wilson, and Basil Ruysdael.
Production Notes
This movie was directed by Henry Koster. It was produced by Samuel G. Engel. The production company was 20th Century Fox. The screenplay was written by Oscar Millard and Sally Benson, based on a story by Clare Boothe Luce. This movie was nominated for seven Academy Awards, including Best Actress for Loretta Young, Best Supporting Actress for Celeste Holm, Best Supporting Actress for Elsa Lanchester, Best Motion Picture Story for Clare Boothe Luce, Best Black-and-White Cinematography for Joseph LaShelle, Best Black-and-White Art Direction-Set Decoration for Lyle R. Wheeler, Joseph C. Wright, Thomas Little, and Paul S. Fox, and Best Original Song for Alfred Newman and Mack Gordon for "Through a Long and Sleepless Night." At the Golden Globes, it was nominated for Best Picture.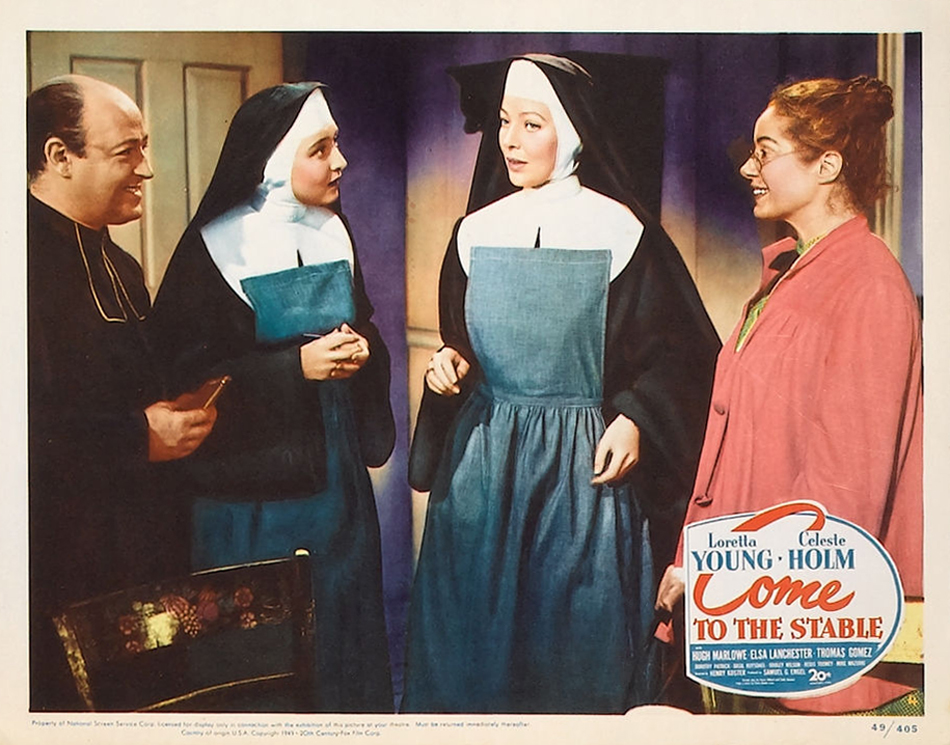 Code Compliance
This is a perfect Code film. It has no Code violations. It has the special addition of some very inspiring elements. The religious and faith-based elements of the story will be very appreciable to Christians, especially Catholics. However, a person of any belief system can appreciate the faith, hope, and courage which these selfless nuns have. They are undiscouraged, despite all the obstacles they encounter. They constantly are seeking new ways to further their cause. The two sisters and their fellow nuns do this, not out of selfish reasons or thoughts of personal gain, but out of a desire to help others and serve God. This is very inspiring and uplifting, and it changes the hearts of many people whose lives they touch. That is why this is a perfect Code film.
Recommendation
I highly recommend this movie. I found it very enjoyable. It is truly heartwarming, but it also has some delightfully funny moments. Loretta Young gives a beautifully sensitive yet courageous performance as Sister Margaret. Her constant companion and equally faithful religious sister is Sister Scholastica, played by Celeste Holm. I was impressed by the convincing French accent which Celeste maintained throughout the film. Their interaction is always perfect. Sister Margaret is usually the spokeswoman for the duo, while Sister Scholastica does her bidding or gives her quiet advice. They show true sisterly love toward each other. Hugh Marlowe plays Robert Mason, the songwriter who acts friendly to the nuns and is willing to contribute money to their cause; however, he is less charitable when their activities prove inconvenient to the quiet order of his own existence. Elsa Lanchester earned an Academy Award nomination for her performance as the shy, nervous, but devout painter, Amelia Potts, who helps the nuns throughout their mission in Bethlehem. She is surprised and confused by their bold actions, but she admires their faith and is honored that they think her worthy of helping. Most of the comical moments are provided by the classic Dooley Wilson, who gives a great performance as Anthony, Mr. Mason's butler. He doesn't sing in this movie, but he has a large enough role to show his acting talents. Although he is loyal to his employer, he is willing to risk getting in trouble to help the kind nuns. One of the most surprising twists involves Luigi Rossi (Thomas Gomez), the mysterious man who owns the property the nuns are intent on buying. Although all the residents of Bethlehem know Mr. Rossi by name and reputation, no one seems to actually have met him. He's no match for the sisters, though. This is a really wonderful movie. I know you will enjoy it.
For the Blogathon
This is my entry in The 2nd Happy Holidays Blogathon, which we are hosting here at PEPS this weekend in honor of the winter holiday season. What better way to celebrate Christmas than with a celebration of our favorite holiday movies?
Come to the Stable doesn't actually take place at Christmas. However, it has a definite Christmas theme. In fact, it contains many references to the original Christmas story of Jesus's birth in a manger. When the movie opens, we see two nuns walking in the snow, indicating that it is winter. They pass an old sign which points to Bethlehem in one direction, Nazareth in another, and Galilee in a third, all Biblical locations associated with the life and ministry of Christ. Then, they see a beautiful old stable nestled at the bottom of the hill. True, it doesn't snow in the Holy Land, but it is not uncommon to see Nativity scenes with a snowy setting. When they peer through the windows of this stable, they see the scene pictured above. As you can see, it is a classic Nativity scene, showing Mary, Joseph, a shepherd, little angels, and even sheep clustered around the baby Jesus, lying in a manger. We soon realize that this charming Christmas scene, complete with boy soprano voices singing "O Come All Ye Faithful," is merely a posed scene for Miss Potts's painting. We later learn that the two nuns were drawn to Bethlehem by a manger scene painted by Miss Potts, entitled "Come to the Stable." I invite you to enjoy this film by also coming to the stable this Christmas. Although it only features one scene with a Christmas theme, the story's messages of love, generosity, and opening others' hearts represent the true meaning of the season.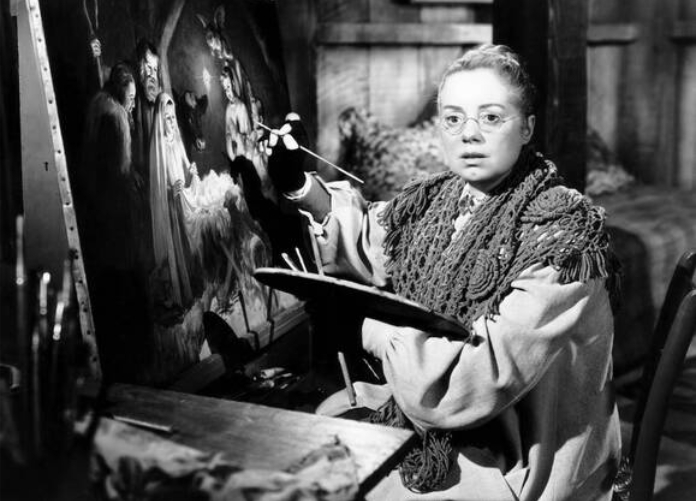 Merry Christmas!
Please join our three upcoming holiday blogathons!
and
Follow us to bring back the Code and save the arts in America!
We are lifting our voices in classical song to help the sun rise on a new day of pure entertainment!
Only the Code can make the sun rise on a new day of pure entertainment!