Today is Sunday, time to publish a 100 New Code Films article. In most weeks of 2020, I publish two articles in this series. However, in four weeks, I must only publish one to equal 100 reviews in all. This is the third such week of the year. The purpose of this series is to improve my knowledge of the American Breen Era (1934-1954) by watching as many films from it as possible. I call these movies new Code films when I watch them for the first time.
Today's topic is Citizen Kane from 1941. I finally have watched this movie! I have had it on my mental to-watch list for over a year. In addition to the Academy Award-winning films I listed as films to watch in this series, I listed Citizen Kane and The Maltese Falcon. Both these films are in the top five of classic films "to see." These are classic movies which even people who aren't old film fans have seen. It's embarrassing to be a Breen Era expert and not have seen these movies! When joining the Agnes Moorehead Blogathon, I realized that Citizen Kane marked her screen debut, so I finally had a reason to watch this movie. I watched it today on Amazon Prime Video.
Plot
This movie tells the story of Charles Foster Kane, a powerful media mogul who gained everything and lost it all during his lifetime. It begins with his death, before which he utters the word rosebud. A newsreel maker urges a reporter to find out what his dying words meant, believing that is the key to the mysterious man's whole life. The energetic young man proceeds to search through records, interview his friends, acquaintances, and associates, and even visit his palatial home to discover the details of his life. The story is told in a series of flashbacks as he reads through a banker's memoirs, talks with his business manager, visits his former best friend, interviews his second ex-wife, and speaks with the butler at his mansion, Xanadu. What motivated Mr. Kane's life? Did he ever really love anyone? Did he gain any satisfaction along with the newspapers, radio stations, properties, and statues he acquired? Where does rosebud fit into the puzzle? Watch the film to find out.
Cast
This movie stars Orson Welles, Joseph Cotten, and Dorothy Comingore. Supporting actors include Ruth Warrick, Everett Sloane, Agnes Moorehead, Ray Collins, and George Coulouris.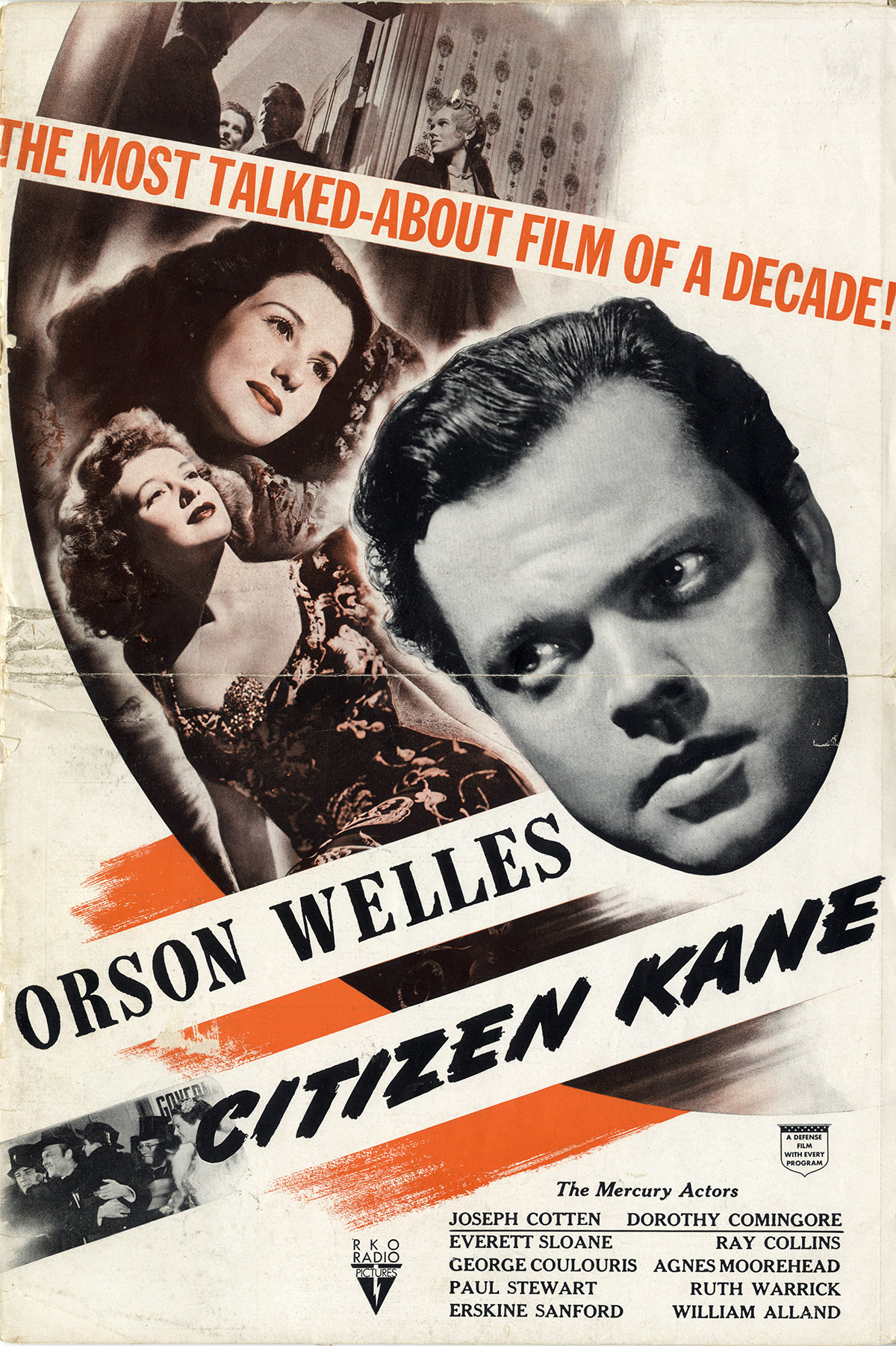 Production Notes
This movie was directed and produced by Orson Welles. The production company was Mercury Productions, released by RKO Radio Pictures. The original screenplay was written by Herman J. Mankiewicz and Orson Welles. This film was nominated for eight Academy Awards, including Best Picture, Best Actor for Orson Welles, Best Director for Orson Welles, Best Black-and-White Cinematography for Gregg Toland, Best Black-and-White Art Direction-Interior Decoration for Perry Ferguson, Van Nest Polglase, A. Roland Fields, and Darrell Silvera, Best Recording for John Aalberg, Best Film Editing for Robert Wise, and Best Scoring of a Dramatic Picture for Bernard Herrmann. It won an Oscar for Best Original Screenplay for Herman J. Mankiewicz and Orson Welles.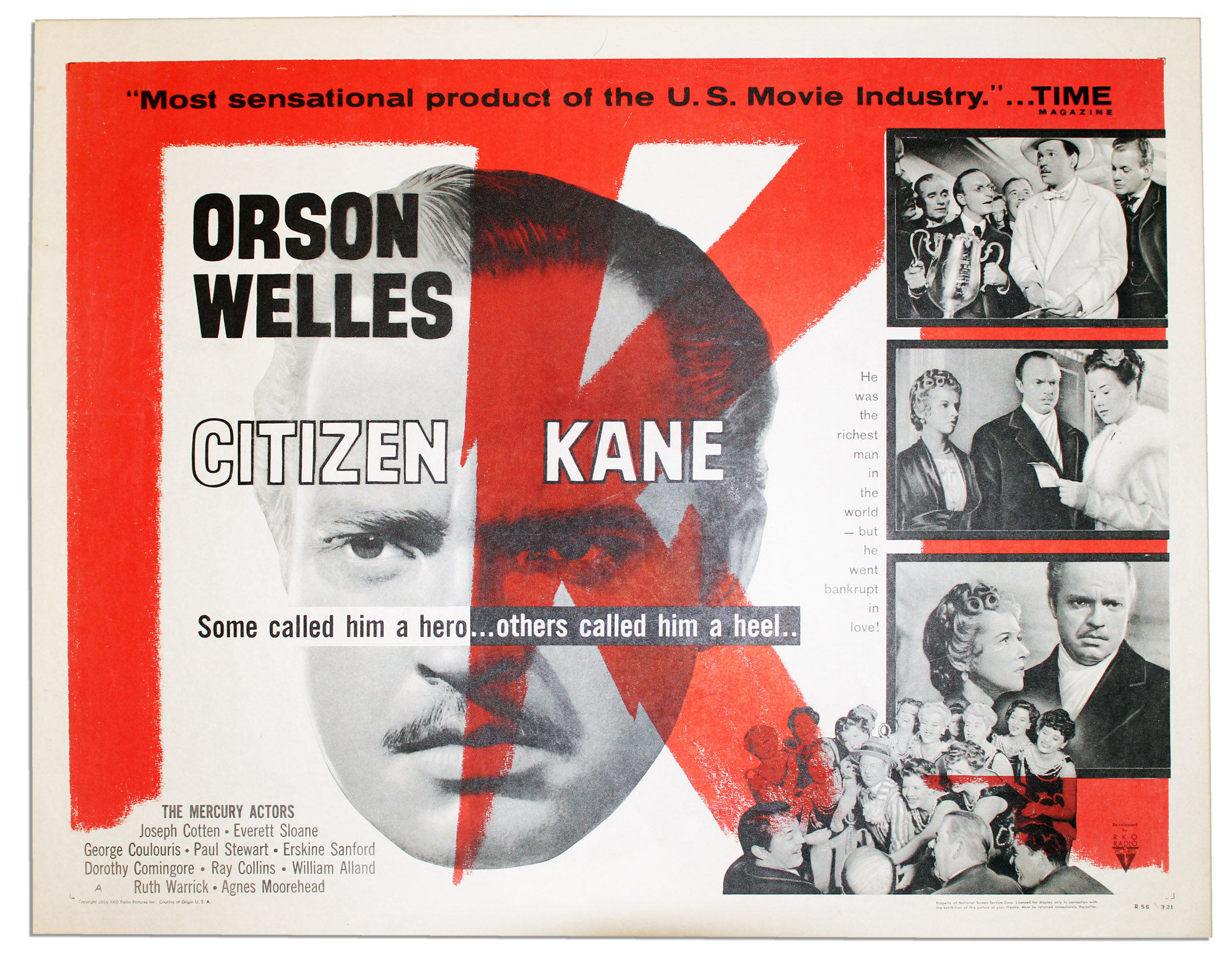 Code Compliance
This is a good Code film. Although this famous movie is remarkable in many ways, it is average in its Code compliance. There is nothing which violates the Code, and there is also nothing which makes it inspiring enough to be a perfect Code film. I was pleased to discover that this movie was decent and followed the Code's guidelines, since many famous or award-winning films are less than good Code films.
Recommendation
I don't even need to say that I recommend this film. The American Film Institute listed this as the #1 film on its 100 Year… 100 Movies lists. Many have called it the greatest film ever made. If you consider yourself any kind of classic film fan, you just have to see this movie. It's like visiting Niagara Falls; it's just something you have to do once in your life. As for myself, I'm glad that I have finally seen it, since I now can comment on it if asked. I certainly wouldn't call it the greatest film in any category. It is extremely unusual. The narrative style, cinematography, editing choices, and unique angles make it a very rare film. I suppose you could say it was ahead of its time, but I would say it is rather in a time of its own. It takes a bit of patience to get into the film, since a lengthy newsreel occupies a large section of the film's opening. I'm not as accustomed to seeing newsreels as audiences would have been in 1941, but I found it a bit tedious. It picked up after that. The acting was marvelous. The most impressive thing in this film to me was the way the characters aged. This was achieved through phenomenal makeup and exceptional acting choices, such as expression, vocal effects, and mannerisms, to convey age. This film is very noteworthy because it marked the film debut of eight actors. Some of them, especially Joseph Cotten, Agnes Moorehead, and Orson Welles himself, would go on to become very famous film players. Perhaps most impressive is the work of Mr. Welles. He did so much to create this film, even playing the lead. When aged, he looks so different than his young version that it's hard to believe he is the same person. Also very impressive is how similar the child version of Kane (Buddy Swann) looks to him. The story itself is a bit disturbing. Charlie Kane has such a dramatic, epic life, but it seems he got nothing out of it but a mansion full of statues. This clearly is not the story of one person, although there are similarities to William Randolph Hearst's life, but a story of a type of person. It makes for a very interesting two hours.
For the Blogathon
This is my entry in The Second Agnes Moorehead Blogathon, hosted by Gill Jacobs of Reel Weegie Midget for Crystal Kalyana Pacey of In the Good Old Days of Classic Hollywood, which she announced here. Crystal is currently in the hospital, so Gill is hosting this blogathon in her honor. Agnes Moorehead is a great inspiration to Crystal, so we all are glad to be able to have this celebration in her honor. We hope that she will be healthy and blogging again soon!
Agnes Moorehead plays Mary Kane, Charlie Kane's mother, who owned a boarding house in Colorado. She is in the film for probably less than five minutes, yet her character's actions set the whole plot in motion. When some worthless stocks left to her name by a boarder prove very valuable, she decides to send Charlie to Chicago to get an education and become an important man. His father (Harry Shannon) is very much against it. However, the stocks are only in Mrs. Kane's name, so he has no control over the matter. Charlie is very upset by the idea of being sent away with banker Walter Parks Thatcher (George Coulouris), but his mother's wishes are ultimately carried out. If Mrs. Kane had not made this decision, Charles Foster Kane would have had a completely different life. He wouldn't have been great or rich, but perhaps he would have been happy.
Agnes Moorehead gives a wonderful, powerful performance in her brief screen time. She shows us a determined, stubborn woman who can't be dissuaded from what she thinks is best. Despite the protestations of her husband and the reaction of her son, she is intent on doing what she thinks is best for him. She is obviously motivated out of love for her son. We can see both the loving and the cold characteristics which Agnes would show in later characters. When Charles later mentions her, we remember her striking performance. It is easy to understand why this was the beginning of a brilliant film career for her.

Please join our two upcoming blogathons!
and
Follow us to bring back the Code and save the arts in America!
We are lifting our voices in classical song to help the sun rise on a new day of pure entertainment!
Only the Code can make the sun rise on a new day of pure entertainment!