For the ninth year in a row, Paula of Paula's Cinema Club, Aurora of Once Upon a Screen, and Kellee Pratt of Outspoken and Freckled are hosting their celebration of classic Hollywood's unforgettable supporting characters, The "What a Character!" Blogathon. This is the chance for bloggers to write about their favorite character actors and actresses, those underappreciated thespians who add so much color and, well, character to movies. After all, not every character can be played by an A-list star!
I decided to join with an article about Lauritz Melchior. This actor only made five movies, four of which were produced by Joe Pasternak at MGM. However, he made a lasting and unique impression in those few films.
Lauritz Melchior was born in Copenhagen, Denmark, in 1890. Although he didn't make his film debut until 1945, he was a famous performer decades earlier. He made his operatic debut at the Royal Opera House in Copenhagen as a baritone in Pagliacci in 1913. It isn't surprising that he was mistaken for a baritone, since he had an imposing frame and a powerful voice. However, he later became one of the most famous Wagnerian tenors of all time after debuting as a tenor as the title role in Wagner's Tannhäuser in 1918. in 1926, he debuted at the Metropolitan Opera in Tannhäuser. After establishing himself as the foremost Heldentenor of the 1920s, 30s, and 40s, he left the opera stage to make movies produced by his good friend, MGM producer Joe Pasternak, who loved classical music and incorporated it into his movies as much as possible.
Lauritz Melchior made his screen debut in Thrill of a Romance (1945), which was set in a mountain resort. He plays a strong supporting role to Cynthia Glenn (Esther Williams), a bride who is left alone by her businessman husband on their wedding night, and Major Thomas Milvaine (Van Johnson), a World War II hero. Mr. Melchior's character is Nils Knudsen, a Danish opera singer who is visiting the hotel on a retreat to lose 100 pounds. Despite his own grumblings about living on vegetables alone, he sings some wonderful songs and gives warmhearted advice to the lead couple. This is one of my favorite of his roles.
Mr. Melchior's second film was Two Sisters from Boston (1946), a musical starring Kathryn Grayson and June Allyson as the titular sisters. In this film, Abigail Chandler (Grayson) has been singing in a burlesque theater to earn enough money to train as an opera singer, unbeknownst to her prim Boston family. When her aunt, uncle, and sister, Martha (Allyson), think Abigail is in the opera, it is up to Abigail and her friend Spike (Jimmy Durante) to get her into the opera. The only problem is the leading tenor, the bombastic Mr. Olstrom. When she ruins his big aria, he is intent on getting revenge should he ever see her again. Rather than performing actual opera music, this movie uses instrumental classical songs with added English words. It's an interesting chance to see Lauritz Melchior performing as if in an opera.
Lauritz Melchior's third movie was This Time for Keeps (1947). This is the only film to feature him with any family. In this movie, he plays Richard Herald, a stubborn opera singer who is determined that his son, Dick (Johnny Johnston), will follow in his operatic footsteps. However, his offspring wants to be a popular singer, instead. This movie features his former co-stars Esther Williams and Jimmy Durante. Mr. Herald is Mr. Melchior's harshest role. However, as expected, his hard heart will soften in the end. This film gives viewers the opportunity to see and hear Mr. Melchior performing real opera arias in their traditional settings. He sings four classical songs in this movie.
Lauritz Melchior's final film at MGM was Luxury Liner (1948). This is my favorite of his films; I might even say that it is my favorite movie of all, and one of the reasons is his role. This movie tells the story of a motherless young singer, Polly Bradford (Jane Powell), who stows away her captain father's (George Brent) cruise ship when he refuses to take her along on his South American cruise. One of her chief reasons for doing so is her desire to meet her idol, Olaf Eriksen (Melchior), who is traveling on the cruise for an opera tour. Mr. Eriksen has a very important supporting role in this film. He dines and chats with the captain, feuds with fellow opera singer Zita Romanka (Marina Koshetz), sings with fellow musicians Xavier Cugat and the Pied Pipers, and develops a charming friendship with Polly. The sixteen-year-old girl is unashamedly infatuated with the distinguished opera tenor, telling him, "You're my Sinatra!" and gushing, "Oh, Mr. Eriksen, you send me!" In turn, he takes a very kind, friendly interest in her and her budding classical career. Her dream is for him to be "on the stage, with me" when she makes her debut. We're all delighted that her dream comes true!
Lauritz Melchior's final film was a Paramount picture, The Stars are Singing (1953). I've only seen this film once, since it is a very obscure musical and thus difficult to find. However, I remember that it was a really marvelous film. It stars Rosemary Clooney and young Italian soprano Anna Maria Alberghetti. Katri Walenska (Alberghetti) is a fifteen-year-old Pole who enters New York illegally after jumping off a Polish ship. She seeks out her parents' old friend, Jan Poldi (Lauritz Melchior), a former Metropolitan Opera star now living in a shabby Greenwich village apartment. This is Mr. Melchior's most dramatic performance. While he plays a successful singer in all his other movies, he is a depressed, alcoholic has been in this picture. However, young Katri brings new hope to his life, just as he helps her.  
Lauritz Melchior didn't make many movies, but he left an indelible mark on Hollywood in the few pictures he made. He provided not just wonderful acting but beautiful singing, such as you rarely hear in movies. His talent was recognized by the film industry when he put his hand and footprints outside Grauman's Chinese Theatre in 1947.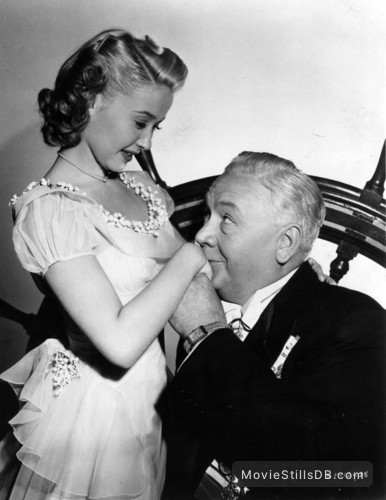 If you haven't seen one of Mr. Melchior's pictures yet, I suggest you rectify this situation immediately! In all of his films, his thick accent, dramatic personality, imposing stature, and indefatigable love for the character make him quite a character!
Please join our two upcoming blogathons!
and
Follow us to bring back the Code and save the arts in America!
We are lifting our voices in classical song to help the sun rise on a new day of pure entertainment!
Only the Code can make the sun rise on a new day of pure entertainment!