Today is Sunday, so it's time for another 100 New Code Films article. This series is biweekly in all but four weeks of 2020. In those four weeks, I have planned to only watch and review one new Code film instead of two. New Code films are movies from the American Breen Era (1934-1954) which I have yet to see, so they are new to me although made decades ago. This series gives me a good outlet for discovering more of these movies.
Today's topic is Plymouth Adventure from 1952. I discovered this film when looking for films about Thanksgiving for the blogathon being hosted in honor of this holiday. I was fascinated to learn about a Code film which tells the story of the Pilgrims' journey to the New World. The star-studded cast was all I needed to convince me. I watched this film this morning on Amazon Prime Video.
Plot
A mixed group of religious dissenters, adventurers, traders, and farmers set out from England for Virginia. They are occupying two ships, led by a rough, sea-hardened captain, who thinks of his passengers as nothing more than troublesome cargo. Little do they know that their captain has made a deal with their investor from the Virginia Company to land them in New England, not Virginia. When the second ship is damaged, both ships are forced to return to Plymouth, causing a delay of weeks before the first ship sets out again with some passengers from the incapacitated vessel. During the long voyage, passengers and crew alike face rough seas, storms, cold, food and water shortages, cramped quarters, sickness, and damage to the ship. Some of the main passengers include the religious leader, who has a price on his head in England, a devout leader of the group, a passionless man with a beautiful wife, a carpenter looking for adventure, the beautiful daughter of one of the settlers, who catches the carpenter's eye, and a poor scholar, whose narration in the form of a journal tells much of the story. The only emotion which breaks the captain's gruff indifference is his interest in the dissenter's beautiful wife. From the first minute he sees her, he is entranced by her refined, cool beauty. Although she rebuffs his advances, the meeting of their eyes reveals that there is something between them. Everyone on board faces a long, dangerous pilgrimage which will transform him, both physically and spiritually.
Cast
This movie stars Spencer Tracy, Gene Tierney, and Van Johnson. Supporting actors include Leo Genn, Dawn Adams, Lloyd Bridges, Barry Jones, and John Dehner.
Production Notes
This movie was directed by Clarence Brown. It was produced by Dore Schary. The production company was MGM. The screenplay was written by Helen Deutsch. It was from a novel of the same name by Ernest Gebler. It won an Academy Award for Best Special Effects.
Code Compliance
This is a fair Code film. I wanted to classify it as perfect because of its inspiring elements, but I'm afraid that it doesn't quite belong in that category because of a few elements. There were a couple of lines which were rather surprising. Captain Jones (Spencer Tracy) said that he didn't care if he landed the passengers "in hell." This usage of hell was a bit pointed. Also, the navigator (Lloyd Bridges) called Dorothy Bradford (Gene Tierney) a rude name when she accidentally splashed water on him. In addition, there was a bit of dialogue between Captain Jones and Dorothy about his burning passion for her which was perhaps a little too pointed, although in general the handling of their relationship was acceptable. In general, I was very impressed by the stirring, dramatic, unflinching portrayal of the Pilgrims' hardships which this film presented while remaining very Code-compliant. It didn't need violent, disgusting, or vulgar elements to be realistic.
Recommendation
I highly recommend this movie. It is an excellent film. In fact, I would go so far as to call it a historical masterpiece. Making films with period settings is not easy, but this movie succeeded at the difficult task. It captured the feeling of an earlier era while painting a story which was enthralling in any setting. The Technicolor was beautiful and afforded a vivid portrait of American settlers' hardships. The costumes looked very accurate. The recreation of the ships and the storms at sea was extremely realistic. This picture certainly deserved its Special Effects Oscar. The acting in this movie has been criticized, but I thought it was magnificent. This story has an ensemble cast, with many prominent actors playing smaller roles which all fit together in the story. Using many supporting British actors instead of big name Hollywood players, the cast of characters is filled with familiar names taken right off the pages of American history. Some characters' depictions are historically accurate, and others are not, but all fit together for an entertaining, riveting story. Van Johnson plays an earnest, intelligent young carpenter named John Alden, who decides to risk his life to travel to the New World. He has a charming romance with Priscilla Mullins (Dawn Addams). Although I was half-expecting the inclusion of the John Alden, Priscilla, and Miles Standish love triangle, which has been an iconic part of Pilgrim lore since Henry Wadsworth Longfellow's famous poem about this courtships in the mid-nineteenth century. I appreciate the avoidance of this largely fictional story. Instead, the other man interested in the fair Priscilla is the poor tutor and narrator, Gilbert Winslow (John Dehner). Miles Standish (Noel Drayton) is the hired soldier onboard the ship, but he is married. Leo Genn, who looks remarkably like Sir Cedric Hardwicke, is very cool yet admirable as William Bradford. He has quiet faith most of the time, yet he isn't afraid to use force to protect his beliefs and even his wife when necessary. Barry Jones plays William Brewster, the religious leader who is used as a bargaining token to control the ship's passengers. The most compelling part of this film is Captain Christopher Jones, particularly his unfulfilled romance with Dorothy Bradford. We can't blame the captain for feeling drawn to her beauty. Gene Tierney doesn't get a lot of dialogue in this role, but she says it all with her eyes. She is a devoted wife who fights the fascination she feels toward the rugged captain who is obviously entranced with her. Spencer Tracy gives a nuanced, powerful performance as Captain Jones. He is surprisingly rough and unlikable when the film begins. He drinks heavily and shamelessly stares at Mrs. Bradford when he first sees her. When he returns to the Mayflower the night before departure, he is very drunk after an evening of carousing with a bar maid. After stumbling aboard, he shamelessly tries to force his attentions upon Dorothy. His sober advances toward her are not much subtler. However, somehow, something deeper develops between them, some meeting of the hearts and minds. Spencer Tracy looks his age and more in this part, so he is very convincing as the weathered, bitter captain. His life of guilt and hard-drinking has aged him suitably for the part, so makeup wasn't used to hide his lines and ruddy complexion. Despite his rugged appearance, he is undeniably attractive in the role of the pitiably cynical captain. This story is a truly beautiful one, and the cast brings it to life beautifully.
For the Blogathon
This is my second entry in A Blogathon to be Thankful For, hosted by Sally Silverscreen of 18 Cinema Lane. Sally announced today that she is extending the blogathon through November 25, the day before Thanksgiving, but I still am posting today to stay on my schedule. I suggest this to my readers as a Thanksgiving film.
After seeing this film, you might be surprised that I call it a Thanksgiving movie, since the first Thanksgiving does not actually take place in the story. The plot ends during the settlers' first April in New England, and Thanksgiving wouldn't take place until the following autumn. However, Thanksgiving isn't about turkey, pumpkin, and autumn leaves. It is about the spirit of giving thanks to God for his provisions and for seeing American settlers through hardships. It is impossible to appreciate that without understanding those hardships. This film shows the true meaning of Thanksgiving by dramatically portraying the Pilgrims' trials and tribulations to arrive in and settle America.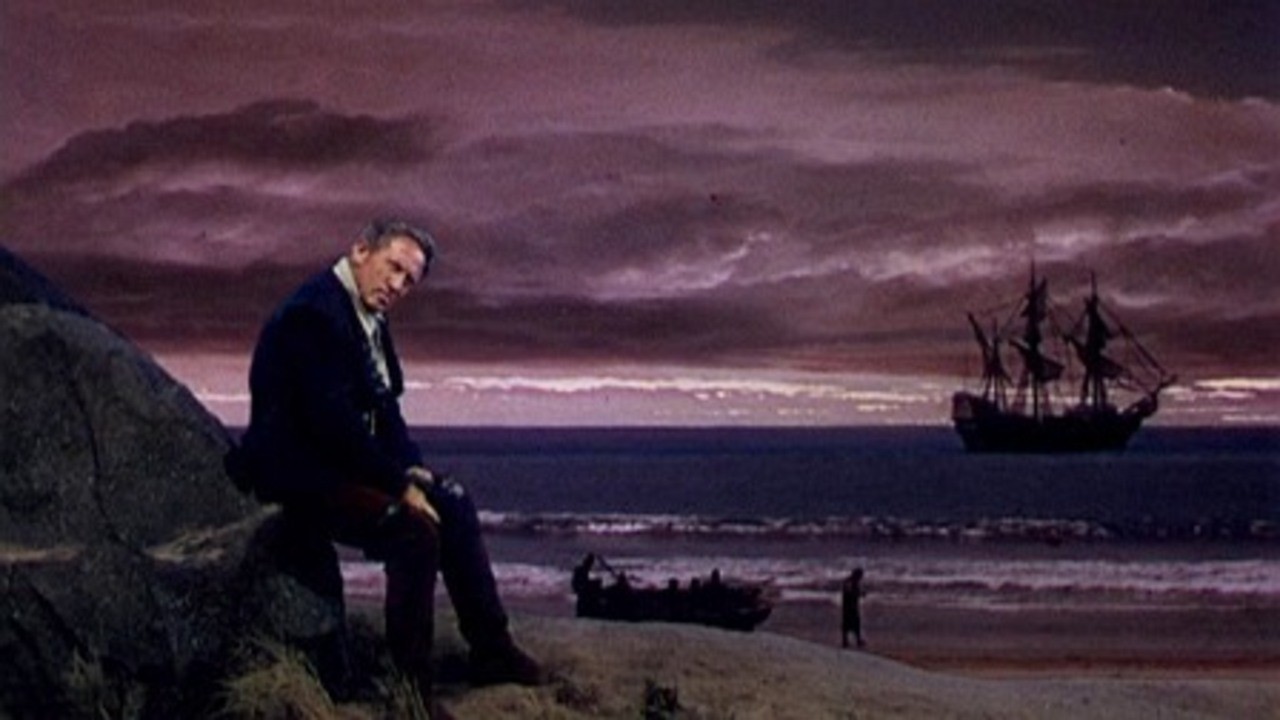 Plymouth Adventure doesn't depict all the details of the Mayflower and its passengers realistically, but that doesn't make it less of a great film. Producer Dore Schary said of depicting the Pilgrims, "I don't think that historical era has been done properly on screen before because the people were too soft. The pilgrims had to be tough and lusty to accomplish what they did. So that's the kind we cast in the film." This movie succeeded in showing what wretched conditions, miseries, and dangers those brave people endured to found our great nation. We must never forget the Pilgrims' spirit, on which the United States of America is based. As we celebrate Thanksgiving this year, I pray that our nation may again be imbued with the daring, hopeful, courageous spirit that inspired the Plymouth Adventure.
Please join our two upcoming blogathons!
and
Follow us to bring back the Code and save the arts in America!
We are lifting our voices in classical song to help the sun rise on a new day of pure entertainment!
Only the Code can make the sun rise on a new day of pure entertainment!