Today is Saturday, the day when I often publish my first 100 New Code Films article of the week. In all but four weeks this year, I am watching and reviewing two American Breen Era (1934-1954) films which I have watched for the first time during or before the week. I consider Code films to be movies which were produced in Hollywood between July of 1934 and October of 1954, when Joseph I. Breen was the head of the Production Code Administration. Under his leadership, films were made wholesome and decent for everyone.
Today's topic is Thoroughbreds Don't Cry from 1937. I have wanted to watch this movie for some time, since it was the first movie that Mickey Rooney and Judy Garland made together. It also is one of the last Code Judy Garland films which I had yet to see. However, since it wasn't on Amazon Prime Video, I didn't watch it as soon as I wanted to. When I heard about the Mickey Rooney Blogathon, I was eager to join. However, I was planning on making my first new Code film review of this week a second entry in the Barrymore Blogathon. Thus, I decided to make my Rooney entry a Film Fashion Friday article about one of his costumes. Unfortunately, I have still been unable to solve my problem with my Amazon Affiliate links. Thus, I decided to watch and review a new Mickey Rooney film instead. It turned out well that I hadn't watched the Lionel Barrymore film I planned to watch. I watched this film on ok.ru yesterday.
Plot
A young Englishman and his noble grandfather go to America to enter their prized thoroughbred in an important race. The impetuous lad helps his good friend, the horse's trainer, to stow away on the boat to the United States. The first day they visit the track, the young Englishman is very impressed by a young jockey he sees come from behind to win by an impressive lead. He decides that that jockey should ride their horse, so he tries to talk to him at the track, but the young swellhead refuses to be civil. The British lad decides to wait for him at the jockey boarding house where he lives. There, he meets the proprietress's niece, a spunky girl who wants to be an actress. The two ladies welcome the English lad and invite him to dinner, but the jockeys are rude to him. When the cocky jockey arrives, he and the English boy start fighting immediately, and it actually comes to blows between them. However, they toss a coin and decide that the jockey will go with the English boy to meet his grandfather. The clever old man uses expert psychology to get the jockey to agree to ride their horse in the big race. The two lads become best friends. However, a conflict arises when the young jockey's father asks him to throw a race to earn money for his medical treatment.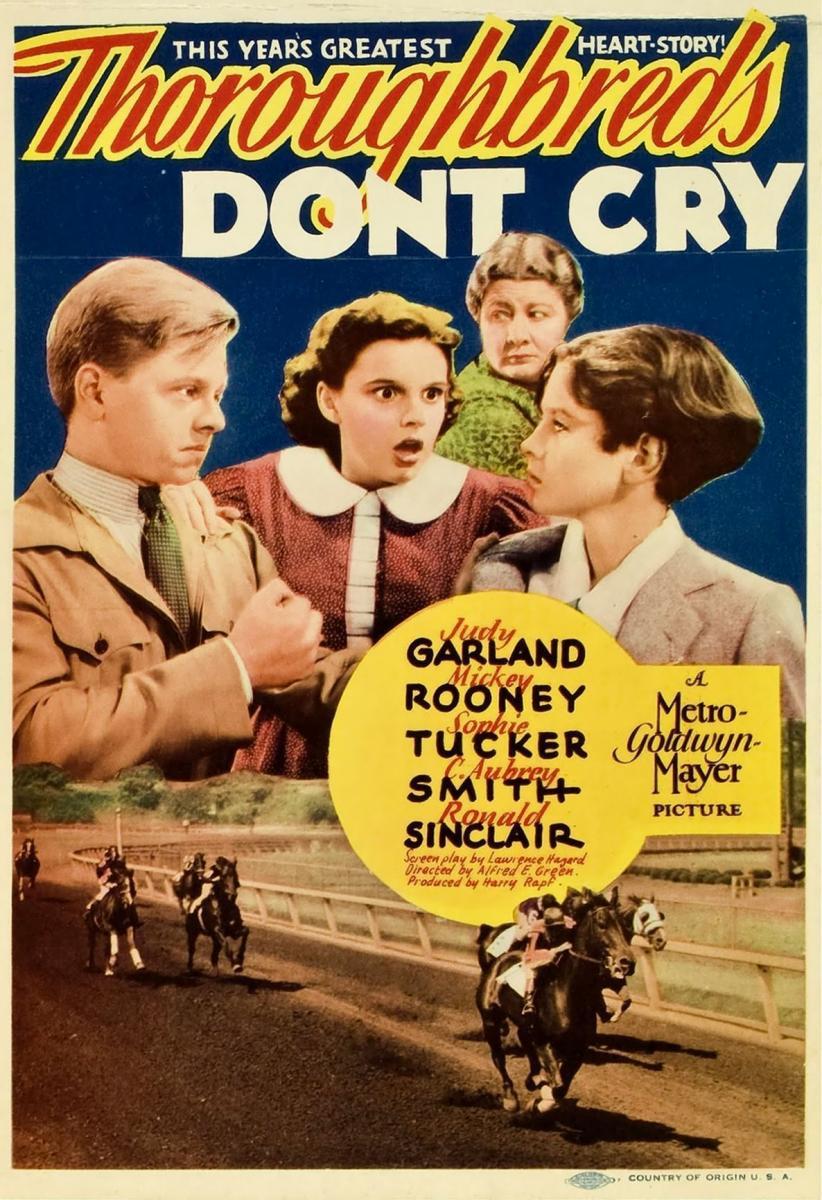 Cast
This movie stars Judy Garland, Mickey Rooney, and Ronald Sinclair. Supporting actors include Sophie Tucker, C. Aubrey Smith, Forrester Harvey, Charles D. Brown, and Henry Kolker.
Production Notes
This movie was directed by Alfred E. Green. It was produced by Harry Rapf. The production company was MGM. The screenplay was written by Lawrence Hazard. The original story was by Eleanore Griffin and J. Walter Ruben. Judy Garland sings an original song, "Got a Pair of New Shoes," which features music by Nacio Herb Brown with lyrics by Arthur Freed.
Code Compliance
This is a good Code film. It is totally decent, wholesome, and free from objectionable qualities. This movie is an excellent example of a Breen Era film. Although all Code films strove to be decent for people of all ages, movies like this, which featured MGM's child stars Mickey Rooney, Judy Garland, and Freddie Bartholomew-like Ronald Sinclair, were particularly geared toward younger audiences. However, it doesn't just feature music and laughs. It contains some very serious elements, ones which are relatable and pertinent to many youths from all generations. Movies like this are brilliant because of the way they combine humor and drama, presenting mature topics in an entertaining way.
Recommendation
I highly recommend this film. It's truly delightful! It is touching, hilarious, inspiring, and very moving, and its runtime is under eighty minutes! This is one of those great 1930s films which knew how to pack a lot into a little over an hour. The best thing is the film's three young actors. Their interactions are perfect. For whatever reason, Freddie Bartholomew, MGM's famous British boy actor and Mickey Rooney's frequent co-star, was unable to play the role of Roger Calverton. Instead, Ronald Sinclair was cast as the aristocrat who is not afraid of doing hard work. Although much less famous than the other lad, I thought he did a marvelous job in the part. I was especially impressed by the way he tussled with the tough Mickey Rooney in their fight scene. He was usually very cheerful, polite, and refined while still managing to be boyishly cute. When the story called for it, he was also very emotional. Judy Garland, the top-billed star, is great in only her third feature film. Cricket West, her adorably named character, doesn't get all that much screen time. She only sings one song, the spritely "Got a Pair of New Shoes," which she reprises multiple times throughout the film. She really sells it, though! My favorite part of her performance was her first scene, when she meets Roger at her aunt's boarding house for jockeys. After telling him she wants to be an actress, she goes into a performance of doing several dramatic different voices, reciting dialogue to create a startling impression of great theatrical women. Her over-the-top theatrical acting in this sequence reminded me of some of her more mature performances, such as in The Pirate (1949), in which she is purposely over-acting. The funniest part of the scene is that Roger doesn't realize she is just acting! Sophie Tucker is funny, lovable, and bigger than life as Mother Ralph, the owner of the boarding house. If you liked her as Judy Garland's mother in Broadway Melody of 1938, Judy's first MGM film, you'll love her as her big-hearted but irrepressible aunt! She doesn't get to sing, but she says it all with her big personality. C. Aubrey Smith is dignified and very proper but also very loving as Sir Peter Calverton, Roger's uncle. Mr. Smith often played gruff characters, but this role is very soft-hearted throughout the story. The horse-racing theme is a really interesting premise for this tale. One fascinating bit of trivia is that, in one scene, Marie Blake plays the receptionist at the General Hospital. The next year, in Young Dr. Kildare, Miss Blake would play Sally, the receptionist at the Blair General Hospital, in the first of the nine Dr. Kildare films. She would play Sally in all of MGM's Dr. Kildare and the spin-off series, the Dr. Gillespie films in the later 1940s. Since this seems to be New York, it is interesting to think that this scene takes place at the Blair General Hospital. The funniest scene in this film was when Timmie Donovan (Mickey Rooney) was giving his pal, Roger, an alcohol rub after a day of rough horseback riding. To do this, he had pulled down his pants, leaving Roger only in his shorts. Then, Cricket knocked and wanted to come in, so Roger jumped up to pull up his pants, but Timmie kept pushing him back down on the bed. Timmie barred Cricket's entry, so she decided to sing. Throughout the song, Roger kept jumping up, trying to escape, but Timmie continually pounced on him, keeping him on the bed. You have to see it to appreciate how funny this scene is, but my sister, Rebekah, and I kept laughing about it even after we had finished the movie! We both loved this film and couldn't recommend it more enthusiastically!
For the Blogathon
This is my entry in the Mickey Rooney: A Belated Centenary Blogathon, being hosted by Kristen Winiarski of K. N. Winiarski Writes. On September 23, 2020, Mickey Rooney would have been 100 years old! In honor of his centenary, Kristen is hosting this celebration of his life and career. It's never too late to have a birthday celebration!
This is one of the only films in which Mickey Rooney plays a jockey. Mickey is the perfect person to play a jockey, since his short stature and cocky swagger really makes him look the part! As in many of his early roles, it's hard to tell whether he's fifteen or twenty-five! His high but changed voice, short and stocky build, and boyish face made him seem both young and mature. He was seventeen in this role, and he really created a compelling character of a young boy who acts tough because he has had to fend for himself.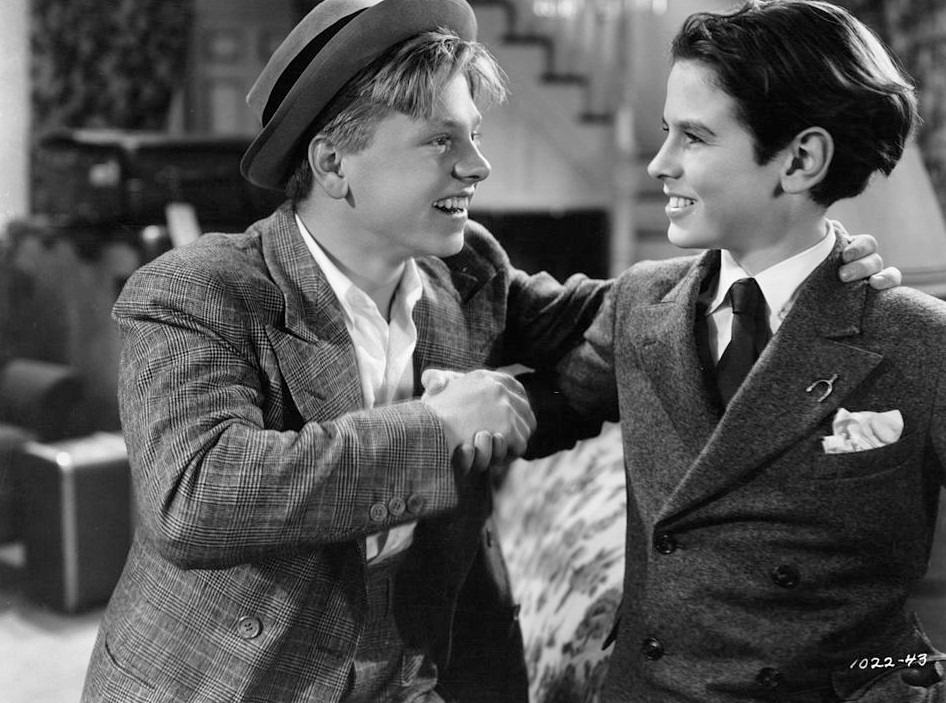 Despite the rocky beginning to their acquaintance, Timmie and Roger become great friends. Timmie teaches Roger how to be a jockey and a tomato, meaning a regular fellow. In exchange, Roger teaches Timmie how to care about other people and be a good friend. They spend all their time together. Each is willing to make sacrifices for the other, as good friends should. Roger is the first person about whom Timmie cares enough to inconvenience himself for his sake. Friendship makes Timmie a better person.
The other interesting interaction is between Timmie and Cricket. Even in this first film with the duo, you can see their great chemistry. These characters don't really like each other, but it's obvious that their animosity is a cover for possible genuine affection. The only hinted romance in the story is between Cricket and Roger, who seem to have a shy interest in each other. It isn't really developed, but they sweetly hint that they might want to get married some day. Despite this, one can't help wondering if Timmie and Cricket might have some future together. This is a great movie with a wonderful performance from Mickey Rooney.
Please join our two upcoming blogathons!
and
Follow us to bring back the Code and save the arts in America!
We are lifting our voices in classical song to help the sun rise on a new day of pure entertainment!
Only the Code can make the sun rise on a new day of pure entertainment!