Today is Saturday, so it's time for my first 100 New Code Films article of the week. I publish two articles in this series each week in all but four weeks this year. In these articles, I review American Breen Era (1934-1954) films which I have watched for the first time during the week. In addition to summarizing the plot, providing the cast and production notes, and giving my recommendation, I explain my Code classification of each movie. This series gives me a great opportunity to discover new Code films and share them with my readers.
Today's topic is I Married a Witch from 1942. I have been curious about watching this film ever since I heard of the title a couple of years ago. It reminded me of another supernatural film made in 1942, I Married an Angel, an MGM musical starring Jeanette MacDonald and Nelson Eddy. When Rebekah and I recently learned that Fredric March, a new favorite actor of ours, is the leading man in this film, we were eager to see it. I contemplated watching and reviewing this film for last Hallowe'en, but I didn't get around to it. I decided that it would be very appropriate to watch and review it for this year's Hallowe'en blogathon, so I watched it on Amazon Prime Video on Sunday.
Plot
In the 17th century, a young witch and her father are burned at the stake by Puritans. However, before she dies, the beautiful young puts a curse on the Puritan leader who accused her which dooms him and his descendants to have unhappy marriages. Centuries pass, leading each male descendant in the line, which contains a very strong family resemblance, to a miserable romance. Finally, it is the 1940s, and the youngest descendant is running for governor of the state. The day before the election, he is going to marry an influential publisher's daughter. However, the future father-in-law is more interested in politics than romance, and the shrewish daughter obviously just wants to be the governor's wife. On the night of their engagement party, a lightning bolt strikes the oak tree which has imprisoned the witch and warlock since they were burnt, releasing their spirits. The wily father sets a hotel on fire to give his daughter a body. The governor candidate gets stuck in traffic because of the fire, and he hires a voice calling from inside the burning building. He goes inside to rescue the person and finds a beautiful but unclothed blonde, who is thankfully shrouded in smoke. He lends her his coat and rescues her from the fire, not knowing that she is a witch who is determined to destroy him. He thinks that her strange behavior is just due to shock. She thinks that she can entice him without magic, using just her beauty. However, although he seems fascinated by her, he remains true to the idea of marrying his fiancée. At her still disembodied father's advice, the witch makes a love potion to give to her victim, but she accidentally takes it instead, making her fall deeply in love with him! Now, instead of destroying him, she just wants to marry him! Disgusted, her father has to find a body of hid own to take matters into his own hands.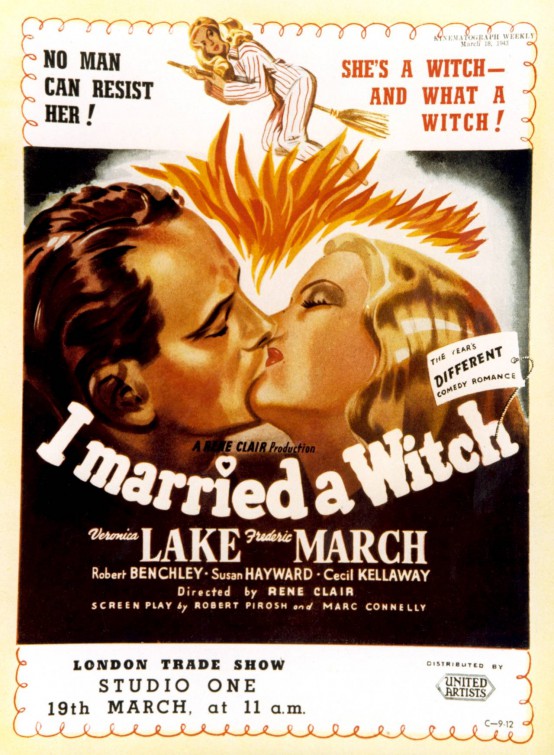 Cast
This movie stars Veronica Lake, Fredric March, and Robert Benchley. Supporting actors include Susan Hayward, Cecil Kellaway, Elizabeth Patterson, Eily Malyon, and Robert Warwick.
Production Notes
This movie was directed by Rene Clair. It was produced by Rene Clair. The production company was Rene Clair Productions and Paramount Pictures, which was credited as Cinema Guild Productions. It was distributed by United Artists. The screenplay was written by Robert Pirosh and Marc Connelly. It was based on "The Passionate Witch," a story by Thorne Smith. The story was completed by Norman Matson. This movie was nominated for an Academy Award for Best Scoring of a Dramatic or Comedy Picture for Roy Webb. It was also nominated for a Hugo Award for Best Dramatic Presentation – Short Form for Robert Pirosh, Marc Connelly, and Rene Clair.
Code Compliance
This is a non-Code film. I suspected as much when I first heard of the title. Witchcraft, although not expressly forbidden in the text of the Code, was rarely depicted in the Breen Era. Movies which make witches central characters, especially in a comical way, are Code violating because they cause curiosity about sinister topics like black magic and Satan worship. It is not surprising that this usually forbidden topic is addressed in this film, since it was released in 1942, which is the Non-Code Era. During this one-year period from May of 1941 to May of 1942, Joseph I. Breen was not at the PCA, instead working for RKO Radio Pictures before resuming his job at the PCA. In his absence, Geoffrey Shurlock, his longtime assistant and future successor, incompetently led the PCA. During this strange period, many very un-Codish films were released, including this film and its twin, I Married an Angel. Aside from the basically unacceptable theme, this film contains a lot of objectionable surface content. There is a great deal of suggestiveness involving the seductive witch. There also are multiple female costumes which are revealing and indecent. The plunging V-necklines are very unusual for the early 1940s, since they were a brief trend which popped up during the Non-Code Era but thankfully disappeared soon after. Thus, this is a great example of a film which shows Mr. Breen's absence very clearly.
Recommendation
I recommend this film with reservations. It is very entertaining. It is frequently hilarious, in fact. If you like the TV show Bewitched, you will like this film. It is quite comparable to that. The witches in this movie aren't people who practice witchcraft; they are supernatural beings. The acting is very good. This is the first film in which I have seen Veronica Lake. Just for the record, her peekaboo bang doesn't actually cover her eye the way it does in publicity pictures and illustrations. She surprised me by being a good actress! I don't know how effective she would be in a more dramatic role, but she is excellent in this part! She is coquettish, sly, and pretty. Fredric March does a great job playing opposite of her. He was a man of a thousand identities as well as different looks. He is often very comical in this role, showing his surprisingly funny side. Susan Hayward plays the very unlikeable fiancée, a role which is common for her. She really seems like she can't stand Wallace Wooley (March), since her father has to coax and prod her every step of the way as she forces a smile. It's hard to understand why she doesn't like him, since he is a kind, handsome man, but some women are like that. Robert Benchley plays Dr. Dudley White, Wally's comical physician sidekick. This supporting character's role in the plot is so inconsequential that I didn't even mention him in my synopsis overview. He mainly serves as a comedic character, cracking jokes and drinking constantly. Cecil Kellaway plays the very important role of Jennifer's (Lake) father, Daniel, the wily sorcerer who gradually becomes the film's sole villain. He spends half the film as the disembodied voice of a stream of smoke. Despite the fine acting, the entertaining story, and the well-executed production, it is with reservations that I recommend this film. Since, as I described in the last section, this is a non-Code film, it is not "reasonably acceptable to [all] reasonable people." Many parents might consider the mild suggestive elements unacceptable for their younger children, and I know that many Christians would be repulsed by the witchcraft theme. Thus, I recommend it artistically, but I caution against its non-Codishness.
For the Blogathon
This is my entry in The 1st Annual Spooky Classic Movie Blogathon, hosted by Kristen Winiarski of KN Winiarski Writes. This blogathon, which ends today, honors classic films which are appropriate for Hallowe'en. This movie features iconic "spooky" characters, witches and warlocks. Although many associate older movies with inferior special effects, I have always found Golden Era movies to have wonderful special effects because they look so real. I consider the lack of computers to be an advantage, not a hindrance. All the "spooky" effects are extremely convincing! Jennifer and Daniel are compellingly portrayed by two streams of smoke for a long time, yet they float along, look in windows, go into bottles, and even ride on a broomstick as though they really have minds of their owns! That element is similar to the other supernatural 1960s sitcom, I Dream of Jeannie. The effect of the lightning bolt which breaks open the oak tree is also very impressive. We also are shown the grand sight of a building on fire, which eventually collapses, one floor at a time! Veronica Lake slides both down and up a banister. For a grand finale, a taxi cab flies through the air!
This movie is not scary; it's funny! The spookiest thing about this film is its non-Codishness. Right in the middle of the Breen Era, there was a major breach in the decency. This film features a farcical, mocking portrayal of Puritans, revealing female costumes, making light of black magic, and comical depictions of witchcraft! It is far from the Breen Era standards. Just for a moment, imagine what would have happened if Mr. Breen hadn't gone back to working at the PCA in mid-1942. The Shurlock Era would have begun in the early 1940s, and that decade would have seen the loosening restraints and moral decay of the late 1950s and 60s! That prospect is scarier than any fictional witch in a film.
The sun has just set here in California, so Hallowe'en has officially begun! I encourage my readers to celebrate this holiday as my family does. Its traditional meaning is All Hallows Eve, the day before All Hallows Day. As such it is intended to commemorate those who have died, thanking God for their lives and remembering the impact they have had on our lives. It is an appropriate time to eat harvest food like pumpkins and squash, so we are having a pumpkin pie for dessert! It also is the perfect time to remember family and friends who are no longer with us. What better way to celebrate this holiday, on this special occasion of full moon, blue moon, and last day before Daylight Savings Time ends, than to watch a classic film with now-departed friends?
Please join our two upcoming blogathons!
AND
Follow us to bring back the Code and save the arts in America!
We are lifting our voices in classical song to help the sun rise on a new day of pure entertainment!
Only the Code can make the sun rise on a new day of pure entertainment!