Today is Sunday, so it's time for another 100 New Code Films article. It seems like it has been a long time since I wrote the last article in this series. That's because I published #83, Malaya from 1949, on Monday so that it could be an entry in a blogathon. In all but four weeks this year, I shall publish two articles in this series. All the films I review are new Code films, American Breen Era (1934-1954) movies which I have never seen before.
Today's topic is Saratoga Trunk from 1945. This film was a newer addition to our watchlist. Last Sunday evening, my mother and I were trying to choose a movie to watch after dinner. We were deciding between this film and Pandora and the Flying Dutchman (1951). I just discovered that the later film is actually a British production and thus not a Code film, so it seems we made the right choice!
Plot
A young Creole woman returns to her family's home in New Orleans with her Haitian maid and dwarf servant. She has lived in France for most of her life, but now that her mother had died, she has returned to Louisiana to exact revenge on her father's family. Her mother was not married to her aristocratic father, so she tried to shoot herself when she found out that he married a society woman instead of her. When he tried to stop her, he accidentally got shot. His family then insisted that she leave New Orleans. The daughter now is intent on using her beauty to make life miserable for her step-mother and half-sister. Her plans are slightly side-tracked when she meets a handsome Texan in the French market. They begin a tempestuous courtship, with his disapproving of her tactics even as he is drawn toward her. Will she pursue true love with the equally bitter Texan, or will she put her desire for wealth and revenge first?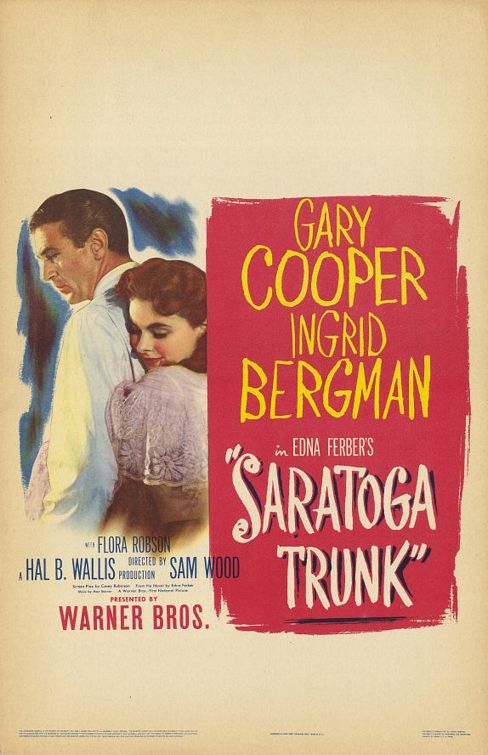 Cast
This movie stars Gary Cooper, Ingrid Bergman, and Flora Robson. Supporting actors include Jerry Austin, John Warburton, Florence Bates, Curt Bois, and John Abbott.
Production Notes
This movie was directed by Sam Wood. It was produced by Hal B. Wallis with executive producer Jack L. Warner. The production company was Warner Bros. The screenplay was written by Casey Robinson. It was based on the novel by Edna Ferber. Flora Robson was nominated for an Academy Award for Best Supporting Actress.
Code Compliance
This is a perfect Code film. This movie does an excellent job of handling some very difficult topics with a deft hand. Clio Dulaine (Ingrid Bergman) is implied to be illegitimate, yet she insists that her mother be referred to as her father's wife on her tombstone. Thus, we assume that she is his common-law wife, but this illicit situation is not described in detail. Also, Clio obviously plans to use her beauty to entice men who will benefit her, but there is nothing blatantly immoral. Also, she always wears decent costumes. It could have been improperly implied that Clio and Clint Maroon (Gary Cooper) have an illicit affair, but there is no such implication. One climactic scene involves a very intense battle between two factions warring over a railroad dispute. These fights are obviously very violent, yet they are shot tastefully so that they are not too gory, intense, or brutal. They are shot from a pretty far distance, so the details are not clear. This is a notable difference between Code and un-Code fights. Just pull the camera back, and most fight scenes become a lot less violent. Because of the careful, tasteful handling, this movie is a perfect Code film.
Recommendation
I highly recommend this film. It is a very unusual picture. When we first read the description, my sister, Rebekah, said that she considered the pairing of Ingrid Bergman and Gary Cooper to be an unlike one. I agreed but reminded her that one of Ingrid's most famous leading men was the equally American Humphrey Bogart. When I actually watched the film, Gary Cooper did stand out in a very noteworthy way. The film is a dramatic Southern epic in the vein of Gone with the Wind, and then a cowboy wanders into the scene! At first, it seems like Coop meandered onto the wrong set when looking for the Western soundstage, but his presence quickly begins to make sense in the plot. He is supposed to seem out of place, lending a different mood to the otherwise dark plot. His presence gives this melodrama some light, comedic moments. Ingrid Bergman is very dramatic and beautiful as a black-haired Frenchwoman. She shows the depth and emotion for which she is known in her most famous roles, adding a selfish, manipulative twist to the part. She effectively portrays a woman who is torn between being a self-serving temptress and following her natural impulses to become a kind, gentle person. Gary Cooper plays a tough Texan who is likewise torn between his natural instinct that Clio is trouble and his deep affection for her. Flora Robson plays Angelique, Clio's mulatto servant and constant companion, who is almost a mother to her. Many consider this British woman's blackface portrayal of this mixed race character very offensive. Blackface was rare by this point. In fact, this is the only Code film in which I have seen a white actor play a black character for the duration of the film. However, this characterization was not intended for parody or to cause offense, so this aspect should be overlooked, if possible. The character of Angelique is a very important and dynamic one, since she guides the plot in many ways. Another very memorable character is Cupidon (Jerry Austin), Clio's dwarf servant. Although Angelique is not an authentic black woman, Cupidon really is played by a midget, since the actor who played him was only 3'6″! Many of this film's funniest moments involve this lovable character, whose personality is huge! He is not only humorous but very clever, brave, tender, and very human. This endearing role made me think more about the plight of dwarfs and other "little people," who struggle to be recognized as normal human beings by others. This is reflected by Cupidon's struggle for Clint's friendship, summed up in his line, "Mr. Clint, I'm a man." This is just one example of the many rare, touching moments in this film. Rebekah didn't like it, but I don't think she was watching very closely, since she was on her computer at the same time. She said she found it very long, which many IMDb reviewers seem to, as well. However, my father and I really enjoyed it. I think fans of these two stars will really appreciate it. The opening of the film is absolutely riveting and stirring. Max Steiner's dramatic score is a perfect accompaniment to the wordless, eerie return to the New Orleans home by Clio and her two companions. The rest of the movie builds on this beautiful black-and-white portrait, taking surprising twists and turns which will hopefully delight you as they did me!
Please join our two upcoming blogathons!
AND
Follow us to bring back the Code and save the arts in America!
We are lifting our voices in classical song to help the sun rise on a new day of pure entertainment!
Only the Code can make the sun rise on a new day of pure entertainment!