Today is Sunday, so it's time for another 100 New Code Films article, the second for this week. This is the end of probably the busiest week in the blogosphere all year! Four blogathons were hosted this weekend. Not only did I participate in all these blogathons, but I added to the mayhem by hosting one of them, The 4th Annual Great Breening Blogathon, at the beginning of this week. Participating in blogathons is a great way to choose topics for my articles in this series, since I have to watch and review two American Breen Era (1934-1954) films in it in all but four weeks this year. Why not choose films which correspond with blogathon topics? Both of my new Code film reviews this week are blogathon entries.
Today's topic is Mary of Scotland from 1936. When I decided to join this year's Spencer Tracy and Katharine Hepburn Blogathon, I planned to write about one new Code film with each of them, since I have already watched all their Code films made together. I discovered Song of Love (1947) on her filmography and decided to watch and review it without checking whether it was featured on Amazon Prime Video. Alas, it was not. Thus, I decided to choose a film which was available for streaming. I discovered Mary of Scotland. Delighted by the premise and cast and the fact that no one had claimed it for the blogathon yet, I decided to switch my topic to this film. I watched it this morning. There's nothing like preparing in advance!
Plot
After her husband, the king of France, dies, Mary Stuart returns to her native Scotland after thirteen years of absence to be the country's rightful ruler. However, her half-brother is not pleased to relinquish power to her, and the lords of the clans want to dictate her decisions. None of the men are pleased that she retains her Catholic faith, while most of Scotland is now Protestant, following the teachings of John Knox. When the religious reformer denounces her as a French Jezebel outside her palace, she is supported by a bellicose earl and his troops. She attempts to make peace with the reformer through an agreement of religious tolerance, but he will have none of it. The bold earl pledges to support her with his troops, which are strong fighters indeed. Meanwhile, Queen Elizabeth of England, Mary's powerful cousin, is concerned about the Scottish queen's return to the British Isles, since Mary is a legitimate heir to her throne and might threaten her reign. Mary's council advises her to marry, but she is initially intent upon waiting for true love. However, she is surrounded by enemies. She has one friend on the council of lords, and she is constantly accompanied by her Italian adviser, whom she brought with her from Europe but who is hated by most of the Scots in the palace. She also is falling in love with the earl, yet even her adviser does not approve of a marriage between them because he does not share her Catholic faith. Ultimately, for the good of Scotland, she decides to marry another Stewart, who is also an heir to the thrown of England. However, he is dainty, drunken, and cowardly, and she doesn't love him. Even though she sacrifices her personal happiness for the good of Scotland, it may not be enough to save her from the treachery which surrounds her.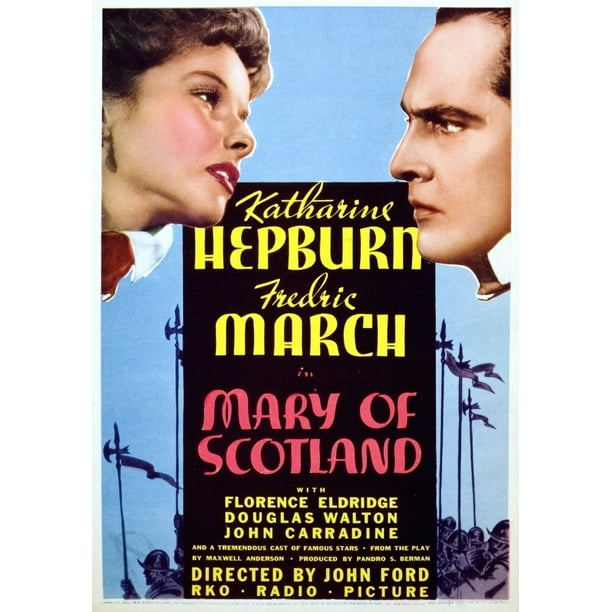 Cast
This movie stars Katharine Hepburn, Fredric March, and Florence Eldridge. Supporting actors include Douglas Walton, John Carradine, Robert Barrat, Ian Keith, and Moroni Olsen.
Production Notes
This movie was directed by John Ford. It was produced by Pandro S. Berman. The production company was RKO Radio Pictures. The screenplay was written by Dudley Nichols, taken from the 1933 Broadway play of the same name by Maxwell Anderson, which was loosely based on historical events. At the Venice Film Festival, John Ford was nominated for the Mussolini Cup for Best Foreign Film and won a Special Recommendation.
Code Compliance
This is a perfect Code film. I haven't reviewed a film with this Code classification for awhile; it is always a pleasure to discover one. This movie is perfect, Code-wise, because it captures historical events, which are filled with controversial, mature topics, and presents them in a totally Code-compliant way. Although not completely historically accurate, this film presents many events which actually happened to famous historical figures like Mary Stuart (Katharine Hepburn), Queen Elizabeth (Florence Eldridge), Earl of Bothwell (Frederic March), James Stewart (Ian Keith), and Henry Stuart, and Lord Darnley (Douglas Walton). Drawing on facts as well as rumor, this complex story includes difficult subjects like illegitimacy, religious opposition, infidelity, murder, assassination, loveless marriage, and execution. However, it handles them all with great discretion, delicacy, and taste. Thus, this is a dramatic take of Mary Stuart's life which could be enjoyed by people of all ages. There is nothing in it which would be harmful or inappropriate for children to see, yet it is serious and intense enough to keep adults riveted. That is the beauty of the Code.
Recommendation
I highly recommend this film. Like The Private Lives of Elizabeth and Essex (1939), which also comes from a play by Maxwell Anderson, it is a vivid portrait of famous historical characters, even if liberties are taken with their stories to make a better film. The backdrop, which included magnificent sets, lavish costumes, and excellent historic details, was the perfect setting for this drama. I was very impressed by the grandeur of this production, especially because it was made by RKO, which was a smaller company than MGM or Warner's, for instance. The acting is brilliant. Katharine Hepburn gets the whole next section for my thoughts on her performance as the queen. Fredric March is a perfect leading man for her in the story. As the first-nameless Earl of Bothwell, he is dynamic, masterful, and very strong. He also does a very impressive Scottish accent throughout the film. He looks very handsome in the historical costumes and also seems very comfortable in the garb. The romance between the two characters is passionate yet tender, always sympathetic to the audience, and never excess or lustful, in the way modern film romances often are. Florence Eldridge, Mr. March's real-life wife, is remarkably impacting as Queen Elizabeth. Ironically, Bette Davis was considered for the part of the Virgin Queen in this film, but she got to play the famous monarch three years later. It would have been interesting if she had played Queen Elizabeth in both films. Although not as big a star, Florence does a wonderful job in this part. In some ways, perhaps she was better for this particular film, since she doesn't take any attention away from the true heroine, Katharine Hepburn. Also, she looks very convincingly like Good Queen Bess. Beyond the main characters, a shocking amount of other actors are credited. Within the actual film, the size of the cast seemed average for a movie of this type. However, the opening credits listed dozens of people! I guess the crediting was just more generous than usual in this film. Two supporting actors really stand out in my mind. The first is David Rizzio, who is quietly played by the tall, brooding, unusual John Carradine, whom you can expect to see in any John Ford film of the 1930s. He is very memorable as Mary's constant companion and only friend. Although not handsome, he is very striking in his all-black costumes, which match his raven hair and beard. The other remarkable supporting character is Henry Stuart, called Lord Darnley, whom Mary reluctantly weds. This character is played by handsome Canadian Douglas Walton. In arranged marriages, one expects the man to be old or ugly. Darnley is neither, yet he is thoroughly repulsive. He is disgustingly dainty, wearing decorative garters, a pearl earring, foppish clothes, excessive makeup, and carefully curled hair. When he comes into a room with four girls, one of them remarks that there are now five girls in the room. The Earl of Bothwell angrily complains that Mary isn't even marrying a man. The situation seems obvious and predictable; he is a pansy, an effeminate dandy who isn't even interested in women except for a lavender marriage for political reasons. Such is not the case, however. Although Darnley is vain and weak, he is masculine enough to be passionately attracted to Mary. He is lecherously interested in her, seeming more lustful than in love. He also is a drunkard, a part which Mr. Walton plays very well. This character is a dichotomy, since he is both beautiful and revolting. One minute, his fair features are charming, and the next, we want to yell at him to wipe the paint off his stupid lips! I was very impressed by this performance. Another interesting part is John Knox, who is played very convincingly by Moroni Olsen. Mr. Olsen looks just like the Scottish reformer. This is a very interesting and riveting film. Although it wasn't successful upon its release and was not considered very good by director John Ford, I am sure that you would like it!
For the Blogathon
This is my first entry in The Third Spencer Tracy and Katharine Hepburn Blogathon, which is being hosted by Crystal Kalyana Pacey of In the Good Old Days of Classic Hollywood and Michaela of Love Letters to Old Hollywood. This celebration doesn't align with any particular anniversary, nor does it need to. Anytime is a good time to celebrate one of the most famous film couples of classic Hollywood!
Katharine Hepburn was one of the greatest actresses of all time. She could play many different roles with talent, knack, and heart. Although she is now often associated with playing strong, modern women, she also was very effective in many period pieces. In Mary of Scotland, she plays a queen as well as any other actress I know. She makes the famous Mary, Queen of Scotts a very human and relatable woman who jumps right off the pages of history. In the beautiful costumes, complete with pearl decorations, ruffs, and crosses, she looks like the living embodiment of famous paintings of the queen. She was a perfect choice for royal roles, since she herself was a descendant of British royalty. In fact, she was a direct descendant of the Earl of Brothwell, whose family name was originally Hepburn. This is not one of her most acclaimed roles, but I think it should be. She shows a huge range of emotions in this part. She plays a triumphant ruler, a devoted countrywoman, an unswerving woman of faith, a devoted wife, a headstrong woman, a girl in love, a loving mother, a tender friend, and a courageous prisoner. She shows fear and bravery, love and hatred, anger and forgiveness, tolerance and outrage, and even piety. Some of her most moving scenes are when she kneels and prays to God from the depths of her heart. Indeed, we first see her giving a prayer of thanks for safe landing in Scotland. Mary may not be a queen who ruled long, but her story is as beautiful as it is timeless when she is played by Katharine Hepburn, a queen in her own right.
Please join our two upcoming blogathons!
AND
Follow us to bring back the Code and save the arts in America!
We are lifting our voices in classical song to help the sun rise on a new day of pure entertainment!
Only the Code can make the sun rise on a new day of pure entertainment!