How did Hollywood really feel about Joseph I. Breen? As the head of the Production Code Administration (PCA) from 1934 to 1954, Mr. Breen certainly told every filmmaker "no" to some project at least once, if not dozens of times. Since it was his job to make all films comply with the Motion Picture Production Code, he was in charge of morality, decency, and general acceptability in motion pictures. Because every studio had to have PCA Seals of Approval for distribution in America, even the moguls answered to Mr. Breen.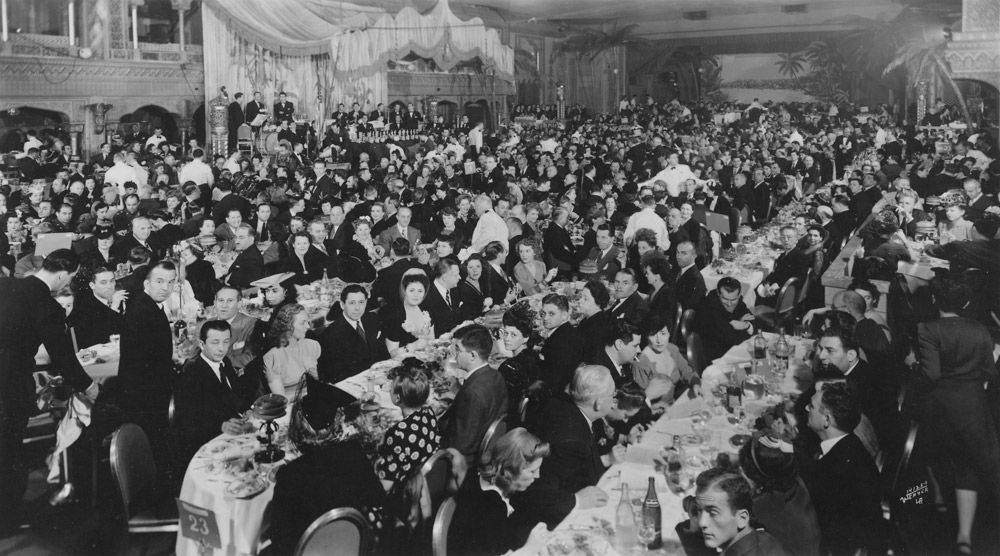 Joe Breen's power over and heated debates with filmmakers has led most people to assume that moguls, producers, directors, and screenwriters alike considered Mr. Breen an enemy. However, this couldn't be farther from the truth. My own research and anecdotes from his family have shown that most filmmakers were actually very good friends with Mr. Breen, considering him to be a vital and valuable member of the film industry.
I recently found an excellent proof of just how much the industry cared about Joe Breen. In my research during September, I found an article by Thomas Doherty, author of the biography on Joseph Breen, entitled A Testimonial Dinner for Joseph I. Breen. This seven page article, which I purchased at this website, describes an audio recording the author discovered of a previously unknown tribute dinner to Joseph Breen. This dinner was given by the Hollywood International Committee, a semiofficial branch of the Motion Picture Association of America (MPAA), at Chasen's (where the stars dine) in Beverly Hills on November 3, 1954, less than a month after Mr. Breen officially retired from this PCA. This event took place right before Mr. Breen went on a trip to Europe with his wife, Mary. This recording was a compilation of highlights from this dinner which was later presented to Mr. Breen for his enjoyment during retirement. I look forward to actually hearing this recording some day, at which point I will share it with my readers, if possible. In the meantime, I want to commemorate Mr. Breen's birthday with quotes from the most touching tributes offered on that evening.
Luigi Luraschi, who dealt with foreign and domestic censorship at Paramount, was the evening's master of ceremonies. The event began by giving the guest of honor a going away present, a large green sitting chair in which he was supposed to relax after his decades of hard work. Mr. Luraschi called the chair "just a small token of the deep affection and love we all have in our heart for you." He then offers a toast to "our Joe."
Robert M. W. Vogel, head of the censorship department at MGM, said of Mr. Breen and the PCA, "We've never had a cross word, we've never had a misunderstanding, we've never had a double cross. These are fellows who are hired by us. Their jobs depend on us. And they have the ridiculous job of walking in and telling us: you cannot do so-and-so. And they've got to be… good to get away with it."
Harry Zehner, a longtime member of the PCA staff who "started out on our side of the fence [i.e., production] and did a complete switch," sincerely said to Mr. Breen, "I've always had great respect for you, and, I must say, admiration, and it could almost be love."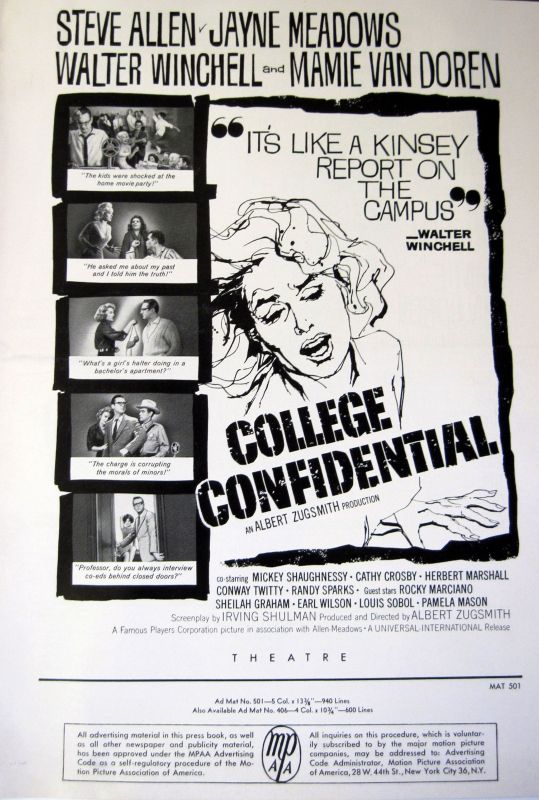 Simon Levy, the associate director the MPAA's Advertising Code, said that Joe Breen had "uncanny judgment" of a "remarkable man, splendid citizen, and grand boss."
The affection wasn't just from those in the censorship departments or members of the MPAA. Steve Goodman, a scenario and story editor at
Republic Pictures, said that Joe Breen was the man intended by the expression "a good Joe."
Frank McCarthy, head of the foreign department at 20th Century-Fox, gave a lengthy speech on behalf of the studios, stating their feelings toward Joe: "It is well known in the industry that Mr. Breen has consistently advocated and practiced a positive approach in discharging his duties. He and his staff do not conduct a mere blue penciling operation. On the contrary, they work consistently with producers and writers to render constructive criticism and to stimulate the development of acceptable elements as substitutes for those which violate the Code. In this respect Mr. Breen has exercised profound and extensive influence upon the content of virtually the entire product of the American film industry over a period of twenty years. He has contributed mightily to rendering the motion picture a great cultural force in the lives of the people of the United States and indeed the world. He has furthered the development of the motion picture as an
art form. Mr. Breen's continuing creative influence and his effective direction of the Code have resulted in a check upon the growth of political censorship in the United States and have in fact reduced that type of censorship to an all time low. This activity has fostered a climate in
which the motion picture could grow with a minimum of interference."
Ely Levy, the head of Columbia Pictures' foreign department, summed up the feelings of the film industry in general by saying, "We love Joe Breen."
William Gordon, the head of RKO Radio Pictures' foreign department, was first hired by Mr. Breen himself, when the self-regulator was trying an executive position at RKO in 1941. Thus, he stated, "I
owe everything to Joe," more whimsically noting, "There's something musical about just the words Joe Breen." Mr. Gordon also quoted the sage yet simple advice on the Code which the chief Breener himself passed along: "All you need to do is be a decent person with a sense of the fitness
of things and that's all the Code you need." That is something for every wannabe breener to remember!
Eugene "Doc" Doughterty, one of the younger PCA members who joined the staff in the 1940s, gave a very powerful and true tribute to his boss and what he and the Code had done for Hollywood: "The motion picture business had better face up to the fact—or should face up to the fact—that in any great enterprise there is a Rubicon or a Waterloo. And this industry crossed its Rubicon when it changed from a wildcat bunch of harem scare-em carnival drumbeaters and became a very serious, sober, responsible industry of tremendous cultural and educational and financial importance in the world when they put Joe Breen in the job that he just retired
from. That was the turning point when the motion picture industry turned from just a carnival sideshow to a very serious, mature, and adult form of entertainment. And there's the guy right there who did it—there's the man who's responsible for it. And a lot of you fellas who have been in this business many more years, some of you more years than I've been alive,
know that that's true. And so the whole motion picture industry should recognize that fact and certainly they here who know Joe should recognize that fact."
Joe Breen warmly returned this affection which the industry expressed for him that night. When the time came for him to make a speech, he was both eloquent and sincere: "I must take occasion, to say to all of you gentlemen, that there is nobody around this room and around this table, I can say, to whom I have not a very deep affection. I know you all. You know me and I've known many of you for many, many years. And I do want to say, aside from this very beautiful green chair, I do want to say to you that I very deeply appreciate—not the chair—but the fine spirit of friendship and
goodwill and kindness and charitableness that you men have always—not only tonight but for very many, many years—evidenced to me. From my heart, I thank you. Now, it's a remarkable thing, I think, for a fellow, faced with the position such as I have been for the last twenty or more years, at the end of the road to have a distinguished group like this—and you are distinguished—rally around and say a nice word for me. That touches me more deeply than you have any idea. From my heart, I thank you. Looking back over more than twenty years, I have nothing in my heart but a feeling of kindness and appreciation and goodwill to all these people. I feel the same with you. You have been fine. And I hope to God that we all live in years and that we are all as friendly as we are tonight. I expect great things
from some of you men. You all have talent, you all have ability. Please God, [may] you all be happy and successful in whatever it is you try to do. Thank you again from my heart. Thanks."
It's only proper to end this tribute with the introductory speech to this record, made by the aforementioned William Gordon at RKO's recording studios. This will be where I end my birthday tribute to dear Mr. Breen, my great mentor. I won't write about his life after the PCA, since that was just his time for a well-deserved rest. I won't describe his years before the PCA, since this interesting period mainly served to lead him to his calling of enforcing the Code. I won't lament his eventual death, since I wouldn't wish for the poor fellow to still be alive at 132! I won't even write about his daily work at the PCA, since we do that in all our articles. If you want to read more about Mr. Breen's life, see my tribute posts from previous Breening Blogathons. Although this year's Great Breening Blogathon is now coming to its close, we have a busy week ahead of articles about Mr. Breen 's legacy, great Code films! Now, William Gordon's dedication:
"Dear Joe, this is a record of the excerpted highlights of the party given in your honor at Chasen's on November 3, 1954, by the Hollywood International Committee. It contains mainly the expressions of regard, affection, esteem—love—which everyone present that memorable night holds for you. The entire proceedings—after suitable Code intervention, of course—will be presented to you upon your return from abroad. Godspeed to you both.
This is my personal tribute to Joe Breen on what would have been his 132nd birthday. It is also my second entry in our 4th Annual Great Breening Blogathon!
Happy Birthday, Mr. Breen!
Please join our two other upcoming blogathons!
AND
Follow us to bring back the Code and save the arts in America!
We are lifting our voices in classical song to help the sun rise on a new day of pure entertainment!
Only the Code can make the sun rise on a new day of pure entertainment!