Today is Wednesday, but I decided to publish the first 100 New Code Films article of the week early because of my blogathon commitments next week. In all but four weeks during 2020, I have decided to watch and review two American Breen Era (1934-1954) movies for the first time. Well, I may not always watch the films during the week in which I review them, since my schedule often requires me to watch films earlier. Anyway, I created this series to give me an outlet for watching and reviewing "new" classic movies!
Today's topic is The Secret Garden from 1949. When I was five or six years old, The Secret Garden was one of my favorite stories. I hadn't read the book. I loved it because of a movie version of this story. This beloved film was not one of the many live action versions of this famous story, though. It was an animated film. I remember it very vividly. I did some research, and I realized that this film I enjoyed was the 1994 hour-long animated version. I watched a few minutes of the full copy on YouTube and recognized the animated look of Mary Lennox. Anyway, I was fascinated when I learned that there was a Code version of this fascinating tale. I suggested is as a film to watch on Sunday, so we bought it on Amazon Prime Video.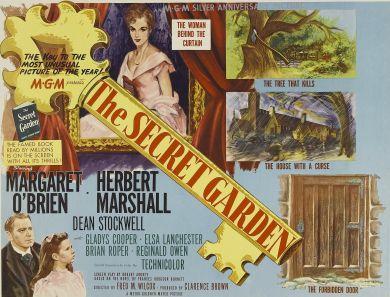 Plot
If you are familiar with any version of this story, you know this film's plot. A little British girl living in India is orphaned when both her parents die of cholera. The stubborn, spoiled little girl is sent to live with her reclusive but wealthy uncle, who lives on the moors. She is practically a prisoner in the house, rarely getting to see her hunchback uncle, a miserable widower, and controlled by a grumpy housekeeper. Her first night in the house, she hears strange screaming and wailing, but the housekeeper assures her it was the wind. The next day, she meets a fun-loving Cornish maid, who tries to encourage her to do things for herself. She later meets the maid's brother, a wonderfully rambunctious outdoors boy who is a friend to all animals. Together, the two children discover that a secret garden is housed within the locked walls on the grounds. Meanwhile, the girl meets her invalid cousin, a demanding boy who screams and yells because he longs for his father's attention yet fears that he too will become a hunchback. The girl and her two new friends decide to fix up the secret garden while the uncle is gone, hoping they can bring life back to the tortured family as well as to the barren garden.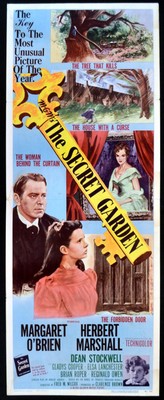 Cast
This movie stars Margaret O'Brien, Herbert Marshall, and Dean Stockwell. Supporting actors include Gladys Cooper, Elsa Lanchester, Brian Roper, Reginald Owen, and Aubrey Mather.
Production Notes
This movie was directed by Fred M. Brown. It was produced by Clarence Brown. The production company was MGM. The screenplay was written by Robert Ardrey, based on the novel of the same name by Frances Hodgson Burnett.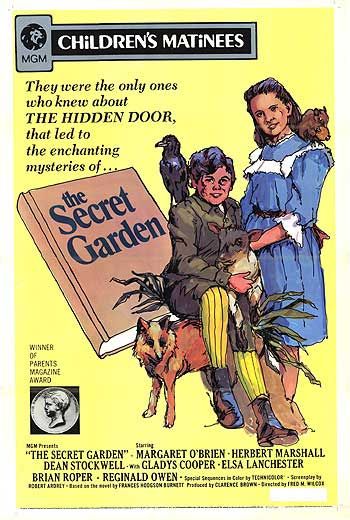 Code Compliance
This is a good Code film. It is a totally Code compliant version of this story. From my memory of the animated version and my knowledge of the original story, the original tale about the secret garden doesn't contain much content which would be deemed unacceptable by the Motion Picture Production Code. However, it is worth noting that this film is a good example of a movie which is about children and obviously geared toward families yet contains some dark themes. The elements of tragic death, disability, thoughts of suicide, and orphanhood because of diseases are all very serious topics which are included in this story. This film is not afraid to include creepy moments which send chills down the spines of viewers of all ages. When Mary (Margaret O'Brien) first hears wailing in the halls of the great house, it is a chilling moment. This shows that the Code did not forbid frightening elements, as long as they were not likely to be actually disturbing and very upsetting to children.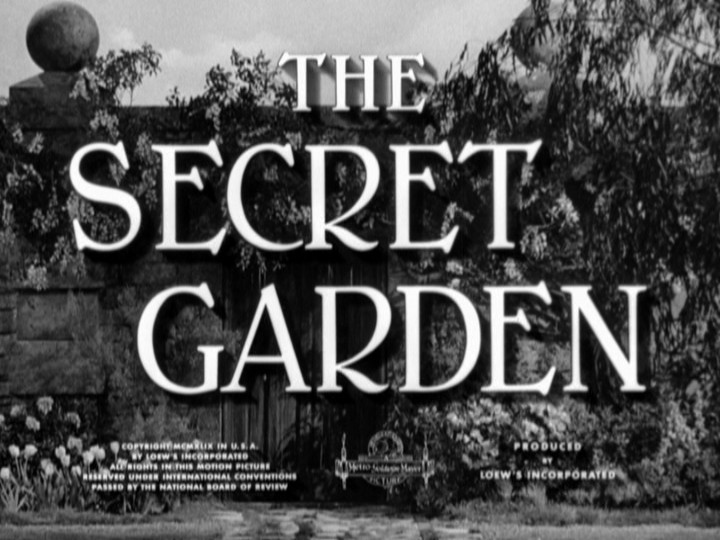 Recommendation
I highly recommend this film! I believe that anyone who like this story will love this movie, as I did. As much as I enjoy discovering Code versions of classic stories, it can be difficult to see any film adaption of a story you love, either from its original source material or from a different adaptation. It can be odd or unsettling to see actors embody characters, even (or perhaps especially) if they are actors with whom you are very familiar. I felt no such dismay from this film. I absolutely loved these actors in their parts and felt that they were perfectly suited for the role. Gifted child actress Margaret O'Brien is perfectly suited to the role of spoiled, troubled Mary Lennox, a little girl who starts out as a little hoyden, yet through Alice in Wonderland-like curiosity, she becomes a little heroine, who changes lives like a Pollyanna of the moors. Another gifted child performer in this film is Dean Stockwell, who plays the bed-ridden and cantankerous Colin Craven, a little boy who just wants to be loved. Together, he and the equally disagreeable Mary teach each other how to shun their past pain to find true happiness. They are aided in this process by a happy boy who knows how to work hard, help others, and love nature, Dickon. This lovable Cornish boy was played by the twenty-year-old Brian Roper, a British lad who was actually twenty, although he looks around fourteen. Herbert Marshall, the eternally gloomy World War I veteran, is perfect as the brooding Archibald Craven. He truly looks like a hunchback yet convinces us that it is his heart which is deformed, since he is too numb with grief to care about his son. Elsa Lanchester is very funny as the Cornish maid Martha, Dickon's sister. She laughs so boisterously that she almost seems mad, yet she is very cute in this role. In contrast, Gladys Cooper plays a very harsh housekeeper. Reginald Owen is the third British actor to affect a convincing Cornish accent for his role in this film; he is excellent as the gardener, who knows the family secret better than anyone else. The sets and cinematography of this production are absolutely beautiful. When the children enter the revived secret garden, there is a beautiful surprise. I won't say what it is, since I don't want to ruin the effect of the surprise, which is truly wonderful. This is indeed a marvelous movie. I will end this review with a quote from this film which a very wise doctor (George Zucco) says about young Colin, when he determines that there is nothing physically wrong with the lad. I think it is very apropos for our world's current obsession with disease and health:
Fear is a disease. Fear can waste muscles, destroy men, paralyze nations.
Please join our three upcoming blogathons!
AND
Follow us to bring back the Code and save the arts in America!
We are lifting our voices in classical song to help the sun rise on a new day of pure entertainment!
Only the Code can make the sun rise on a new day of pure entertainment!