Today is Sunday, so it's time for another 100 New Code Films article. This series is intended to broaden my knowledge of American Breen Era (1934-1954) films by giving me an outlet for watching and reviewing Code films which I have never seen before. I have given myself the goal of watching every Breen Era film ever made, if possible. This is a huge undertaking, since around eight thousand films were released during this time in America. Watching at least one hundred new Code films this year is a good start.
Today's topic is Honolulu from 1939. My mother added this film to our Amazon Prime Video watchlist. I was excited when I saw that Eleanor Powell was in it, since this lovely dancing star made few films during her brief stardom. The premise sounded fascinating, so I decided I wanted to watch it. Last Saturday, we watched it.
Plot
A famous movie star is mobbed by fans when he leaves the theater where his latest film has been screened. However, the real star is actually in his hotel room, listening to the mob's attacks on his radio. He is shocked, realizing that he must have a lookalike. The unlikely lookalike is brought to the hotel soon after, since paramedics also think he is the actor. When he and the actor discover each other, they are amazed by their similarity in appearance. When the actor learns that his lookalike owns a pineapple plantation in Honolulu, he gets an idea. He offers to trade places with the plantation owner, so he could go to Hawaii as George Smith while the real Smith goes to New York on a dangerous personal appearance tour, facing mobs of adoring fans. On the steamer to Hawaii, the disguised movie star meets a beautiful dancer who will be performing on the islands. She is accompanied by her daffy friend, who "mistakes" him for her favorite movie star. However, in Hawaii, he discovers that the timid George Smith is engaged to a proud girl, complicating his romance with the dancer.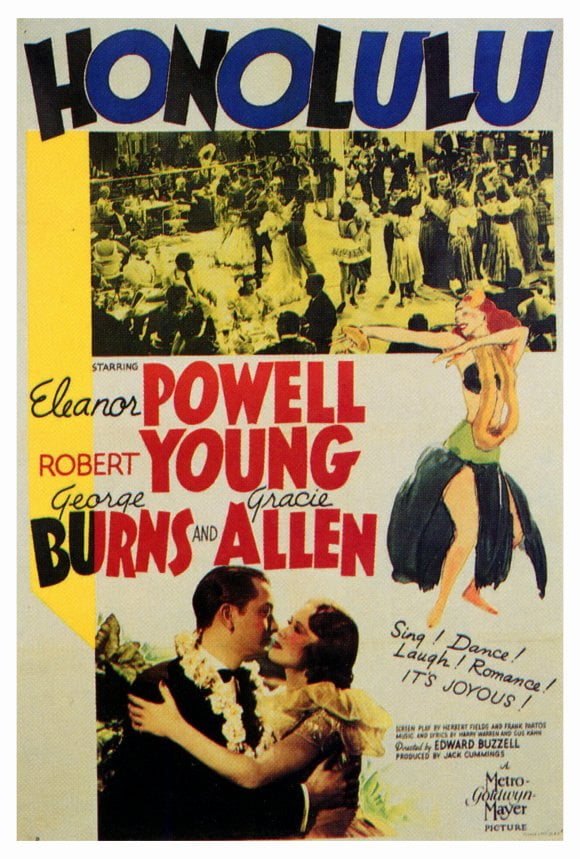 Cast
This movie stars Eleanor Powell, Robert Young, George Burns, and Gracie Allen. Supporting actors include Rita Johnson, Clarence Kolb, Jo Ann Sayers, Ann Morriss, and Willie Fung.
Production Notes
This movie was directed by Edward Buzzell. It was produced by Jack Cummings. The production company was MGM. The original story and screenplay were written by Herbert Fields and Frank Partos. The score includes three original songs, which feature music by Harry Warren and lyrics by Gus Kahn.
Code Compliance
This is a good Code film. It is completely proper, wholesome, and decent at all times. Although this film is set in Hawaii, there are no indecent costumes. All grass skirts have firm waist bands which come up high above the navel. All the girls' tops are properly covering. None of the dance movements are suggestive. All the dialogue is within the Code's limits of good taste and propriety. For a moment, think about what that means. This is a movie made for adults, as well as children and adolescents, yet it contains no profanity, suggestive dialogue, or vulgarity. It doesn't even contain any forbidden expressions, words or phrases which are now considered harmless ("nuts," "hold onto your hat," etc.). Compared to our current climate of films, which are routinely rated PG-13 and R for horrible language, nudity, violence, and numerous immoral elements, such wholesome films are a welcome relief.
Recommendation
I highly recommend this film. I really enjoyed it. It is a lovely picture. The acting is excellent. Particularly noteworthy is the dual role played by Robert Young. He is impressively different as the famous movie star, Brooks Mason, than as the slightly befuddled George Smith. The use of split screens and other special effects to create this impression is very impressive. Eleanor Powell is delightful as this film's leading lady. In addition to giving a wonderful acting performance, her dancing skills are on full display in this movie. In her first scene, she dances with a jump rope around a pool aboard the cruise ship. This number is not only terpsichorean but very impressively athletic. Later, she does a Hawaiian dance, first barefoot, native style, and then in tap shoes. Her talent is at its height here. Gracie Allen provides constant comic relief as Millie De Grasse, Dorothy March's (Eleanor Powell) companion throughout the story. Although her husband and comedic partner, George Burns, is in this film, they aren't together until the final scene. Before then, George plays Joe Duffy, Brooks Mason's press agent. Since she rarely interacts with her husband, Gracie says most of her ridiculously bizarre lines to Eleanor Powell and Robert Mason. Rita Johnson, a common supporting actress at MGM, plays Cecilia Grayson, George's fiancée. The story is delightful, and the setting is charmingly unusual. I recommend that all MGM musical fans watch this movie!
Follow us to bring back the Code and save the arts in America!
We are lifting our voices in classical song to help the sun rise on a new day of pure entertainment!
Only the Code can make the sun rise on a new day of pure entertainment!