Today is Sunday, so it's time for this week's second 100 New Code Film article. This is our only series which is published consistently. No matter what, we publish two of these articles each week. The only exception is four weeks this year, in which we must publish only one article to equal 100 reviews in all. Each of these articles is a review of an American Breen Era (1934-1954) film which I watched for the first time that week or shortly before.
Today's topic is The Canterville Ghost from 1944. This film was suggested by Amazon based on our recent purchases, so we added it to our Prime Video watchlist. Last Sunday afternoon, it was my turn to choose a new film to watch. I like Margaret O'Brien, and this sounded like the sort of mysterious yet lighthearted MGM film which I often enjoy, so I suggested it.
Plot
An old stone castle is owned by a noble British family, the Cantervilles, whose current custodians are an invalid lady and her young granddaughter. During World War II, the Cantervilles let their castle be used by the US Army as housing for a troop. Little do the soldiers know that the castle is haunted by the ghost of a cowardly Canterville who was sealed up alive behind a wall when he refused to defend the family's honor three centuries ago. He will only be able to rest in peace when a descendant does a brave deed wearing his signet. Does the current generation contain a brave person, or are all the lovable ghost's descendants cowards like him?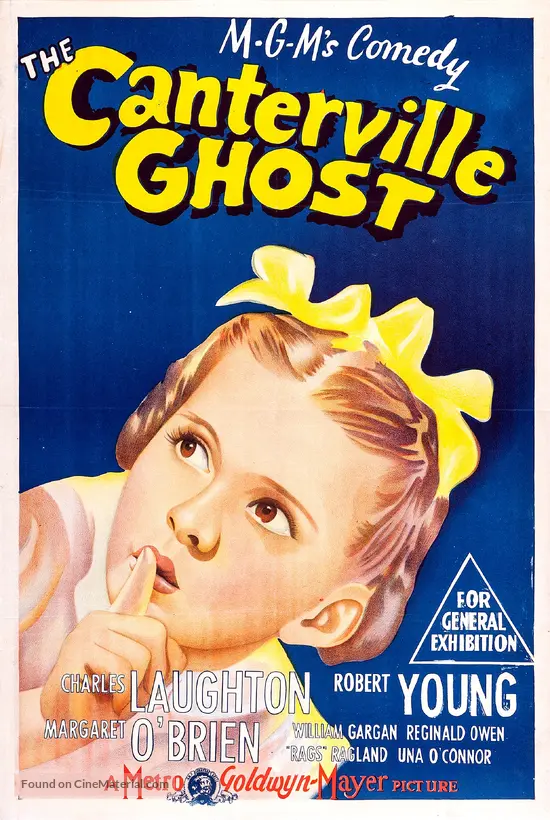 Cast
This movie stars Charles Laughton, Robert Young, and Margaret O'Brien. Supporting actors include William Gargan, Reginald Owen, "Rags" Ragland, Una O'Connor, and Elisabeth Risdon.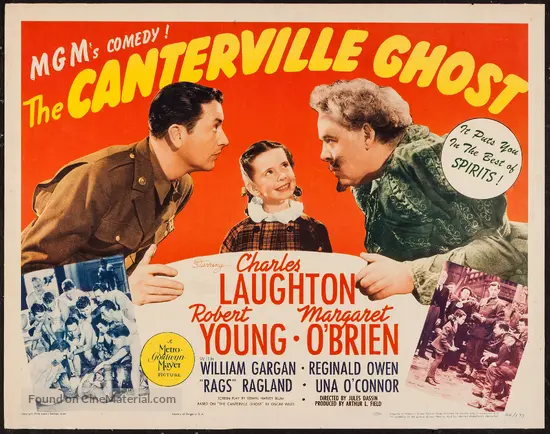 Production Notes
This movie was directed by Jules Dassin. It was produced by Arthur L. Field. The production company was MGM. The screenplay was written by Edwin Harvey Blum. It came from a story of the same name by Oscar Wilde. At the Hugo Awards, this film won Best Dramatic Presentation – Short Form for Edwin Blum (Screenplay), Oscar Wilde, and Jules Dassin (Director).
Code Compliance
This is a good Code film. There is nothing objectionable about it. In the excellent taste and style of the Breen Era, this film depicts some potentially dark topics while remaining fun and lighthearted enough to be enjoyed by the whole family. The backstory includes jousting, cowardice, and a father ordering his son to be sealed behind a brick wall because of his failure to defend the family's honor. In the modern section of the story, the main characters encounter, are haunted by, and converse with a ghost. However, they quickly learn that he is easily frightened and not threatening. He is actually a very affable character. Thus, this ghost played by Charles Laughton is more likely to cause chuckles than fear.
Recommendation
I highly recommend this film. It is charmingly unusual. Charles Laughton, the great British actor who was truly a man of a thousand faces, is excellent in this part. He has a bit of the pathetic quality characteristic of Quasimodo in The Hunchback of Notre Dame (1939), yet he also is lovable and kindly as he is in my favorite of his films, Joe Pasternak's It Started with Eve (1941). He delivers the Shakespearean-Era dialogue very well. Margaret O'Brien is adorable in this movie. This is one of her earliest films, only two movies after her big break, Lost Angel (1943). She is so cute, even doing a subtle British accent as the little "lady." Her interactions with the ghost and a soldier she befriends, Cubby (Robert Young), are darling. Robert Young is a great third member of the cast, the young American soldier who discovers that his connection to the castle, the little lady, and the ghost might be deeper than he would have imagined. This is one of the rare classic Hollywood films which doesn't feature any romance, since the only women in the story are the seven-year-old Margaret O'Brien and two older ladies. It doesn't need romance, since family relations are the center of this story. This is an excellent movie. I highly recommend it.
Follow us to bring back the Code and save the arts in America!
We are lifting our voices in classical song to help the sun rise on a new day of pure entertainment!
Only the Code can make the sun rise on a new day of pure entertainment!