Today is Sunday, so it's time for another 100 New Code Films article. This is the second article in this series of this week. In all but four weeks this year, I watch and review two American Breen Era (1934-1954) films which I have never seen before. These twenty years were the time when Joseph I. Breen enforced the Motion Picture Production Code as head of the Production Code Administration (PCA). Here at PEPS, we study the Code and its films. I'm trying to watch every Code film which I haven't seen yet, and this series is how I am seeing these new Code films.
Today's topic is Cairo from 1942. This is the last of Jeanette MacDonald's films during her run as a star at MGM which I had yet to see. I have been curious to see this film for a while. It was Jeanette's last film before her contract with MGM ended. This film is available on Amazon Prime Video, so we watched it on Friday afternoon.
Plot
An American foreign correspondent travels to Europe on a ship which is blown up. He ends up on a makeshift raft with an Englishman. After they reach shore, the Englishman makes the American promise to contact a colleague of his in British Intelligence who is stationed in Cairo, where he is headed. Once there, the American locates the lady agent, who informs him that his favorite movie star, a lovely soprano who is performing in Cairo, is a top Nazi spy. Eager to obtain secrets from the glamorous woman, the journalist gets a job as her butler. However, his life may be in danger as he gets confused between Allies and Nazi agents.
Cast
This movie stars Jeanette MacDonald, Robert Young, and Ethel Waters. Supporting actors include Reginald Owen, Grant Mitchell, Lionel Atwill, Edward Ciannelli, and Dooley Wilson.
Production Notes
This movie was directed by W. S. Van Dyke. It was produced by Joseph L. Mankiewicz. The production company is MGM. The screenplay was written by John McClain, based on an idea by Ladislas Fodor. The soundtrack included three new songs with music by Arthur Schwartz and lyrics by E. Y. Harburg and Howard Dietz. Jeanette MacDonald and The King's Men also sing "To a Wild Rose," "From the Land of the Sky-Blue Water," "Beautiful Ohio," "Waiting for the Robert E. Lee," "Avalon," "There's No Place Like Home," and "Keep the Light Burning."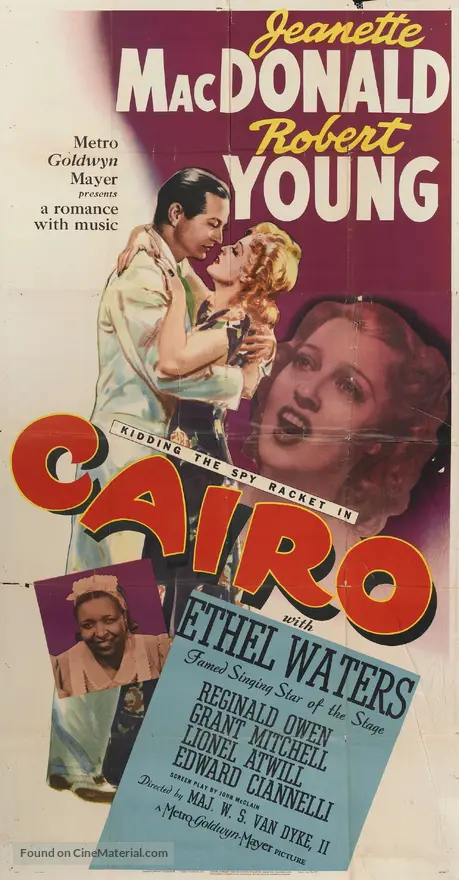 Code Compliance
This is a good Code film. It is very wholesome and decent. It deals with World War II, Nazis, and spy themes in a comical, lighthearted setting, not including any Code violations. All the songs feature acceptable lyrics. The costumes are decent. There is no violence involved with the spy and war themes. This is a totally Code-compliant film.
Recommendation
I recommend this film. If you are a fan of Jeanette MacDonald, I think you will enjoy this film. Although it doesn't feature her usual co-star, Nelson Eddy, it is an enjoyable film of hers. When Mr. Eddy is not with her, I prefer Jeanette with non-singing co-stars, since that keeps the films from being too heavy on songs. This film has an interesting, entertaining plot which would be successful without music. Robert Young is funny and charming as the journalist turned butler. He and Jeanette might not be the most likely couple, but they work very well together in this story. Ethel Waters is adorable as Jeanette's maid. She is much more a supporting actress than a servant, and she has some memorable songs. A cute subplot is her romance with Dooley Wilson. The Cairo setting is unique and interesting. This may not be Jeanette MacDonald's greatest film in terms of showing her singing talent and dramatic acting, but it is an enjoyable, well-made film.
Follow us to bring back the Code and save the arts in America!
We are lifting our voices in classical song to help the sun rise on a new day of pure entertainment!
Only the Code can make the sun rise on a new day of pure entertainment!