Today is Saturday, so it's time for another 100 New Code Films article. This is my first article in this series in September. This is the first Code film I watched after ending #AMonthWithoutTheCode2020. It was great to get back to the American Breen Era! I found the break from Code films very depressing this year, so it was great to get back to watching old favorites as well as new ones.
Today's topic is Too Young to Kiss (1951). I heard about this film quite some time ago. Van Johnson and June Allyson are such a great couple, the boy and girl next door, so we love their films together. Near the end of July, we ordered some DVDs of new films on Amazon. This is one of the films we bought. We didn't get a chance to see it in July before August and #AMonthWithoutTheCode2020 began, so we're glad to finally be able to watch it! We watched it on Wednesday evening.
Plot
A young lady has been training for years to become a concert pianist, yet she struggles to find the opportunities she deserves. The busy impresario who represents many great artists won't even give her an audition. When she hears that he will be judging young musicians for a youth orchestra, she dresses up like her own twelve-year-old sister so he can hear her. He is thrilled by her talent and offers to personally represent her. The next day, she tries to tell him the truth, but he thinks that she is just the prodigy's jealous older sister. The situation is very complicated, since she must pretend to be twelve years old to get the concert she wants so desperately. Despite her boyfriend's disapproval, she goes ahead with her plan, accepting patronizing treatment, rules, and punishment even as she feels herself falling for the impresario.
Cast
This movie stars June Allyson, Van Johnson, and Gig Young. Supporting actors include Paula Corday, Kathryn Givney, Larry Keating, Hans Conried, and Esther Dale.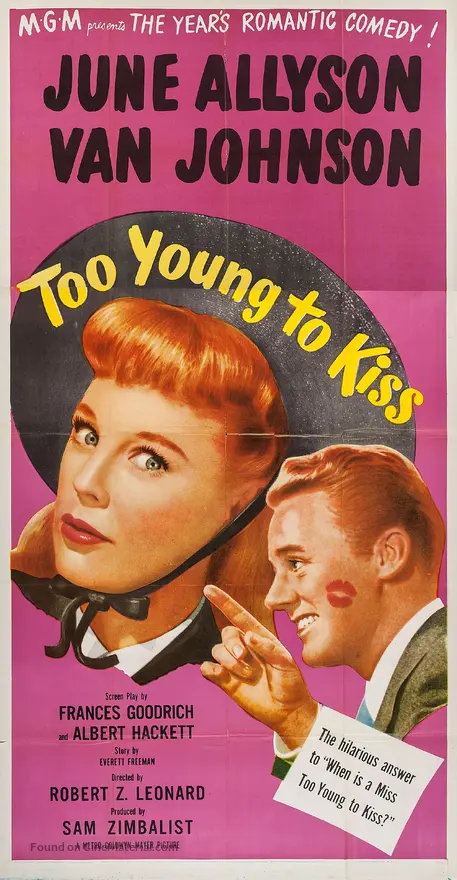 Production Notes
This movie was directed by Robert Z. Leonard. It was produced by Sam Zimbalist. The production company was MGM. The screenplay was written by Frances Goodrich and Albert Hackett. It was based on a story by Everett Freeman.
Code Compliance
This is a good Code film. It is a very fun, enjoyable, lighthearted film. It is the sort of funny yet heartwarming celebration of music which is so typical of MGM during the 1940s and 50s. Although it isn't a Joe Pasternak production, it's the sort of film he might have produced. As such, it has no Code violations. It is very wholesome and decent. This is a very unusual and potentially difficult topic. The fact that Eric Wainwright (Van Johnson) thinks that Cynthia Potter (June Allyson), a twenty-two-year-old woman, is twelve for much of the film could have created an improper situation. Even as it is, I'm sure many modern viewers would find that element of this film a bit odd or even creepy. However, I don't think it should be considered inappropriate. June Allyson was thirty-four when this film was released, and Van Johnson was thirty-five. Pretending that she is twenty-two as Cynthia is more of a stretch, years-wise, than pretending "Molly" is twelve. Because June is short and youthful-looking, it is quite convincing. Although the premise might remind twenty-first century viewers, who are very sensitive because of current media and headlines, of the perverted Lolita complex, there is nothing like that in this film. Eric genuinely believes that Molly is a talented little girl, and he treats her like a six-year-old more than a twelve-year-old. His behavior toward her is never inappropriate. This premise was intended to be funny, and I think it should be viewed as that.
Recommendation
I highly recommend this film. It is a very enjoyable movie. The acting is great. June Allyson is so cute and funny as her kid-sister, Molly. She uses a funny voice, cries, and acts adorably immature, mischievous, and even bratty at times. Van Johnson is very funny opposite her. He is a ladies' man who uses his charm to keep his temperamental female clients in line, yet he plays the father role dutifully for trouble-maker Molly, believing her talent is worth the effort. Gig Young is also funny as the boyfriend, who is thoroughly against the little sister gag. The classical music is very impressive in this movie. Cynthia/Molly plays many famous classical pieces on the piano throughout the movie. From some research I did, June Allyson apparently studied piano as a child. She looks extremely convincing playing the piano in this role, although she probably isn't playing what we hear. The inclusion of classical music is always an added bonus for me. This is a really cute movie, so suspend your twenty-first century prejudices and enjoy!
Follow us to bring back the Code and save the arts in America!
We are lifting our voices in classical song to help the sun rise on a new day of pure entertainment!
Only the Code can make the sun rise on a new day of pure entertainment!