Today is Saturday, time for this week's second 100 New Code Films article. This series is my most frequent one, since I have determined to post two of these articles in all but four weeks this year. In each of these articles, I review an American Breen Era (1934-1954) film which I have seen for the first time. This will equal 100 new Code films in all this year which I will review as part of this series. Whenever possible, I combine these articles' topics with blogathon entries by writing about films which fit blogathon topics.
Today's topic is Rage in Heaven from 1941. For the past two years, I have wanted to join the Ingrid Bergman Blogathon. However, since it is hosted in August, I have never been able to think of a topic, August being #AMonthWithoutTheCode. This year, I determined to join with an article about some new Code film of hers. When choosing a film of hers to review, I realized how few American movies this Academy Award-winning Swedish actress made. I watched this film on Amazon Prime Video on July 30.
Plot
The film begins at an insane asylum in France, where the doctors realize in horror that the mysterious young Englishman under their watch has escaped. Later, two young gentlemen, an idle heir and his engineer best friend, reunite at a hotel, and the former invites his old friend to come to his ancestral home with him. There, he sees his doting mother again, and they meet the beautiful young woman who has become her caregiver. Both men are obviously charmed by her, but the young heir is very glad when his friend leaves, giving him a chance with the girl. Although she obviously is infatuated with the heir, he is insanely jealous of his friend. They fall in love and marry, yet no one suspects that the bland young man is a paranoiac.
Cast
This movie stars Robert Montgomery, Ingrid Bergman, and George Sanders. Supporting actors include Lucile Watson, Oskar Homolka, Philip Merivale, Matthew Boulton, and Aubrey Mather.
Production Notes
This movie was directed by W. S. Van Dyke II. It was produced by Gottfried Reinhardt. The production company was MGM. The screenplay was written by Christopher Isherwood and Robert Thoeren. It was based on the novel by James Hilton. At the National Board of Review Awards, Ingrid Bergman won Best Actress for this role.
Code Compliance
This is a good Code film. This film deals with difficult topics, including mental illness, extreme envy, suicide, and murder. It handles them all very well. Although it is a very suspenseful at times, it features enough positive and uplifting elements to keep it from being too dark and sinister. It ends on a bright note, so it doesn't leave you feeling despondent. This is a good example of how the Production Code Administration allowed difficult, disturbing themes to be depicted in Code films, if the film were made properly.
Recommendation
I highly recommend this movie to classic film fans. It will be especially enjoyable to people who like mysteries and suspenseful dramas. Of course, Ingrid Bergman fans will find it particularly appealing, since she gives a wonderful performance in it. Also impressive are the performances given by her two leading men. Robert Montgomery is usually a pretty likable, congenial fellow. As Philip Monrell, he is extremely blase and passive, providing a disarming exterior to the turmoil of jealousy and possessiveness which we know is inside him. In contrast, it is nice to see the often villainous George Sanders playing a kind, gentle character like Ward Andrews. Both men do a wonderful job of keeping you guessing about their intentions. Once they are revealed, they keep you further in suspense by making you wonder how much each knows about the other. Lucile Watson is the sickly mother; she is doting and overly protective toward her son, but how much does she really know about him? The cinematography adds a lot of suspense and depth to the interesting story. This is a fascinating look at a paranoiac, a 1940s abbreviation for someone with paranoid schizophrenia. Although modern viewers might disagree with some of the psychiatric principles mentioned in this film, the principles of human nature and reason gone awry are still vitally true.
For the Blogathon
This is my entry in The 5th Wonderful Ingrid Bergman Blogathon, hosted by Virginie Pronovost of The Wonderful Wide World of Cinema. Today would have been the great Swedish beauty's 105th birthday. Sadly, it is also the thirty-eighth anniversary of her death, since she died on her 67th birthday.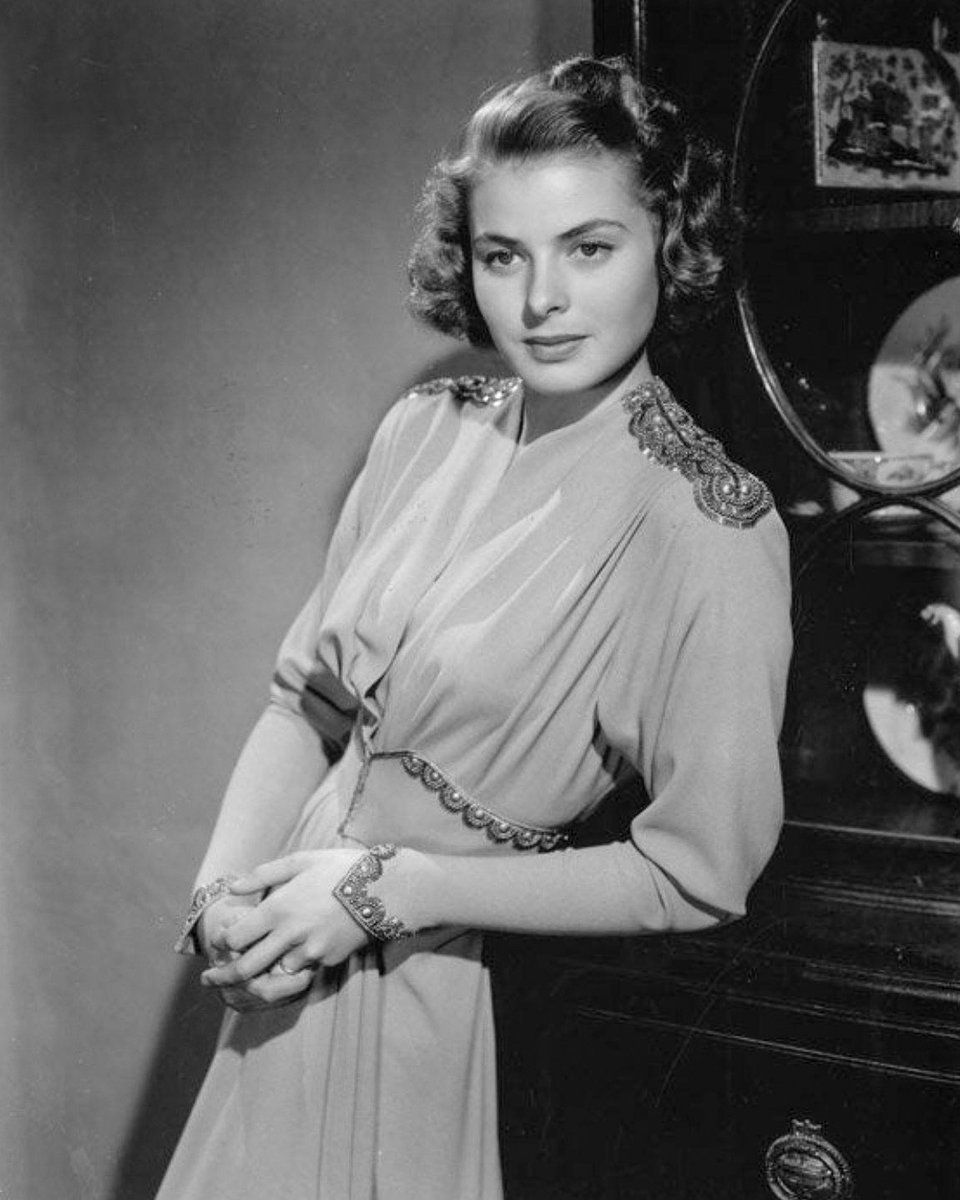 Ingrid Bergman won her first Academy Award for Gaslight from 1944. In this film, she played a woman who is tormented by her greedy husband (Charles Boyer), who is trying to convince her that she is insane. In another film of hers which received great acclaim, Notorious from 1946, she played an American agent who is being slowly poisoned by her Nazi husband (Claude Rains). It seems that playing tortured wives endangered by their husbands was a forte for Miss Bergman, since she plays a similar role in Rage in Heaven. Perhaps this was the first role in that mold, since the others followed a few years later. Ingrid is perfect for such roles. Her big eyes shine with fear for her safety and that of others, yet her soft mouth shows a lingering compassion and affection for her dangerous spouse. Her accent makes her seem sophisticated and mysterious yet definitely foreign, which could be a disadvantage for the wife of a manipulative man. She looks at once mature, and thus wise, and youthful, and thus vulnerable. All Ingrid Bergman fans should watch this less known masterpiece of hers.
Happy Birthday, Ingrid!
---

Follow us to bring back the Code and save the arts in America!
We are lifting our voices in classical song to help the sun rise on a new day of pure entertainment!
Only the Code can make the sun rise on a new day of pure entertainment!