Today is Sunday, so it's time for the second 100 New Code Films article of the week. August is #AMonthWithoutTheCode2020 here at PEPS, but we are continuing to review two articles per week in this series. These articles are reviews of films I watched during July. The purpose of this series is to watch and review American Breen Era (1934-1954) movies which I have never seen before. Thus, I am broadening my knowledge and understanding of Code films by watching as many of them as possible.
Today's topic is When Ladies Meet from 1941. This is another film suggested by Amazon Prime Video based on other films we have watched. The premise and the cast sounded very interesting. I have only seen a few films with top Hollywood star Joan Crawford, so I am expanding my list of Crawford films I have seen. I watched this film on July 30, as one of the last Code films I saw during July.
Plot
An authoress finds herself in much the same predicament as the character of her latest novel when she falls in love with her charming married publisher. She won't listen to her beau's insistence that she is making a fool of herself, since she is certain that love outweighs convention. He arranges to meet the publisher's wife so that he can let the authoress meet her rival. When he brings the beautiful wife to a mutual friend's country house, the ladies meet and make friends, each not knowing who the other is.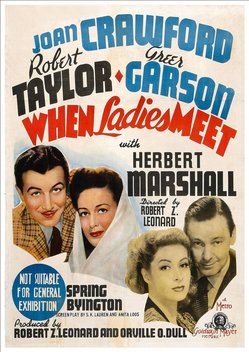 Cast
This movie stars Joan Crawford, Robert Taylor, and Greer Garson. Supporting actors include Herbert Marshall, Spring Byington, Rafael Storm, Mona Barrie, and Max Willenz.
Production Notes
This movie was directed by Robert Z. Leonard. It was produced by Orville O. Dull and Robert Z. Leonard. The production company was MGM. The screenplay was written by S. K. Lauren and Anita Loos. It was based on the play by Rachel Crothers. It was nominated for an Academy Award for Best Black-and-White Art Direction – Interior Decoration for Cedric Gibbons, Randall Duell, and Edwin B. Willis.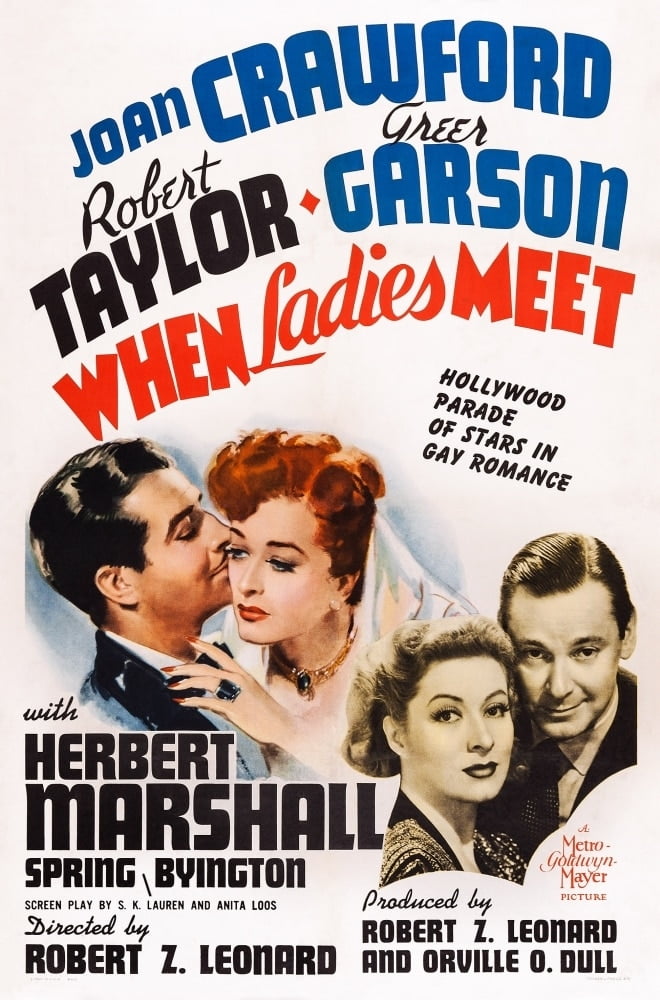 Code Compliance
This is a non-Code film. Having been released in August 1941, it is from the Non-Code Era, the year-long period from May of 1941 to May of 1942 when Joseph I. Breen left his job as head of the Production Code Administration to work as an RKO mogul. In his absence, the PCA was unofficially led by usual second-in-command Geoffrey Shurlock, who allowed moral standards to slip immediately, foreshadowing the decay which would happen under his official leadership after Mr. Breen's retirement in 1954. I decided to conclude Mr. Shurlock's birth week with a review of a non-Code film. This is one of those infuriating yet fascinating films from the Greater Breen Era which has enough questionable elements to make you wonder whether it is a Code film. The basic problem is that, according to IMDb, this film's script is virtually identical to that of the scandalous play and its pre-Code original from 1933. That is not surprising, since this film is full of pre-Codish content. The views on marriage are particularly Code-violating. Although Clare (Greer Garson) is devoted to marriage, her husband, Rogers (Herbert Marshall), apparently has no regards for matrimonial vows, having had numerous affairs during their marriage. Mary (Joan Crawford) seems to have absolutely no qualms about taking another woman's husband. Bridget (Spring Byington) is a comedy relief character whose flustered, silly dialogue thinly camouflages most of the risque lines. When surprised to see that her guests are up in the middle of the night, she says, "Well, for goodness sake, what's the matter with you people? Don't you know what beds are for? Or do you? Or is that the wrong thing to say?" Unfortunately, the PCA didn't tell the filmmakers that this very suggestive line was the wrong thing to say. Another very strange element is Bridget's constant companion, Walter (Rafael Storm), who is not her husband but seems to live with her. However, she seems to be romantically pursuing him rather than already having a relationship. His apparent lack of interest in her or any other female character has led some to speculate that this decorator is a pansy. Either way, the scenario is unacceptable. Ultimately, this film would have been much stronger if it had replaced these pre-Code elements with new, Code compliant material.
Recommendation
I recommend this film for its artistic merits. If one doesn't consider its Code violations, it is an entertaining film. It contains some excellent acting, a strong cast, and a well-crafted story. I thought the actors convincingly created their respective parts. I enjoyed Joan Crawford's performance as the leading lady. She creates an emotionally compelling character, making us sympathize with Mary's feelings for a married man, which adds to the Code violations of the story. I definitely am gaining a deeper appreciation for Joan's acting, although I still find her features a little harsh. Greer Garson is wonderful in her role. Far from being a plain wife, she is beautiful and vibrant, making us truly sympathize with her plight. Robert Taylor is funny and a bit zany in this comedic role, but he is likable as he orchestrates the complicated plot. Herbert Marshall is both suave and droll as Rogers, and he is very effective in the role. In all, this is an entertaining film, but it could have been even better if it had met Breen Era standards. If you want to see an example of a Non-Code Era film which is still an entertaining movie, I recommend this one.
---

Follow us to bring back the Code and save the arts in America!
We are lifting our voices in classical song to help the sun rise on a new day of pure entertainment!
Only the Code can make the sun rise on a new day of pure entertainment!