Today is Saturday, so it's time for this week's first 100 New Code Films article. During 2020, I have determined to watch and review 100 American Breen Era (1934-1954) films which I have never seen before as part of this series. The purpose of this project is to enlarge my knowledge of Code films, see many enjoyable films I have never watched before, provide a steady stream of content for this website, and to come closer to my goal of watching every Code film ever made. Thousands of American films were made during the twenty years when Joseph I. Breen enforced the Code as the head of the PCA, so one hundred movies is just a small dent!
Today's topic is The Red Danube from 1949. This movie was recommended by Amazon based on some of the other films we have purchased through Prime Video. The cast looked very interesting to Rebekah. After I learned that this film prominently features a character who is a ballet dancer, I was very eager to watch it, too. We bought this film on Prime Video and watched it last Sunday afternoon.

Plot
After World War II, British Army personnel are sent to Vienna to help send citizens back to their respective Allied countries, the most difficult ally being Russia. The team includes a colonel who lost one of his arms, a charming, romantic young officer, and a beautiful female officer who is unrequitedly in love with him. In Vienna, they are billeted in a convent run by a kind, wise Mother Superior, which is awkward for the irreligious colonel. The young officer is entranced by a beautiful girl who prays in the church, and he learns that she is a reclusive ballet dancer. Little does he know that she is a Russian prima ballerina who is hiding her identity to avoid being sent back to her native country. The commanding officer is torn between his duty and his growing concerns over Russian treatment of its citizens.

Cast
This movie stars Walter Pidgeon, Ethel Barrymore, Peter Lawford, Angela Lansbury, and Janet Leigh. Supporting actors include Louis Calhern, Francis L. Sullivan, Melville Cooper, Robert Coote, and Alan Napier.

Production Notes
This movie was directed by George Sidney. It was produced by Miklos Rozsa. The production company was MGM. The screenplay was written by Gina Kaus and Arthur Wimperis, based on a 1947 novel by Bruce Marshall called Vespers in Vienna. This film was nominated for an Academy Award for Best Black-and-White Set Decoration for Cedric Gibbons, Hans Peters, Edwin B. Willis, and Hugh Hunt.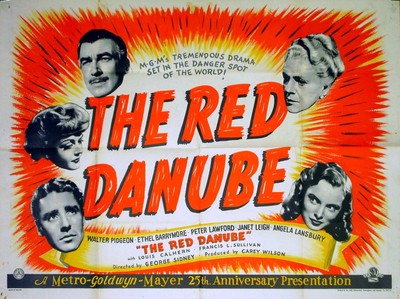 Code Compliance
This is a perfect Code film. It is dramatic, inspiring, emotional, bold, and motivating. Firstly, it features no Code violations. Secondly, it handles difficult topics well. Set in the days after World War II, this movie unflinchingly depicts war-torn Vienna. From children in rags to buildings which have been bombed, the devastation of war is evident in the background scenery, minor details, and main plot points. The depiction of Russia, a war ally who is becoming a threat to democracy and freedom, is very bold and powerful. The difficult topic of suicide is also handled very tactfully and properly. A final element which makes this a perfect Code film is the depiction of faith. The nuns and the convent are shown through a very respectful and admiring light, although Catholic faith is not thrust upon the viewers. This film is unique in the fact that, although it prominently features Christianity, one of the main sympathetic characters, Col. Michael "Hooky" Nicobar (Walter Pidgeon), is irreligious. He even makes disparaging remarks against Catholics, calling them "superstitious" in front of his religious comrades, who are obviously offended. However, as the film progresses, we come to understand why he is a bitter atheist. Mother Superior, played with saintly wisdom by Ethel Barrymore, does not tactlessly try to convert him. She respects his lack of faith while trying to understand why he bears such a grudge against God and His worshippers. Ultimately, Hooky's bitterness is healed by the love and compassion of others.

Recommendation
I highly recommend this film. It is a masterpiece. The acting is truly magnificent. Walter Pidgeon is surprisingly gruff at first, yet we quickly realize that he has a tender heart beneath his curt military exterior. The effect of his empty sleeve is very convincing. Although I knew his left arm was hidden in his coat, it was very easy to believe that he really was a veteran who had lost his arm in the line of duty. Ethel Barrymore is wonderful as Mother Superior. Much like Peggy Wood's Mother Superior in The Sound of Music from 1965, she is patient, wise, kind, clever, and willing to admit her mistakes. It is very touching when she asks for Col. Nicobar's forgiveness after she disapproves of the way he does his duty. Since Miss Barrymore really was a devout Catholic, she plays a woman of the cloth with great sincerity. Peter Lawford is very emotional as Major John "Twingo" McPhimister. He shows great dramatic acting in this role of a soldier who is willing to disobey duty to save the woman he loves. He also shows great changes in his character as the film progresses. He starts as a flirtatious ladies' man with numerous lady friends, yet he becomes extremely devoted to one woman after meeting Maria (Janet Leigh). He also grows very serious due to his concern for her. Janet Leigh is lovely and also very dramatic as Maria Buhlen, the Russian ballerina desperate to avoid being found by the authorities of her country. She is very religious, serious, and shy, yet she eventually warms up to the persistent Twingo. She doesn't do much dancing in this film, but the ballet she does do is very accurate. Her refined, serious manner makes her very convincing as a ballerina. Angela Lansbury is the final member of the main cast of all-star actors. She plays the British servicewoman who is deeply in love with Twingo but knows that he is more interested in foreign beauties. We see how jealous she is of his girlfriends in one of her first scenes, when she stabs a picture of his latest Italian sweetheart with a letter opener. However, she ultimately wants him to be happy, so she ascertains the identity of Maria for him. She is a very selfless, noble woman. The supporting cast is wonderful, as well. This movie does a wonderful job of interspersing moments of humor, such as the British military personnel singing a round of "Row, Row, Row Your Boat" while driving, with very tender moments, like Hooky giving the scarf his daughter knitted for him to a waif he nicknames Mickey Mouse (Janine Perreau) as a Christmas present, and also very serious moments, such as the scene of a train full of dirty, cold, and hungry unwanted Russian citizens sitting in a crowded, dark railroad car on Christmas Eve. To quote a frequently used expression in this film, this is a wonderful movie "like nobody's business!"
---

Click the above image to buy this movie on DVD at Amazon and support PEPS through the Amazon Affiliate program!
Follow us to bring back the Code and save the arts in America!
We are lifting our voices in classical song to help the sun rise on a new day of pure  entertainment!
Only the Code can make the sun rise on a new day of pure entertainment!