Today is Sunday, so it's time for the second article of the week in 100 New Code Films. This is the conclusion of the first week in June, the 23rd week of the year. In all but four weeks this year, I am going to watch and review two movies from the American Breen Era (1934-1954) as part of this series. In my reviews, I mention the cast, the production crew, any awards the film received, the movie's Code classification, and my recommendation of the film. I hope that this series is inspiring my readers to seek out some of these movies to rewatch or see for the first time.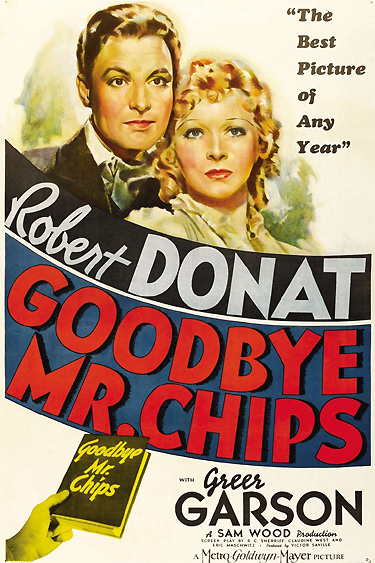 Today's topic is Goodbye, Mr. Chips from 1939. Like All About Eve, the movie I reviewed earlier in the week, this film is one of the movies on my list of twenty-eight major Academy Award-winning films from the Breen Era. I hope to watch all of these films during this year. Now that I have seen these two movies, I have watched seven films from this list. I decided to watch this film because it is a tribute to the tradition of education, which is now threatened. We bought this movie on Amazon Prime Video and watched it on Sunday.

Plot
An old schoolmaster, who has served Brookfield School for sixty-three years, remembers his many years at the college. He recalls his start at the school as a shy twenty-year-old Latin teacher who struggled to keep order in his class and gain the affection of his students. Years passed, and he was a shy middle-aged teacher. During one vacation, the German teacher at the boys' school, a friend of his, invited him on a hiking trip in Austria. On that trip, he met a beautiful young woman who was taking a bicycling trip. They found themselves falling in love, and they eventually married. She helped him to become one of the best loved teachers at the school, using his humor and general likability to win the hearts and minds of the boys he taught. Through the years, the devoted teacher stays with the school, eventually fulfilling his dream of becoming headmaster during World War I.

Cast
This movie stars Robert Donat, Greer Garson, and Terry Kilburn as four different characters in four generations of the same family. Supporting actors include John Mills, Paul Henreid (credited as Paul Von Henried), Judith Furse, Lyn Harding, and Milton Rosmer.

Production Notes
This movie was directed by Sam Wood. It was produced by Victor Saville. The production company was MGM. The screenplay was written by R. C. Sherriff, Claudine West, and Eric Maschwitz. It came from the book of the same name by James Hilton. This movie was nominated for Academy Awards for Best Picture, Best Actress for Greer Garson, Best Director for Sam Wood, Best Screenplay was R. C. Sherriff, Claudine West, and Eric Maschwitz, Best Sound Recording for A. W. Watkins, and Best Film Editing for Charles Frend. Robert Donat won an Oscar for Best Actor.

Code Compliance
This is a perfect Code film. It is totally free from objection. In addition, it is extremely inspiring. It shows the importance of education, learning, respect, and wisdom. It shows the value of true love and the help a good wife can be to a man. It shows the necessity of treasuring everything you love when you  have it, since you never know how long things may last. Simply put, this movie has the wonderfully uplifting, brightening, and inspiring quality which constitutes a perfect Code film. Such movies often leave you feeling inspired, hopeful, and motivated. This is just such a movie.

Recommendation
I highly recommend this film. It is a masterpiece. The acting is exquisite. Robert Donat does a magnificent job of embodying the schoolmaster throughout the years of his life, retaining the same wonderful spirit while playing the man at different ages. Greer Garson is marvelous in this part. She is so sweet, beautiful, and gentle in this part. One can see why this part helped establish her American career. Young Terry Kilburn is adorable in all four of his roles. It is so interesting that, by the end of the film, he is playing the great-grandson of his first character in the story. The family resemblance is so striking that all four generations look identical as young boys. However, the young lad does an excellent job of making the boys' personalities seem different. Paul Henreid is very noteworthy as Staefel, the German teacher who befriends Chipping (Robert Donat). With a mustache and a different name, he may be difficult to recognize here if you only know him as Victor Laszlo in Casablanca from 1943. However, his deep voice and charming accent are recognizable, as is his endearing warmth in this part. The rest of the casting is excellent, as well. Many of the non-British actors, like Terry Kilburn, do admirable British accents. A beautiful old British school, Repton School in Derbyshire, provided the perfect background to this story, and the footage in Austria was also beautiful. The love story is such a charming addition to this story of academia. This is indeed a wonderful movie.
For the Blogathon
I signed up to write about this blogathon for The Robert Donat Blogathon, which is being hosted by Maddy of Maddy Loves Her Classic Films on July 3-5. However, I forgot about that previous commitment when I decided to watch and review this film for this week. Nevertheless, I am still considering this an entry in Maddy's blogathon, albeit a very early one. I plan to publish another entry in the blogathon during those actual dates.
This is the first movie I have seen with Robert Donat. I enjoyed his performance in this film immensely. It is a commonly believed myth that Clark Gable won the Oscar for Best Actor in 1939 for his famous performance as Rhett Butler in Gone with the Wind. His nomination, in fact, lost out to Robert Donat's performance as Charles Edward Chipping, "Mr. Chips," in this movie. I am very glad that it did. Although Clark Gable gave a wonderful performance, I am glad that some other film besides David O. Selznick's Civil War epic was honored with a win at the 1939 Academy Award ceremony. Robert Donat deserves great credit and acclaim for the way he transforms himself in this movie. At the start of the film, he is a very old man. In many ways, he is much more energetic and enthusiastic as an eighty-three-year-old gentleman than as a young man at the beginning of the film. When the flashback begins, he becomes sixty-three years younger as we see him at age twenty, going to Brookfield for the first time. He not only looks very different, clean-shaven, smooth-skinned, and dark-haired, but he acts very different. Throughout the film, he makes us laugh, he makes us cry, he charms us, and he inspires us. His role as the beloved old professor is so convincing that I found it hard to believe that he was anything but a wise old sage. I look forward to seeing more movies with the wonderful Mr. Donat.

On Education
I am writing about this film as a tribute to education. Due to the current pandemic, schools of all levels have been shut down for months. Teachers have been turned into students of technology for online teaching, and students have been relegated to difficult online studies. In times like these, classes, technology, and grades can become so important that the true meaning of education can be forgotten. A movie like this reminds us what education really is, or at least, really should be. Education is something which should instill the importance of knowledge and learning in children at a young age, so they will cherish it throughout life. Such learning goes far beyond the schoolroom and will last students throughout their lives, driving them to seek knowledge and wisdom for themselves. I dedicate this article to the great teachers of all time, like Mr. Chips, who inspire students to reach their fullest potential as human beings. I will finish this loving dedication with a quote from Mr. Chips himself and a prayer that people never put priority on germs, masks, and social distancing above words, books, and personal betterment.
"I know the world's changing, Dr. Ralston. I've seen the old traditions die, one by one. Grace, dignity, feeling for the past – all that matters here today is a fat banking account. You're trying to run the school like a factory, for turning out money-making machine-made snobs. You've raised the fees. And in the end, the boys who really belong at Brookfield will be frozen out, frozen out. Modern methods, intensive training – poppycock! Give a boy a sense of humor and a sense of proportion and he'll stand up to anything."

Click the above image to buy this movie on DVD at Amazon and support PEPS through the Amazon Affiliate program!
Follow us to bring back the Code and save the arts in America!
We are lifting our voices in classical song to help the sun rise on a new day of pure  entertainment!
Only the Code can make the sun rise on a new day of pure entertainment!