A few days ago, the April-May issue of Shine On Hollywood Magazine came out! This is the Women's Issue. The cover story is an in-depth interview of Lydia Cornell, famed actress from the 1980s-90s. Her story, as recounted in her questions and a timeline by my colleague John Scholz, is very gripping and inspiring. On the left side of the cover, the four articles I wrote for this edition are listed. First is my first feature-length article for the magazine, a full-length interview of Katie Phan, a blind woman who has found strength and endurance through judo (pages 88-111). Second, a brief history of the tradition of Golden Globes Ambassadors, formerly called Miss (or Mr.) Golden Globe. My article highlights the two ladies chosen as Miss Golden Globe in 1963, the title's first year, Eva Six and Donna Douglas (pages 12-19). This will be an ongoing series, furthering later Ambassadors in every future issue. Third, a short article about the first Golden Globes ceremony ever, which took place in 1944 to honor top films from 1943, such as For Whom the Bell Tolls, Song of Bernadette, and Watch on the Rhine (pages 10-11). Finally, my review of a new ballet, Of Love and Rage by Alexei Ratmansky to music by Aram Khachaturian, which we saw performed by the American Ballet Theatre at the Segerstrom Center for the Arts in Costa Mesa (pages 38-43). Click the cover image or this link to read this magazine online for free. It is full of wonderful positive stories!
I also have recently had two articles published in the national edition of the Epoch Times. On April 26, 'The Grapes of Wrath' Versus 'The River': Desperation in Rural America came out online, appearing in print on April 30. In this article, I compared John Ford's 1940 classic The Grapes of Wrath with Mark Rydell's 1984 farm drama The River. I pointed out the similarities between these two films, which both star farmers named Tom, Henry Fonda and Mel Gibson respectively. However, I concluded that the Code helped the first film be the superior one.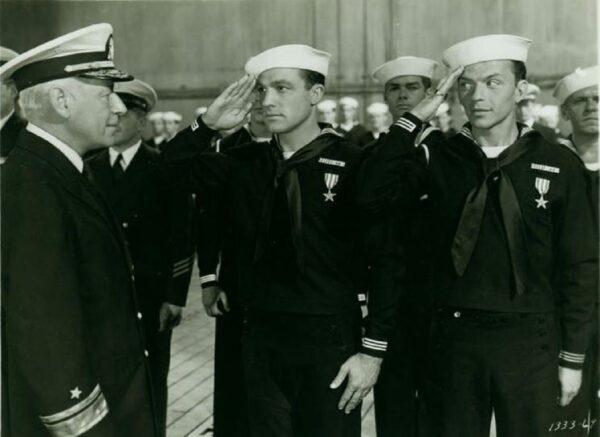 On May 12, 'Anchors Aweigh' From 1945: Music, Patriotism, and Helping Others came out online. It appeared in print on May 14. This is a Popcorn & Inspiration review of one of my favorite movie musicals, which stars Gene Kelly, Frank Sinatra, and Kathryn Grayson. I suggested this Joe Pasternak production as a good first classic film for musical-lovers to watch.
Next week, I will be able to provide the link to my next Epoch Times article, which will honor Memorial Day. See you then!
Follow us to bring back the Code and save the arts in America!
We are lifting our voices in classical song to help the sun rise on a new day of pure entertainment!
Only the Code can make the sun rise on a new day of pure entertainment!