Today is Sunday, so it is time for another article about a new Code film. This is my second article this week in PEPS's series about Breen Era (1934-1954) movies which we have never seen before, 100 New Code Films. I created this series to ensure that I watch a large amount of new Code films this year. One can get so busy that he forgets to take time to seek out hitherto unseen classics. This series makes watching new Breen Era films a part of my weekly schedule. Whenever possible, I like to combine articles in this series with entries in blogathons. This article is my first time doing so this year.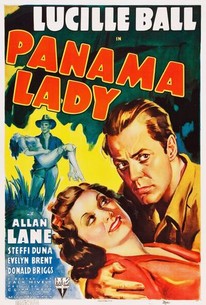 Today's topic is Panama Lady from 1939. This film is a VHS which we have in our collection. I have considered it as a possible new Code film topic for a while. When I read its description at the beginning of this week, I determined that it would double well as a topic for The Butlers & Maids Blogathon, which is happening this weekend, since Lucy repays a debt by being a housekeeper. I watched this film on Thursday.

Plot
An American girl loses her job as a chorus girl in a Panamanian bar when bad business forces the proprietress to cancel the floor show. She asks her fiancé, an American pilot, to marry her right away, but he stalls by saying he must take a flight on business. After she stows away, only to find out that he is involved with smuggling, she talks her old boss into giving her a job as a hostess. When an oil-seeker has all his money stolen by another hostess while on a drunken bender in their bar, the wrap is pinned on her. Instead of serving time in jail, the handsome young man allows her to repay the debt by being his housekeeper in his remote tropics abode.

Cast
This film stars Lucille Ball, Allan Lane, Donald Briggs, and Evelyn Brent. Supporting actors include Steffi Duna, Bernadene Hayes, and Abner Biberman.

Production Notes
This film was directed by Jack Hively. It was produced by Cliff Reid. The production company was RKO Radio Pictures. The screenplay was written by Michael Kanin. The story was written by Garrett Fort.

Code Compliance
This is a good Code film. It is free from objectionable qualities. It doesn't violate any aspects of the Code. Thus, it is unlikely to be offensive to anyone. The language is clean, the costumes are decent, and there are no suggestive situations. This film is acceptable for people of all ages, backgrounds, and creeds.

Recommendation
I recommend this film to my readers. It is an entertaining and unusual little film. The acting is very effective. If you are expecting the comical Lucy of "I Love Lucy" or her 1940s screwball comedies, you won't find her in this film. She is very serious and dramatic in this role. I find her very convincing in a serious role, although she was peerless as a comedienne. Allan Lane is a very likeable leading man. He seems a little rough at first as the oil man who drinks heavily and flirts recklessly. However, Lucy quickly wipes away the grime to find the kind gentleman he was before too many years in the jungle. Steffi Duna is surprising and deceptive as Cheema, the native girl who works as Allan Lane's maid. Her quick switching between affability and fierce jealously are intriguing, providing great tension. The jungle scenery is very convincing. I don't know where they filmed this, but it looks like it was filmed in a South American rainforest. I really enjoyed this movie. At only sixty-five minutes long, it is certainly worth the time to watch it to discover a different side of Lucille Ball's talent.

For the Blogathon
This is my contribution to The Butlers & Maids Blogathon, which is being hosted this weekend by Paddy Lee of Caftan Woman and Rich of Wide Screen World. This blogathon is dedicated to servants of the silver screen, whether they be butlers, maids, gardeners, chauffeurs, or any other kind of helper. After all, such people are vital parts of households as well as film plots, adding a lot of great depth. It is high time that we honor them with a blogathon.
When Lucy (Lucille Ball) is framed for stealing Dennis McTeague's (Allan Lane) bankroll, she has no choice but to become his housekeeper. He takes her to his remote shack in the jungle, where he already received maid duties from a native girl, Cheema (Steffi Duna).  He appoints Lucy as Cheema's boss, much to the latter's chagrin. She has romantic feelings for her handsome employer, so she is jealous of the new woman. As McTeague's housekeeper, Lucy is much more than a servant. Rather than wallow in her own misery and evade McTeague's intoxicated advances, she decides to clean up his house and straighten out his life. He soon realizes that his casual attraction to her is more than just fascination. He overcomes his initial aversion to cleanliness to appreciate what she does for him. In short time, she makes friends with Cheema and puts McTeague's lazy assistant, Elisha (Abner Biberman), to work, as well. Lucy proves that it doesn't take much scrubbing to find decency under the scruffy exterior of a man who is good at heart. Lucy concludes, "I'm going to take just one more crack at making a gentleman out of you, and if that doesn't work, we're really in trouble!" Sometimes a maid has to take matters into her own hands to reform the master of the house, since it takes more than a broom to do some jobs!
Unfortunately, this film isn't sold on Amazon. You'll have to find an old VHS copy, such as we have.
Follow us to bring back the Code and save the arts in America!
We are lifting our voices in classical song to help the sun rise on a new day of pure entertainment!
Only the Code can make the sun rise on a new day of pure entertainment!