We are now in the third week of 2020. That means it is time for the fourth article in my new series about Breen Era movies which I have never seen before, 100 New Code Films. I am going to try to watch two new Code films every week. This would result in my watching 104 movies in all, so I will be able to watch only one new movie a couple of those weeks. I am excited about this opportunity to discover so many wonderful "new" classic films share them with my readers!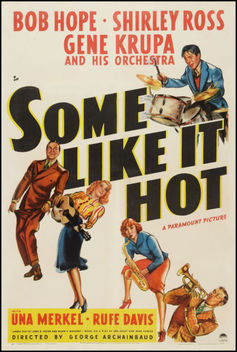 Today's topic is Some Like It Hot from 1939. This movie should not be confused with the 1959 Billy Wilder film of the same title. This musical comedy, which stars Bob Hope and Shirley Ross, is not an original. It was not even made by the same studio. To avoid confusion, this film was renamed Rhythm Romance when it was released on television by Universal in the late 1950s. We have had this film on VHS in our collection for years in a case bearing the alternate title. If you have seen this movie yourself, you doubtless also have an old VHS, since this film has never been released to DVD. I watched this movie for the first time on Monday.

Plot
A carnival barker who considers himself a show business promoter and his troupe are at the end of their rope. Their side show on the pier has closed, and all they have left is a wax museum which they are about to lose if they don't pay the rent. The barker wants to convince the head of the pier entertainment to hire his band with him as MC to entertain at the pavilion, but the gambler doesn't think that he will ever be a success. However, at his office, the barker has good luck when he meets a pretty young singer who wants to take a chance on joining his troupe, since she finds him quite charming.

Cast
This movie stars Bob Hope, Shirley Ross, and Una Merkel. This film also features Gene Krupa, playing himself, and his band. Supporting actors include Rufe Davis, Bernard Nedell, Frank Sully, Bernadene Hayes, and Richard Denning.

Production Notes
This movie was directed by George Archainbaud. It was produced by William C. Thomas. The production company was Paramount Pictures. The screenplay was written by Lewis R. Foster and Wilkie C. Mahoney. It was based on a play, The Great Magoo, by Ben Hecht and Gene Fowler. The title song was written by Gene Krupa, Remo Biondi, and Frank Loesser. "The Lady's in Love" was written by Burton Lane with lyrics by Frank Loesser.

Code Compliance
This is a good Code film. I can state without reservations that this film contains nothing offensive or unacceptable in any way. It is totally decent, clean, and wholesome humor from start to finish. The romance is squeaky clean. Every kiss is as delicate as can be. The jokes are all family stuff which is genuinely funny without being crude or vulgar. They knew how to make movies for everyone in 1939!

Recommendation
I highly recommend this film to my readers. It is a very entertaining little film. It has great acting and wonderful music from Gene Krupa and his fabulous band. Bob Hope is funny and lovable as the barker who thinks that he is a big promoter. Shirley Ross is very cute in this role. Her chemistry with Bob Hope is excellent, and her singing is lovely. She is a brunette in the other two films of hers which I have seen, but I think I like her better with lighter hair, as in this film. The rest of the cast is great, as well. This is not a complex movie. It is just a simple bit of fun entertainment. This is certainly not one of Bob Hope's most famous movies, but it is worth watching. If you can find this movie, it is a very enjoyable way to spend an hour and eleven minutes!
Unfortunately, this film is not sold on Amazon, since it has never been released on DVD. You can probably find an old VHS on Ebay.
Follow us to bring back the Code and save the arts in America!
We are lifting our voices in classical song to help the sun rise on a new day of pure  !
Only the Code can make the sun rise on a new day of pure entertainment!