Today is Sunday, so it's time for another 52 Code Films article. Every week, I watch at least one movie from the American Breen Era (1934-1954) which I have never seen before. You see, there are so many magnificent classic films that it is almost impossible to see even all the noteworthy ones, let alone the hundreds of obscure films! If you are a casual purveyor of old movies, you probably have seen some of the most famous and acclaimed classic films. However, if you are a really devoted fan of the Golden Age of Hollywood, you probably feel, as I do, overwhelmed by the abundance of wonderful old movies out there which you have yet to see! While it is almost impossible to be such an authority that you can state that you have watched any Code film which is mentioned, the good thing is that you can probably never run out of "new" old movies to watch. I created this series to make sure that I consistently watch new Code films throughout the year.
Today's topic is Mr. Belvedere Goes to College from 1949. Last week, my new Code film was Du Barry Was a Lady from 1943. I found this movie in our VHS collection, so I did a little research on it before deciding on it for my new Code film of the week. While scrolling through the trivia at IMDb, I saw that that movie was the film debut of Zero Mostel. The name was familiar, but I couldn't remember what films of his I had seen before. I looked at his filmography to find out. While scrolling through the films he made, I saw the title Mr. Belvedere Rings the Bell. I wondered if that could be the same Mr. Belvedere who is brilliantly played by Clifton Webb in Sitting Pretty from 1948. I did a little research, and I was delighted to learn that the film I had seen was the third film in the Belvedere trilogy. The second film, I realized, was Mr. Belvedere Goes to College and could be bought on Amazon Video. I watched this film on Monday and decided to make it my new movie for this week.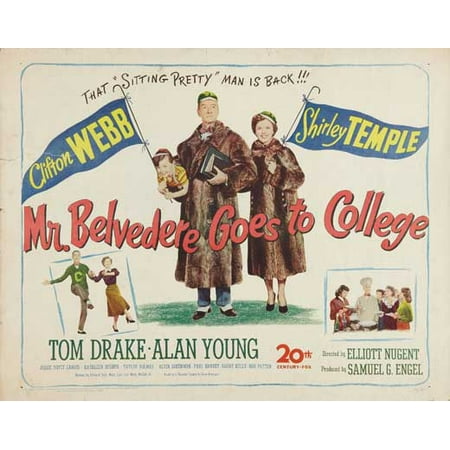 Plot
A middle-aged self-professed genius achieved great fame when he wrote a book about the doings in a gossipy suburban community called Hummingbird Hill. Unfortunately, the numerous libel suits which followed prevented him from also making a fortune. Thus, he is very eager to claim a $10,000 award from a publisher for his outstanding work. However, one has to be a college graduate to receive the cash prize, and, although very learned, this brilliant gentleman received no formal education. Thus, he asks the dean if he can enroll in the university to complete all four years of college in one year. The dean and the president of the university decide to make a special exception in his case and agree to let him enroll if he can pass an entrance examination. He passes with flying colors, and so they happily admit him, the only reservation being that he not use the university for any personal publicity. He begins his life as a freshman, starting by finding his room at the dorms. He must share a room with a pompous sophomore and a hapless fellow freshman. The dimwitted sophomore takes full advantage of his position as an upperclassman by bossing around the two freshman. However, the genius quickly makes it clear that he intends to maintain his dignity and order even under these circumstances. He soon meets a tenacious senior coed who is a reporter for the school paper. She thinks that his presence at the university would make a great story, but he makes it clear that he has no intention of giving her an interview. However, the tenacious young lady won't take no for an answer. She follows him to the employment center, where she sees the fellow student who is very interested in her. The older freshman is seeking employment, so he takes the job as a "hasher" at the sorority where the young man's mother is the supervisor. The job basically consists of helping prepare the meals and serving the food to the rowdiest group of girls on the campus. The organizational expert immediately befriends the Scandinavian cook and quickly sets to work at reforming the wayward coeds. Little does he know that the indefatigable reporteress has been trailing him and secretly taking pictures of him and recording his outspoken observations about college life. Meanwhile, her beau wonders why she won't let him come into her apartment. Little does he know that she has a secret which she is eager to keep. The genius soon finds out, and it is up to him to keep the young woman from publishing a story which will get him expelled, all while trying to bring the two young people together!

Cast
The self-professed genius who goes to college is Lynn Belvedere, played by Clifton Webb. The female reporter who goes to the same college is Ellen Baker, played by Shirley Temple. Her fellow student who is interested in her is Bill Chase, played by Tom Drake. Mr. Belvedere's pompous sophomore roommate is Avery Brubaker, played by Alan Young. His freshman roommate is Cornelius "Corny" Whittaker, played by Alvin Greenman. Bill's mother, who oversees the sorority where Mr. Belvedere gets a job, is Mrs. Chase, played by Jessie Royce Landis. The dean of the university is Dr. Gibbs, played by Taylor Holmes. The president of the university is Dr. Keating, played by Paul Harvey. The Scandinavian cook is Marta, played by Lotte Stein.

Production Notes
This film was directed by Elliott Nugent. It was produced by Samuel G. Engel. The production company was 20th Century Fox. The screenplay was written by Richard Sale, Mary Loos, and Mary C. McCall Jr. The character of Lynn Belvedere is based on the character which Gwen Davenport created in her 1947 novel Belvedere. He was first played by Clifton Webb in Sitting Pretty in 1948, for which performance Mr. Webb was nominated for an Academy Award for Best Actor.

Code Compliance
This is a good Code film. It is very decent, wholesome, and clean. There are no objectionable qualities in it. There is no inappropriate, offensive, or unacceptable content of any kind. This film contains nothing but enjoyable, humorous, and witty material. It is amusing because it is intelligent and clever. The dialogue, the scenarios, and the situations are uniquely hilarious without including crude or unacceptable content, such as that which is so popular in today's films. That's the beauty of the Code!

My Opinion
This is an excellent film. I really enjoyed it. I have always loved Sitting Pretty, and it is undeniable that the best part of that film is Mr. Belvedere. I thoroughly enjoyed seeing the incomparable Clifton Webb reprise his role as the droll genius who has done everything, been everywhere, and taught everyone. He is just as good in this movie as in the first Belvedere film. I enjoyed seeing him in a different setting and with a different supporting cast. Shirley Temple is really cute in this movie, and the way she interacts with the remarkable Mr. Belvedere is very charming. Tom Drake is also excellent in his part. The rest of the cast is great, as well. The scripting is very clever and unique. The depiction of a 1940s post-war college is really interesting and very informative. Add some great humor, such as Mr. Belvedere wearing a huge fake beard after shaving during "Whisker Week," and you have a truly enjoyable film.

Recommendation
I highly recommend this film. Classic film fans will love it. If you have ever enjoyed a film with Clifton Webb, you will love seeing him as a middle-aged college student! Shirley Temple fans will also enjoy this chance to see her in a serious role as a mature young woman. If you like Sitting Pretty, you must see Mr. Belvedere Goes to College. I think that it is just as good as the first movie, although it is different. It is interesting to learn more about the character of Lynn Belvedere through his further adventures. Fans of all age can appreciate this humorous, delightful movie. It is an obscure classic!
Click the above image to buy or rent this movie on Amazon Video and support PEPS through the Amazon Affiliate program!
This week, I watched one extra new Code film, Mr. Belvedere Rings the Bell from 1951, the third Belvedere film, which I will review some other time.
Click the above image to buy this movie on DVD at Amazon and support PEPS through the Amazon Affiliate program!
This year, PEPS is celebrating the holidays with a blogathon! It is called The Happy Holidays Blogathon, and it will run December 6-8. It is all about films which feature the winter holidays. Eligible holidays include Thanksgiving, Christmas, Hanukkah, Kwanzaa, News Years, The Twelve Days of Christmas, The Epiphany, Russian Christmas, and Russian New Years! Whether it is just one scene or the whole film, this is your chance to write about your favorite holiday movies!
Follow us to bring back the Code and save the arts in America!
We are lifting our voices in classical song to help the sun rise on a new day of pure entertainment!
Only the Code can make the sun rise on a new day of pure entertainment!