Today is Friday, so it's time for another Film Fashion Fridays. Every week, I choose a different costume from a Code film (1934-1954) made in America, and I describe how it can be reproduced with items from Amazon. Thus, I hope to encourage my readers to adopt a vintage fashion as their regular style. There is no better fashion guide than classic movies!
Today is the first day of our blogathon honoring one of our favorite actors, The Second Annual Claude Rains Blogathon. This is the second year that we are hosting a blogathon in honor of this great actor whose 130th birthday would have been November 10, this Sunday. In honor of this event, my topic for today's article is one of Mr. Rains's costumes.
Claude Rains was one of the most versatile actors in classic Hollywood. He was a man of many looks. He was so diverse that he could play many different types of characters. Because of his theatrical background and refined British accent, he was often cast in period pieces. During his vast career, he played roles which required him to look so different that he could be unrecognizable to anyone less than the most ardent fans. Whether he was playing a French prefect of police, a corrupt Senator, Napoleon Bonaparte, an ancient Roman emperor, King John of England, Napoleon III, the masked Phantom of the Paris Opera, or even an invisible scientist, he is always effective and dashing in every role in which he is seen, or not seen. The hardest thing for this assignment is finding a film in which he appears in modern clothes, since many of his films were set in earlier eras.
One of the modern-clothes movies which Claude Rains did make is Notorious from 1946. In this film, he played Alexander Sebastian, a Nazi who marries a beautiful American woman (Ingrid Bergman), not knowing that she is an American agent. He is being controlled by his domineering mother (Leopoldine Konstantin), and he begins to fear that his wife is carrying on with a handsome American (Cary Grant). Although he is a villain, he is a suave character. For this performance, Mr. Rains was nominated for an Academy Award for Best Supporting Actor.
I decided that this was a good opportunity to write about a form of dress clothes for gentlemen. I already have described full dress by explaining Nelson Eddy's Full-Dress Suit in Sweethearts from 1938. Today, I am going to talk about a formal style which is not quite full dress. This is the tuxedo, which was sometimes called a dinner jacket. This style is black tie rather than white tie. There are many different styles of the tuxedo. Today, I am going to talk about the double-breasted tuxedo, which was quite popular in the 1930s and 40s. Claude Rains wore this style in the climactic scene in this film in which he discovers his wife with the American agent Devlin (Grant) in the wine cellar. It is one of the most dramatic scenes in the film, and Alexander looks very dramatic in this dashing tuxedo. Let's consider his outfit's different components.
The main piece in this outfit is the tuxedo itself. It is black, naturally. For the most part, the coat looks like a standard black double-breasted suit coat. The detail which makes it more formal and elevates it to the level of a tuxedo is the black satin lapels. The lapels are peaked. There are four black buttons on the coat. Another detail which is usually included in tuxedos is that there is a satin strip up either outer side of the trousers. You can't tell if Alexander's tuxedo contains this detail from any of the pictures, but it most likely does.
The above tuxedo from Amazon is the only plain black tuxedo with regular fitting which is double-breasted. It comes in a two-piece set with matching coat and trousers. The material is 100% virgin wool. The coat is double-breasted, and it has peaked satin lapels. While Mr. Rains's coat has four hard buttons, this coat has six satin buttons. The trousers have a satin side stripe. They also have an unfinished hem. It is very important that this has a regular fit, since suits which have a slim fit do not have a vintage look. This tuxedo costs $149.99-$209.00, depending on which size you order. This is an excellent value and a very good product, since double-breasted tuxedos are hard to find.
The shirt which Alexander Sebastian wears with the tuxedo is white, naturally. When one looks for tuxedo shirts, the products which come up are usually pleated. However, Alexander's shirt is not pleated. It is a plain white shirt. With many tuxedos, gentlemen would wear wingtip collars on their shirts. However, I don't think I have ever seen that style worn with double-breasted tuxedos. This shirt has a lay down collar. The first button is visible, and it is black. The below shirt from Amazon is an excellent option for this outfit. It is a white tuxedo shirt with no pleats. It has black buttons up its front, which looks like Alexander's style. It has French cuffs, and black studs are included. It has a lay down collar. The material is 100% cotton. It costs $39.99.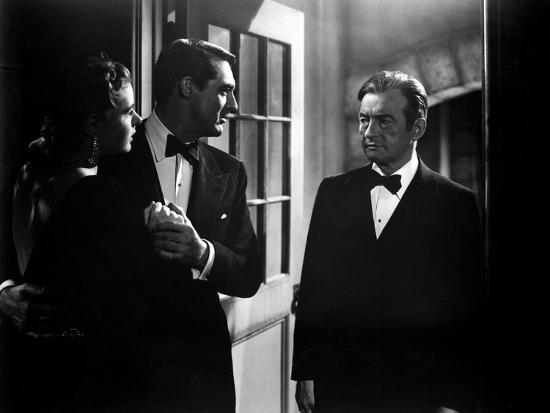 A black bowtie is the only type of necktie which is acceptable with a tuxedo. Sebastian's is shiny and tied in a neat bow. Now, bowties are sold pre-tied. However, in the 1940s, they had to be tied into bows. In many movies, you can observe gentlemen tying their bowties. You can read online instructions or watch YouTube tutorials to learn how to tie a proper bowtie. If you want to go with the traditional style, the below bowtie from Amazon is  a good choice. It is black and 100% woven silk. It is 1.5 inches tall and 4.5 inches wide. It is a self-tie style, so it offers the challenge and authenticity which Alexander's tie offered. It costs $23.99
.

If you don't want the challenge of a self-tie bowtie, you can buy the below bowtie from Amazon. It is pre-tied. It is also 100% silk. It is smaller than the previous option, since it is 0.5 inches tall and 2 inches wide. It has an adjustable closure at the back. It comes in black and six other colors. It costs $33.99.
Shoes are an essential part of any outfit. The shoes which Mr. Rains wears with this suit are obviously black and very shiny. Most tuxedo shoes are patent leather, so his doubtless are of this shiny material. It looks more formal than ordinary leather. Due to his pants' length, we can't see whether or not his shoes have laces. However, most shoes had laces at the time, so his probably do. I recommend the below tuxedo shoes from Amazon. They are black patent leather. The have a cap toe and eyelet lacing. They cost between $39.99-$59.99, depending on which size you order.
The last detail is the pocketsquare. A white pocketsquare is the right accessory with this outfit. A wealthy man like Alexander Sebastian would wear nothing but real silk. I recommend the below handkerchief from Amazon. It is 100% woven silk and handmade. It is 10.5 inches x 10.5 inches. It has hand-rolled edges. It comes in white and seven other colors. It costs $13.99
.
That concludes my description of this outfit. The next time that you are going to a black tie event, remember Alexander Sebastian's classy outfit. He may be evil and easily deceived by beautiful women, but he is a very suave villain in this double-breasted tuxedo. To be this dashing, you'll have to watch Claude Rains's films for clues on savoir faire. He was Notorious for his devastating charm and style. He could even give Cary Grant competition! Happy Birthday, Claude Rains!
If you want to observe Mr. Rains's style for yourself, I suggest that you purchase the movie and study his outfit firsthand! Click the above image to purchase Notorious on DVD at Amazon.
Remember, take pictures of yourself in vintage style and send them to me to be featured in a future Film Fashion Fridays article! I will gladly republish your pictures, advice, and experiences in vintage clothing for others to see and read. Let's make Friday a day for film fashion!
To every Glamour Girl and Dapper Dan, "Here's looking at you, kid!"
Stay tuned this weekend for more Claude Rains posts!
This year, PEPS is celebrating the holidays with a blogathon! It is called The Happy Holidays Blogathon, and it will run December 6-8. It is all about films which feature the winter holidays. Eligible holidays include Thanksgiving, Christmas, Hanukkah, Kwanzaa, News Years, The Twelve Days of Christmas, The Epiphany, Russian Christmas, and Russian New Years! Whether it is just one scene or the whole film, this is your chance to write about your favorite holiday movies!
Follow us to bring back the Code and save the arts in America!
We are lifting our voices in classical song to help the sun rise on a new day of pure entertainment!
Only the Code can make the sun rise on a new day of pure entertainment!