Today is Friday, so it's time for another Film Fashion Friday article. This weekly series is meant to inspire people to wear vintage-themed fashion. There is no better source of vintage fashion than classic film costumes. Every week, I choose a different outfit from a movie and suggest products from Amazon which are similar. I didn't publish an entry last week, since I was busy with The Third Annual Great Breening Blogathon in the early part of the week. The week before, I published an article about a costume which Spencer Tracy wore in Woman of the Year, so it is now time for a female costume.
This week's outfit comes from Pat and Mike from 1952. This was the seventh film pairing of Spencer Tracy and Katharine Hepburn. It featured Katharine Hepburn as an amazing female athlete, Pat Pemberton, and Spencer Tracy as her slightly crooked manager, Mike Conovan. Pat is a widow who is a physical education teacher at a college. Her fiancé, Collier Weld (William Ching), is trying to get a large donation from a snobby rich couple, so he brings Pat along to go golfing with them. Pat gets very nervous when Collier is looking at her, especially since he always makes her feel like everything she does is wrong. On the golf course, she wears the outfit which is today's subject. A few weeks ago, I wrote about a golf outfit which Fred Astaire wore in Carefree from 1938. Now, I am going to use Katharine Hepburn's first outfit on the green as an example for ladies' vintage golf fashion.
Pat's outfit consists of a gray mid-calf skirt, a white turtle neck, and a light cardigan. She is wearing short socks and golf saddle shoes. Her hair is pulled back in a bun. In many scenes when she is golfing, Pat wears slacks instead of a skirt. At the beginning of this scene, which is the first time we see Pat, she is wearing slacks. She is just getting out of her class. Collier says the old-fashioned couple wouldn't approve of her wearing pants, so she puts a skirt on in the car. Here, thus, is her acceptable golfing outfit.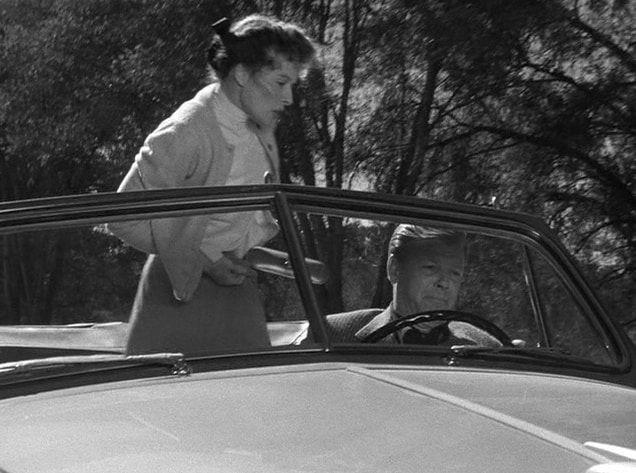 The first element of this outfit which I will address is the skirt. It is flared but not pleated, and it reaches to her knees. It looks like it is gray. As you can see in the above picture, when she is fastening it, it appears to be fastened with a matching belt. It has a good, practical thickness to it, but it is not heavy. It is loose enough to allow the wearer to move. Let's see what similar options Amazon has.
The above skirt from Amazon is a good option for this outfit. It is between 36.6 and 38.2 inches long, depending on which size you order, so it would be about mid-calf length for most women. It has an elastic waistband and a side zipper. With its high-waist design and flared skirt, it is a good, heavy skirt. The material is 75% polyester and 25% cotton. This skirt comes in beige, black, burgundy, khaki, black, brown plaid, gray plaid, green plaid, and gray, which is pictured. It also comes in black-1, burgundy-1, and gray-1, which are both pictured with belts, whereas the other color options are not. These options are 75% acrylic, 20% cotton, and 5% wool. This skirt costs $31.99-$36.99, depending on which color you choose.
The above skirt from Amazon is another good option for this outfit. It is a simple A-line skirt which reaches to the middle of the calf. The material of this garment looks sleeker than that of the previous option, which was heavier. It has a high waist and an elastic waistband. The material is 75% cotton and 25% polyester. This skirt comes in black, navy, wine, and charcoal, which is pictured. This garment costs $16.38-$23.95, depending on which color and size you select.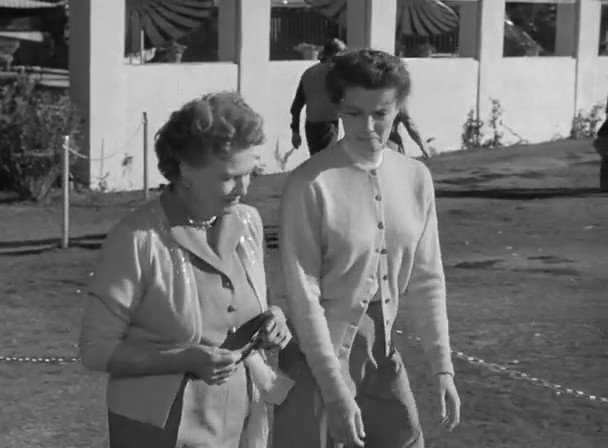 The other very important part of this outfit is the cardigan. It is long-sleeved, and it has a crew neck. The material is a light knit. The color is a light shade. It could be a light gray, but I think it is more likely a pastel shade of pink or blue. It has eight small buttons up its front. The buttons are a darker shade. The sleeves are fitted, especially at the cuffs. Pat has the top three buttons buttoned.

The above cardigan from Amazon is a good option for this outfit. It has long sleeves and a crew neck. The material is a light knit, made out of 65% viscose and 35% acrylic. It has ribbing on its cuffs and at its border. It has nine buttons of the same color as the material. This cardigan comes in army olive, black, rose purple, camel, coffee, grey blue, heather grey, light grey, mustard, navy, off white, red, and pink, which is shown. It also comes in a slightly different design with decorative buttons on the cuffs, which is available in red and black. This garment costs $17.99-$19.99, depending on which size and color you order.
The above cardigan from Amazon is very similar to the previous option. It also has long sleeves, a crew neck, and ribbed cuffs and border. Its material is a light knit which is made of 70% viscose and 30% nylon. It has nine buttons of the same color as the material up its front, as well. The main difference is the color options. This cardigan comes in black, brown, burgundy, charcoal gray, heather grey, hot pink, ivory, lemon yellow, lime, mint, mustard, navy, orange, red, royal blue, rust, teal, yellow, apple green, camel, khaki, olive, ultra violet, white, and dusty pink, which is pictured. It costs $14.99.
Under the cardigan, Pat wears a plain white turtle neck. One can't see how long the sleeves are, but they aren't visible beyond the cuffs of her cardigan. The collar goes up on her neck, but it isn't folded over. Since we can't see the sleeves, a sleeveless turtleneck could even be worn with this outfit in hot weather.
The above turtleneck from Amazon would work very well under this cardigan. The neck is described as a mock turtleneck crew. This garment is quite fitted, which will make it smooth under the cardigan. The material is 95% rayon and 5% spandex. In addition to the white long sleeve option, this product is offered in white with no sleeves, cap sleeves or half sleeves, which might be convenient during hot weather. It also comes in thirty other color and print options of varying sleeve lengths. This garment costs $19.99-$22.99, depending on which color, style, and size you select.
To complete her golf outfit, Pat wears short white socks and dark golf shoes. They aren't that special, so I won't provide Amazon links for these items. Any golfer has her own shoes, I'm sure. I just recommend that you try to find more fashionable ones, if possible.
You can see her amazing technique in the above clip from this movie. You also can get a good view of her outfit from every angle!
That concludes my description of this outfit. Like Pat's playing, it is simple and efficient. It is pretty and feminine yet useful on the green. If you want to be a pro, why not copy Katharine Hepburn's simple yet pretty style?
If you want to observe Miss Hepburn's style for yourself, I suggest that you purchase the movie and study his outfit firsthand! Click the above image to purchase Pat and Mike on DVD at Amazon.
Remember, take pictures of yourself in vintage style and send them to me to be featured in a future Film Fashion Fridays article! I will gladly republish your pictures, advice, and experiences in vintage clothing for others to see and read. Let's make Friday a day for film fashion!
To every Glamour Girl and Dapper Dan, "Here's looking at you, kid!"
This year, on November 8-10, we of PEPS will be hosting The Second Annual Claude Rains Blogathon, the thrilling sequel to last year's gala! Our previous blogathon honoring this beloved actor proved to be our most successful ever, so how could we help but reprise it? Join us for three thrilling days as we celebrate all the brilliant performances of this illustrious star of the cinema!
This year, PEPS is celebrating the holidays with a blogathon! It is called The Happy Holidays Blogathon, and it will run December 6-8. It is all about films which feature the winter holidays. Eligible holidays include Thanksgiving, Christmas, Hanukkah, Kwanzaa, News Years, The Twelve Days of Christmas, The Epiphany, Russian Christmas, and Russian New Years! Whether it is just one scene or the whole film, this is your chance to write about your favorite holiday movies!
Follow us to bring back the Code and save the arts in America!
We are lifting our voices in classical song to help the sun rise on a new day of pure entertainment!
Only the Code can make the sun rise on a new day of pure entertainment!